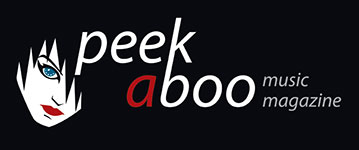 like this interview

---
BERLIN-OUEST
From Brussels with Love
14/09/2015, Pascal VERLOOVE
---
They are a band of four and, despite their moniker, they are not from Germany. They come from Brussels, they are young and they're just starting, but they are already offering us a series of post-punk songs, sung in French, very well crafted, and packed with energy, portending a bright future.
Nicolas (Van Damme) on vocals and guitar, Nicolas (Van Peteghem) on keyboards, Laura (Davidt) on bass and Forster (Perelsztejn) on drums, thank you so much to have answered a couple of questions for Peek-A-Boo!
First things first, can you describe Berlin-Ouest in a few words, when the group was formed, by whom and what was your first goal when you decided to create the group?
Nicolas (VD): We started the group and the composition of the first songs in the summer of 2014, at that time we were three musicians with a drum machine. Our bass player, Laurent, left the boat and was soon replaced by Laura, then, at the same time, Forster joined and replaced the drum machine with his real drum-set.
The primary goal creating this group was to play "Post-Punk" music or "New-Wave" (as we say in French), not necessarily to stand out from what most Belgian artists do, but with a passion for synths, the atmosphere, the energy of rock and even punk music.
How would you describe your music? In your bio you say you're "post-punk / new-wave": what makes you use those terms? The instruments you're playing and their place in the compositions? Your influences?
Nicolas (VD): The term "Post-Punk" is very subjective because it is still used by "modern" bands such as The Strokes and The Killers, although they do not have much in common with what used to be called "Post-Punk" in the late 70s.
The instruments we play are important to define the way we describe our music, but this is also largely due to the stripped side of our music, the way we are exploiting the synths, the bass, the guitar and the drums. We try not to be too cerebral when we are composing, we just want to play something strong. Our latest compositions are also much darker than the first ones.
Speaking of influences, what are the groups that have most influenced you, who made you want to make music (even if they are not post-punk groups)?
Laura: I've been hearing rock music at home, since I was a child. My parents introduced me to bands or artists such as Queen, Blondie, Earth Wind & Fire, The Stray Cats... I later discovered The Beatles, Arctic Monkeys, Black Rebel Motorcycle Club, White Lies, The Black Keys... I am rather into rock music, but when Nicolas played his compositions I was directly hooked!
Nicolas (VD): Personally, my influences are really vast. Right now I'm listening to a lot of "small" independent Belgian groups, otherwise a lot of Joy Division, Alain Bashung, The Cure, Serge Gainsbourg, to name just a few. But the group that really made me want to learn to play guitar is Queen, when I was not even 10 years old.
Nicolas (VD): For me, Devo, New Musik and Telex: that's the must.
Forster: I was very influenced by New Order and U2 when I was a child, then I discovered the "metal", and did only really discover the "post-punk" when I was about 18.
The choice of the name of a band is something that has always interested me. You are all too young to have lived during the Cold War, when the Berlin Wall was still there, etc. What made you select that name?
Nicolas (VD): This name is symbolic in fact, it means that the division between the people, the religions, and the different cultures are still very much the same... in 2015!
The fall of the Berlin Wall, the German reunification, does all this evoke anything for you?
Nicolas (VD): Not much for me, in fact. I was born a year after the fall of the Berlin Wall! This reminds me of a step forward for humanity, but also a great level of hypocrisy.
Forster: The end of an era, and a time of crazy popular fervor. I would have loved to be there.
What is your writing process in the band? Do you all work together or does each one comes up with his own ideas?
Nicolas (VD): We do not really have a "process" to compose songs, each of our song has had a different story so far.
Nicolas (VP): Nicolas (VD) composes and writes the songs, and then everyone tries to find the best possible arrangements, on drums, bass or synth.
You decided to sing in French. While this is not unusual, many non-English speaking bands chose English to expand their audience to its full potential. Why did you choose to sing in your mother language?
Nicolas (VD): Well - why not would I say? (Laughs) At first it was a challenge from Nicolas (VP, on keyboards) when he decided to work on the first songs because he was criticizing my "Frenchie" accent, listening to the songs of my previous band that I was singing in English. French is a beautiful language, and I don't master English that well. And well, we do not want to be known all around the world (yet).
Your first EP should be released very soon. What are the titles that we will discover? In which format will it come out?
Nicolas (VD): At the moment we planto release our first EP before the end of the year – at least that's what we hope. I would like Berlin-Ouest, Lucy, Nos Futurs andSentiers Battus to be featured on this EP, but we will decide once our new songs are finished.
Speaking of formats, nowadays some groups believe that releasing EP's or albums on a physical format (CD, vinyl) is no longer relevant - what is your view on this?
Nicolas (VP): We do not really have a preference for the format. Vinyl is fun. MP3, it isOK too. Only WMA is crap.

Laura: I love vinyl! I do have some home. Nevertheless we should not delude ourselves, vinyls are indeed collections items, they are fun to look at and to touch them, but they are expensive (for the student that I am!). Nowadays online platforms (Spotify, iTunes ...) are the best means to reach a large number of people at a low cost.
Forster: The digital EPs represent the most common form of production for emerging groups. The world of music is evolving quickly and, therefore, we need to propose new things regularly (hence shorter albums) and at a lower cost. We also know it becomes more and more difficult to have people paying for music, so we'll offer them a chance to download the music, leaving them the choice to support the artist.
Nicolas (VD): Vinyl resurfaced recently, attracting young and older people, there is a real trend towards this vintage side that is not to displease me.
Today you are a beginners, in an underground band. And there are lots of ways, thanks to Internet, for you to get to be known (Facebook, YouTube...) and yet it is far from easy for a beginner group to find an audience. How do you intend tackle this?
Nicolas (VP): Our goal is not to attract more and more people, at the moment, we are rather trying to build a strong fan base. Facebook is our main tool to communicate, but as soon as our EP will be released, with new songs to discover on stage, we will try to get more expose in the media or on the net.
Nicolas (VD): Family, friends, and the people who discover us are quite excited to see us live, and come again to our gigs. They follow us closely, so I am quite optimistic. It is true that tools like Facebook and YouTube make it easier to share our songs, our news, our concert dates, etc. And we are not too "underground" for people to be reluctant to our music.
So far you've played live less than ten times, and you will soon be opening the next Fantastique.Night (including Position Parallèle, another artist who choose to sing in French): what can we expect? Will this gig be different from previous ones for you?
Nicolas (VP): We know the concept of the Fantastique.Nights quite well. Some of us have already played in one of those nights, in the past, with a previous group. We know the place, the public, and, believe it or not, it stresses us even more, because we really want to please the audience! We are also looking forward to discovering the other groups that will play that night because the line-up of these nights is always cool.
Nicolas (VD): This will be a good stepping stone for us, in my opinion, but also an opportunity to play in a professional environment.
Question for Laura: Is it easy to be in a rock band surrounded by 3 guys?
Laura: For me no, for my boyfriend probably it is (laughs)! Of course, I always had this fantasy of becoming the new Joan Jett and play in girls only group... But I am delighted to play in Berlin-Ouest. And I'm not the kind of girl who takes offense of the joke of a guy (even a bad one), I'm rather a girl who will add a layer. And the three guys got that point very well!
Quoting you, your texts reflect "a feeling about the world, life, death, fears and anxieties about an uncertain future". Are you really so pessimistic about the future? Especially in Belgium or simply on earth?
Nicolas (VD): It depends on the day, with the news that I hear, the people I meet, I become less pessimistic and negative about our future, but it's true than anxiety comes back quickly when we start speaking about the wars, or when you see the state of the planet. That said, our texts do not necessarily deal with one country in particular, but refer to the world as a whole, or simply talk about life, in general.
If the future seems so uncertain and scary for you, in which period of time would you have liked to live?
Nicolas (VD): I especially would like to still be here in 50 years to see how the world has evolved.
Nicolas (VP): It's all rather relative, and if you look throughout history, the present time is by far the best, and we should be grateful to live in such comfort and opulence. But on the other hand, realizing that this is the best the world has to offer, it just drives me mad.
While talking about the past, could you give me an album each (rock or other) that your parents introduced you to, and that you will love forever?
Nicolas (VD): From my mother probably nothing (laughs)... but from my father I would say the first "Greatest Hits" by Queen, that record changed my life.
Nicolas (VP): My father listened to Kraftwerk a lot, especially Radioactivity. It's probably my earliest exposure to synth sounds that immediately fascinated me. Having Kraftwerk as a model, it could be worse, right?
Laura: For me it is undoubtedly "the Diplomat," by the Brussels group of the same name.
Forster: Any album of Jean-Jacques Goldman!
Let us turn again to the future - how do you see Berlin-Ouest in a few years' time? What would you like to have behind you (as a group) at the fall of 2020?
Nicolas (VD): Let us wish us a nice growing fan base with at least one or two albums behind us at that time.
Something else to add that will entice readers to come and cheer you at the Botanique (Brussels) and buy your first EP?
Nicolas (VD): We will release this EP, and believe us, we it will be right on the target! And please come discover our real universe at the Botanique!
A big thank you to the four of you!
Thank you especially to you! And see you soon!
Pascal VERLOOVE
14/09/2015
---
Ils sont quatre et, malgré leur nom, ils ne sont pas allemands. Ils nous viennent de Bruxelles, ils sont jeunes et ils débutent, mais ils nous proposent déjà une série de morceaux post-punk, chantés en français, de très bonne facture, bourrés d'énergie et qui laissent augurer d'un avenir brillant.
Nicolas (Van Damme) au chant et à la guitare, Nicolas (Van Peteghem) aux claviers, Laura (Davidt) à la basse et Forster (Perelsztejn) à la batterie, merci à vous quatre d'avoir accepté de répondre à quelques questions pour Peek-a-boo !
Commençons par le commencement, pouvez-vous décrire Berlin-Ouest en quelques mots, quand le groupe a été formé, par qui et quel était votre but premier en créant le groupe ?
Nicolas (VD) : Le groupe a commencé sa formation ainsi que la composition des premiers titres durant l'été 2014, à ce moment-là nous étions 3 musiciens avec une boîte à rythme, puis Laurent, notre bassiste, a quitté le bateau pour être remplacé par Laura, ensuite Forster est arrivé pour remplacer la boite à rythme par sa batterie au même moment.
Le but premier en créant ce groupe était de faire du « Post-Punk », de la « New-Wave » (comme on dit en français) pas forcément pour se démarquer de ce qui se fait le plus en Belgique, mais par passion pour les synthés, les ambiances, l'énergie du rock à l'état brut, voire du punk.
Comment décririez-vous votre musique ? Dans votre bio vous vous présentez comme un groupe « post-punk / new-wave» : qu'est-ce qui vous pousse à utiliser cette qualification-là ? Les instruments choisis et leur place dans les compositions ? Vos influences ?
Nicolas (VD) : Le terme « Post-Punk » est très subjectif car il est encore utilisé par des groupes « modernes » comme The Strokes ou The Killers, alors qu'ils n'ont pas grand-chose à voir avec ce qu'on appelait le « Post-Punk » à la fin des années '70.
Les instruments utilisés jouent pour cette description de notre musique mais c'est en grande partie à cause de l'aspect dépouillé, tout en exploitant le synthé, la basse, la guitare et la batterie. On essaye le moins possible de se prendre la tête quand on compose, en se disant qu'on veut envoyer du lourd. Quant aux derniers morceaux, notre musique s'est vraiment assombrie.
En parlant d'influences, quels sont les groupes qui vous ont le plus influencé, qui vous ont donné envie de faire de la musique (même si ce ne sont pas de groupes post-punk) ?
Laura : J'ai très très vite été bercée par la musique. Mes parents me faisaient écouter des groupes et artistes tels que Queen, Blondie, Earth Wind & Fire, les Straycats... J'ai par la suite découvert les Beatles, Arctic Monkeys, Black Rebel Motorcycle Club, White Lies, les Black Keys... Je suis à la base plutôt attirée par le rock, mais quand Nicolas m'a fait écouter ses compos j'ai directement accroché !
Nicolas (VD) : Pour ma part mes influences sont vraiment vastes. En ce moment j'écoute pas mal de « petits » groupes belges indépendants, sinon beaucoup de Joy Division, Alain Bashung, The Cure, Gainsbourg, pour ne citer qu'eux. Mais le groupe qui m'a vraiment donné envie d'apprendre la guitare c'est Queen, quand je n'avais même pas 10 ans.
Nicolas (VD) : De mon côté, Devo, New Musik et Telex.
Forster : J'ai été fort influencé par U2 et New Order quand j'étais enfant puis j'ai découvert le métal avant de ne vraiment découvrir le post-punk qu'à mes 18 ans.
Le choix du nom d'un groupe est quelque chose qui m'a toujours intéressé. Vous êtes tous biens trop jeunes pour avoir connu la guerre froide, le mur de Berlin, etc. Qu'est-ce qui vous a poussé à choisir ce nom-là ?
Nicolas (VD) : Ce nom est symbolique en fait, cela signifie que la division entre les peuples, les religions, les différentes cultures existe toujours bel et bien... même en 2015 !
La chute du mur de Berlin, la réunification allemande, ça évoque quoi pour vous ?
Nicolas (VD) : Pas grand-chose pour moi, d'ailleurs je suis né un an après la chute du mur de Berlin ! Cela m'évoque un pas en avant pour l'humanité, mais aussi une belle hypocrisie.
Forster : La fin de toute une ère, et un moment de ferveur populaire complètement dingue. J'aurais voulu y être.
Quel est votre processus de composition dans le groupe ? Vous travaillez tous ensemble ou chacun vient avec ses idées qu'il expose aux autres ?
Nicolas (VD) : Nous n'avons pas vraiment de processus pour composer, chaque chanson a eu une recette différente.
Nicolas (VP) : Nicolas (VD) compose et écrit les morceaux, puis chacun tente de trouver les meilleurs arrangements possibles, que ce soit à la batterie, à la basse ou au synthé.
Vous avez décidé de chanter en français. Même si ce n'est pas exceptionnel, beaucoup de groupes non anglophones choisissent l'anglais afin d'élargir leur public potentiel au maximum. Pourquoi ce choix de chanter dans votre langue maternelle ?
Nicolas (VD) : Et bien pourquoi pas j'ai envie de te répondre ! (Rires) Au début c'était un challenge que l'autre Nicolas (VP, aux claviers) m'avait proposé avant qu'on décide de travailler les premiers titres, car il avait du mal avec mon accent frenchie en écoutant les morceaux de mon ancien groupe dont les textes étaient en anglais.
Puis le français est une langue que je trouve magnifique, l'anglais je le maîtrise assez mal, et nous ne cherchons pas non plus à faire le tour du monde.
La sortie de votre premier EP est imminente. Quels sont les titres que l'on trouvera dessus ? Sous quel format sortira-t-il ?
Nicolas (VD) : Pour le moment on prévoit d'en faire un pour la fin de l'année. Pour ma part j'aimerais bien qu'il y ait : « Berlin-Ouest », « Lucy », « Nos Futurs », et « Sentiers Battus » sur cet EP, mais on verra une fois que les nouvelles compos seront finies.
En parlant de formats, justement, aujourd'hui certains groupes trouvent que sortir des EP's, des albums au format physique (CD, vinyle) n'est plus d'actualité – quel est votre point de vue à ce sujet ?
Nicolas (VP) : On n'a pas vraiment de préférence pour le format. Le vinyle c'est fun. Le MP3, ça va aussi. Y'a juste le WMA qui est merdique.
Laura : J'adore les vinyles ! J'en ai d'ailleurs quelques-uns chez moi ! Néanmoins il ne faut pas se leurrer, les vinyles sont certes des objets de collection, agréables à voir et à toucher, mais ils coûtent chers pour l'étudiante que je suis ! De nos jours les plateformes en ligne (Spotify, iTunes..) sont les meilleurs moyens de toucher un grand nombre de personne à un moindre coût.
Forster : Les EP's en format numérique représentent la forme la plus courante de productions chez les groupes émergents. Le monde de la musique bouge très vite et, par conséquent, il faut pouvoir proposer des nouvelles choses très régulièrement (d'où des albums plus courts) et à moindre coût. On sait aussi qu'il est très difficile désormais d'obliger les gens à payer pour de la musique, donc autant leur proposer de télécharger en leur laissant le choix de soutenir l'artiste.
Nicolas (VD) : Le vinyle refait surface dernièrement, que ce soit chez les jeunes ou les moins jeunes, il y a une vraie tendance vers le vintage qui n'est pas pour me déplaire non plus.
Vous êtes aujourd'hui un groupe débutant et underground. Et il y a des tas de façon aujourd'hui, grâce au net, de se faire connaître (Facebook, YouTube, …) et pourtant c'est loin d'être facile pour un groupe débutant de trouver un public. Comment comptez-vous vous y prendre ?
Nicolas (VP) : Notre but n'est pas d'attirer un maximum de personnes vers nous pour le moment, nous cherchons surtout à nous construire une base de fans assez solide. Facebook est notre principal outil pour communiquer, mais quand nous pourrons vraiment enregistrer notre EP, avec un maximum de compos à faire découvrir sur scène, on essayera de nous exposer d'avantage dans les médias ou sur la toile.
Nicolas (VD) : La famille, les amis, ou ceux qui nous découvrent sont assez enthousiastes à l'idée de nous voir ou de nous revoir en concert et à nous suivre de près, donc je suis assez optimiste. C'est vrai que les outils comme Facebook et YouTube nous facilitent la tâche pour partager un maximum nos chansons, notre actualité, nos dates de concerts, etc. Puis, nous ne sommes pas encore trop underground pour que les gens soient réticents envers notre musique.
A ce jour vous avez joué en public moins de dix fois, et vous serez-prochainement à l'affiche de la prochaine Fantastique.Night (avec notamment Position Parallèle, un autre artiste ayant choisi de chanter en français), que peut-on attendre de ce concert ? Ce concert sera-t-il, pour vous, différent des précédents ?
Nicolas (VP) : On connait bien le concept des Fantastique.Nights, certains d'entre nous ont déjà joué dans une de ces soirées par le passé, avec un groupe précédent. On connaît l'endroit, on connaît le public, et, crois-le ou pas, ça nous stresse encore plus parce qu'on veut vraiment séduire ce public ! On a aussi hâte de découvrir les autres groupes qui joueront ce soir là parce que le programme de ces soirées est toujours cool.
Nicolas (VD) : Ce sera un beau tremplin pour nous, à mon avis, mais aussi une occasion de jouer dans un espace « pro ».
Question pour Laura : est-ce facile d'être dans un groupe rock entouré de 3 garçons ?
Laura : Pour moi non, pour mon copain sûrement (rire) ! Certes, j'ai toujours eu ce fantasme d'être la nouvelle Joan Jett et d'avoir un groupe de filles... Mais je suis ravie de jouer dans Berlin-Ouest. Puis, je ne suis pas le genre de fille à s'offenser pour une blague (un peu lourde) de mec, je suis plutôt la fille qui en rajoute une couche. Et ça ils l'ont bien compris !
Je vous cite, vos textes expriment « un ressenti sur le monde, la vie, la mort, les peurs et les angoisses sur un avenir incertain » : êtes-vous réellement si pessimistes quant à l'avenir ? En Belgique spécialement ou sur terre tout simplement ?
Nicolas (VD) : Ca dépend des jours, avec les nouvelles que j'entends, les gens que je rencontre, je deviens de moins en moins pessimiste et négatif quant à notre avenir, mais il est vrai que j'angoisse vite dès qu'on parle de guerre, ou quand on voit l'état de la planète.
Sinon nos textes ne traitent pas forcément d'un pays, mais du monde dans sa globalité, Puis de la vie, tout simplement.
Si l'avenir vous semble si incertain et angoissant, à quelle époque auriez-vous souhaité vivre ?
Nicolas (VD) : Moi j'aimerais surtout être encore là dans 50 ans, pour voir comment a évolué le monde.
Nicolas (VP) : Si on relativise sur l'ensemble de l'histoire, l'époque actuelle est de loin la meilleure, et l'on peut se féliciter de vivre dans tant de confort et d'opulence. Mais d'un autre côté, se dire que le meilleur que le monde peut offrir, ce n'est que ça, il y a de quoi angoisser.
Tant qu'on en est à parler du passé, pourriez-vous me citer chacun un album (rock ou autre) que vos parents vous on fait connaître et que vous adorez toujours ?
Nicolas (VD) : De ce que ma mère écoute je n'aime rien (rire) ou presque... mais du côté de mon père je dirais : le premier « Greatest Hits » de Queen, qui a changé ma vie.
Nicolas (VP) : Mon père écoutait beaucoup Kraftwerk, surtout « Radioactivity ». C'est probablement mon exposition la plus précoce aux sons des synthés, qui m'ont immédiatement fasciné. Comme modèle, Kraftwerk, il y a pire!
Laura : Pour moi c'est sans nul doute « the Diplomat », du groupe bruxellois du même nom.
Forster : N'importe quel album de Jean-Jacques Goldman !
Tournons-nous à nouveau vers l'avenir – comment voyez-vous « Berlin-Ouest » d'ici quelques années ? Que souhaiteriez-vous avoir derrière vous (en tant que groupe) à l'automne 2020 ?
Nicolas (VD) : Souhaitons nous une belle fan base grandissante avec au moins un ou deux albums derrière nous à ce moment-là.
Quelque chose d'autre à ajouter qui donnera envie aux lecteurs de venir vous applaudir au Bota et d'acheter votre premier EP ?
Nicolas (VD) : Oui, on va le faire cet EP, et croyez nous, on y mettra dans le mille ! Et venez découvrir notre véritable univers au Botanique !
Un tout grand merci à vous !
Merci à vous surtout ! Et à très bientôt !
Pascal VERLOOVE
14/09/2015
---