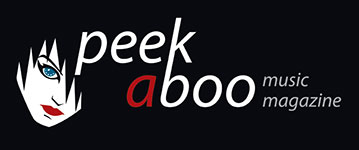 like this interview

---
ELENA ALICE FOSSI (KIRLIAN CAMERA / SPECTRA*PARIS)
I can in total freedom listen to Joy Division, SPK, Muse and Britney Spears...
19/07/2017, Dimi BRANDS
---
There's a big gap between License To Kill & Christmas Ghouls and Retromachine Betty, and also 4 years between Black Summer Choirs and the new Kirlian Camera album. Was it a time of reflection or is there another explanation why it took so long?
Elena Alice Fossi: I think we're getting "easily complicated", more and more. It means we're never satisfied enough. We keep on adding adjustments and changes to the many tracks we're working on. All in all, I must frankly say that we're never in a hurry enough, as we're surrounded by many, many, many duties, then it becomes natural we must take care of our health more, so... time keeps running on. No problem, as we basically compose music for our own use, then, sometimes... we like to share it. Time doesn't exist, as an old astronaut said...
You worked with John Fryer and his new project Black Needle Noise, was it a service in return he produced Retromachine Betty? How did you meet this legendary producer?
I presume John likes all of the voices he works with, so mine as well. Yes, we made 2 songs together for his Black Needle Noise project and I like them both, very much. When we first met, I had to perform in Trondheim with SPECTRA*paris, then we met again in Oslo, a couple of years later. We'll likely meet once again in Los Angeles or so. Meantime, we've been working together on the new material of Kirlian Camera, which will be released this year.
You worked with Kirlian partner in crime Angelo Bergamini for Retromachine Betty and the result is a darker album than we're used to for Spectra*Paris. Was it time for Spectra*Paris to choose another path?
I actually wanted to change orientation and Angelo is perfect, as a co-producer and supervisor. He's a gifted artist, that goes without saying. He could work on a brand new song for – let's say – Britney Spears and one for Ennio Morricone at the same time. He's got some never ending inspiration. He's never confused: he knows what he feels and what I feel. It's a pity he often declines so many production offers, as I think he'd become rich,... SPECTRA*paris is an electronic entity, willy-nilly. No chance for any other way. Sometimes, some guitars are peeping out here and there, but are always treated, finding place in the background. I honestly must admit this is the real spirit I want, whether it's Spectra or Kirlian at work. Acoustic instruments are welcome, sometimes, with Stalingrad Valkyrie most of all...
Kirlian Camera will play BIMFest end of the year. Kirlian Camera played a lot in Belgium in the past, do you have a special bond with our country and are there places in Belgium you really want to visit?
Well, Angelo told me one of his favorite Belgian places is right Sint-Niklaas, so he makes me curious about such a town and, lucky thing, we'll have to perform just there! In addition, I must say I've been impressed by Leuven, so playing there again would be great: such a magical atmosphere is surrounding Leuven! And, last but not least, I'd like to visit Bruges because of some spiritual/esoteric interests...
Retromachine Betty went straight to number one in the German Alternative Charts, well deserved! I guess it's a big surprise. What were your own expectations about what the audience would think about the new album, especially because it was quiet on the Spectra *Paris front for a long time?
EAF – yes, it was a real surprise, most of all because... nobody cared of putting the album on top position at all "costs", if you understand what I mean! As far as I know, it's just German deejays who appreciate the album so much, so we're still in the top-10 after one month and that's a very good result, as even "Star Bubbles" reached some good positions in the single charts, some weeks earlier. To be honest, I didn't expect so much, as far as appreciation goes, as SPECTRA*paris is a "borderline" project. It's electro easy listening, but, as well as New Wave did at the time, I tried to add some further input to the work, aided by Bergamini-Fryer-Moratto. It's a modern "Cold Pop", I mean, I actually should create a brand!!! Now, I hope other countries will open their playlists to this album, as I feel there's something lovely, in this project's grooves... or so I suppose with sincere enthusiasm! All in all, modern and listenable electronic music has been created by Moroder, Kraftwerk, Tangerine Dream (after some beautiful but darker ambient chapters...) and so on and so forth..
Because you were working on a new Kirlian Camera records, was it a logical consequence you start working with Angelo on the new Spectra*Paris album?
Angelo is the glamour mind of all our projects, even though many wouldn't expect him to be! It's natural he's now involved in Spectra, although I hardly will see him on stage, since he doesn't want to keep on appearing on stage with Kirlian either! Hal (Angelo) is a studio and behind-the-scenes mind. He's also very interested in fashion and photography and sometimes he even takes care of composing music for fashion stylists. He's a natural... genius, no doubt, in my opinion. He's not of this world. Really (…).
In the single 'Star Bubbles' you use a snippet of Mike Oldfield's Moonlight Shadow, a perfect example of a perfect pop song, just as 'Bubbles'. It totally fits in here, how did this idea came in mind?
Well... I started whistling "Moonlight Shadow" during the recording sessions to "Star Bubbles", so I decided to readapt that fragment and put it into my song, hoping Oldfield doesn't get pissed off with such an innocent robbery, ah ah ah!!!
You covered The Kinks, a surprising choice. In my review I joked that Kirlian Camera and The Kinks are close neighbours in my CD collection but there must be another reason why you covered this song?
Aehm, it was Angelo suggesting the deal and... I liked it because I loved the idea to take such a glamorous old song and catapult it into my world made of electronics and sensual robot girls! And, speaking of it, I also like that a girl was in love with a girl. It happens, whether some people like it or not! Then, it's part of my own story...
Can you tell us a little bit more about the so-called Kirlian Camera Front, is it a sort of loyal fanbase ?
Yes, it's like an army, growing day after day, without any excess (weird cases aside...). It isn't to be taken as a paramilitary group, just like a real bunch of "desperados" who fight against hypocrisy, instead loving music, music, music and.... music again!!! Music is their weapon, their faith, just like a dream. They are free, we opted for not interfering with 'em. We aren't always on the same line, but... hey.... their loyalty and love are a real fact.
You joined Kirlian Camera around 2000, almost 20 years ago, KIrlian Camera is and always was a very important band in the 'dark scene', how did you get there, and were you fan before?
EAF – It really is a weird story. I was very young and a friend of mine invited me to listen to Kirlian Camera. I was immediately impressed by such a sound. It started to flow through my veins, till reaching my deepest soul. It was kind of a shock! At the time I was interested in Portishead, Kraftwerk and The Doors, classical music and contemporary music experiments. Such great names, but... I needed something more "tormented" and listenable at the same time, better if being crossed by real essence. I fell in love with that band and then, I realized that many had been taking it as a controversial and pretty mysterious entity. I found that strange, in a way. But, even weirder... is the fact that after a few months I was mentioned to Angelo Bergamini. He was looking for a new singer, as Emy had to give up. After a few days, Angelo Invited me for an audition. I didn't want to accept but Lucy (my friend) insisted to death, so... I took a little bag with me and went to Parma. Funny state of mind: agitation, dancing nerves and sweat!!! I had to sing "Eclipse". Angelo stopped me after the first chorus, saying : "You're the singer of Kirlian Camera, now. Just wait a couple years before it's official, as your parents are a bit worried, as far as I know... meantime let's go to eat something, Alice!". My musical life had a real start on that unforgettable day! In a few hours I found myself into my favourite band ever... I still hardly believe it today, in spite of the fact almost 18 years have passed under the purgatory bridge...
Your music with Spectra*Paris also shows you have a preference for more lighter pop songs. In my opinion some of the songs have barely difference with songs from (for example) artists like Kylie Minogue. I don't care about the so-called 'street credibility' and I am not ashamed to say there are gems in every kind of music. Is that the same point of view you share?
You're totally right, in my opinion! I love to listen to several music styles and artists. I can in total freedom listen to Joy Division, SPK, Muse and Britney Spears, if possible!!! I loved Palestrina's Stabat Mater, it actually represents my favorite classic music ever, but I couldn't keep listening to the same style music non-stop as it'd turn into a nightmare and it would end in hate! So, I start listening to Ultravox, then I select an Erasure song, going to dance to Minogue's "Slow" and whistling some Dark Americana ballads by Johnny Cash or Low... going back home with a help from Arvo Pärt...
When will the new Kirlian Camera album be released, and can you already tell something about it?
The new Kirlian Camera chapter sounds more "lost" and sadder than the previous ones. I perfectly realize KC music never was so joyful, but not seldom had something romantic and strongly epic, into its soul. And well, that input is respected in this final album, but never I perceived such sense of deep bitterness. Yes, "bitter" is the most correct adjective. I don't mean it sounds unlistenable, not at all, on the opposite it offers danceable and radio-orientated electronic songs! But such a "Cold Pop" story is filled with that above mentioned bitter mood, even in the most epic songs. We made 2 songs with Covenant and also this fact is a new orientation. It's a natural one as well, I think, as our relation with Eskil and his band is. John Fryer took care of the mixing sessions in Los Angeles along with me being placed in my Parma bunker. I think it's one of our most electronic works ever, although we have used choirs and strings too, here and there. There'd be so much to say about the concept, as this is a real concept-album, telling of our sensations in regard to the fact the moon is likely a fake. The end of dreams? The end of illusions? Are some among us hybrid aliens (what a poor scoop...)? Maybe it sounds so dramatic and... ok... it is. The album will possibly see the light in September-October. Official title: "Hologram Moon". Opening single might be "Sky Collapse" or "Holograms". Oh, how we love this album... We dedicated all possible efforts to reach the goal we had in mind. Nothing is perfect, in this adventure on earth, but, as Angelo likes to say... "These are the Kirlians I love!".
Retromachine Betty looks futuristic (cover, titles) but also has nostalgic sounds that refer to the 80s. Was it your purpose to work with these contradictions?
Yes, everything in this album follows what I had in mind. However, the 80s are the decade which gave more spotlight to "the future" in a less naive form and the music scene itself took some distance to old fashioned cliches in order to create a new and androgynous human being. On the other hand, I'm like an observer who casts an eye to such a period, many years after that epic era, when my memories started taking some hazy but real life. This album is a little celebration of futuretro pop and new/old electropop, kind of mixing part of a recent Ferrari GTC4 Lusso with Jaguar E-Type's!
Do you see yourself as the so called Retromachine Betty, or on which character is this name based?
I'm kind of robot, or better... I'm a machine that tries to become a spirit. I feel like Betty, yes, sometimes. I'm not a retromachine but I like those stories that old and wise computers tell. Just like grand daddies do with their little nephews and nieces...
15.12 Kirliam Camera & more @ BIMFEST, De Casino, St-Niklaas, B (click for full line-up & more info)
Dimi BRANDS
19/07/2017
---