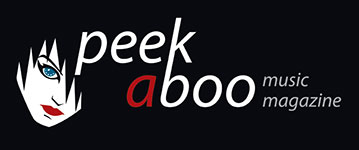 like this interview

---
JEWELS OF THE NILE
Decadence and Pleasure!
18/04/2011, Didier BECU
---
On 7th May another Nuits Fantastique will be organized in Brussels. This time the organization choose for minimal legends like Echo West and Bakterielle Infektion. Also on stage that night are Jewels Of The Nile, a band that combines nu-psychedelica, deathrock and minimal. Time to give them a forum within peek-a-boo-magazine.
Well, let's start with introducing yourself: Tell us who Jewels Of The Nile are.
Meghan Christine (KEYS/Prog) and Jessy Montaigne (VOX) formed JEWELS in early 2010 while also playing in MAGICK DAGGERS together. Amity Givens (DRUMS) joined us in early 2011.
About your sound, I heard of course minimal electronic but also deathrock and nu-psychedelica like Zola Jesus. Agree on that?
Yes definitely - electronic, deathrock and psychadelic music are heavy influences. We also love anything with heavy bass beats and all music that is fun to dance to including afro-beat, hip hop, as well as early dub-influenced post punk. We recently discovered Zola Jesus, but our friends in Religious to Damn, Tamaryn, and Jessie Evans have been more influential as peers and friends in the vein of contemporary female vocalists.
Talking about deathrock, you even did a cover from "Deathwish" by Christian Death. Massive fans?
LOVE Christian Death! We were asked to play a Christian Death tribute night and chose to cover Deathwish -- this song was always a favorite. Jessy actually had the pleasure of meeting Rozz when she was a teenager, he invited her to have drinks back stage at a Shadow Project show in Pensacola, Florida.
Brilliant name for a band even if I can't help it thinking about that bloody movie by Michael Douglas. Why that name?
Definitely not inspired by the movie and to be confused with jungle cats either. The name started as Jewels, but then took on 'the Nile' counterpart because at our second performance when we weren't fully realized, we did a performance dedicated to the muses at a fundraiser. Ours, taking from Marchesa Casati and Cleopatra, with Nile-esque masks on that we made after watching the Carnival scene in Black Orpheus (although Brazillian). We started getting asked to perform more so we naturally needed a real name, and our friend Nate Carson added ….of the Nile…..as inspired after one of our first songs called Egyptian Eyes, about Cleopatra and the fall of the Roman Empire.
Even without having that many releases out, you've become a sort of name.
A proof that the internet works?
Yes it's true - being able to connect with people and other bands online - all over the world - is amazing. We really feel like we're part of a community of like-minded people, it's a really supportive world and we're extremely happy to be a part of it and have so much support early on. We've also been lucky enough to tour having played shows in New York, San Francisco, LA and Mexico City which has been great for meeting so many awesome people.
You're from Portland, is there something like a scene or are you there all by yourself?
Portland is an amazing place to be creative and make music. Many other bands in Portland are working hard, writing and playing shows. We hole ourselves up in our basements during the long rainy winters and get lost in music! Other kindred bands we love to play with in Portland are Soft Metals, Arohan, Vice Device and Interiors X. Portland's Sweating Tapes label is at the forefront of this scene. We're in the process of relocating to LA where there is also an awesome music scene with bands like Violet Tremors, The Present Moment and Bestial Mouths. There is just so much going on right now it's really exciting.
Talking about America, never thought I would say that once but it seems like the best stuff is coming from there.
We can't really say why that is... but from our perspective there's great music being made all over the world. Websites like Soundcloud are a testament to that. When we were in Mexico City we played with Ritualz and discovered a very active community of performers and musicians making some really cool shit happen. We are really looking forward to connecting with bands and people in Europe and expanding our family! Labels like Desire (who is putting out our upcoming release) Mannequin and Disaro are all putting out artists from around the world.
And now you're picked up by Mannequin in Italy, I guess that must open doors for you here in Europe.
Alessandro from Mannequin Booking has been extremely helpful with our European tour plans and we're so excited for the shows in Italy. We hope to work with him more in the future after tour when we start working on the next record in June.
In Italy you even tour with the Soft Moon. Would you ever be in a situation like them, I mean over here little by little the big press jumps on them and describes them as the next big thing?
Who knows? The Soft Moon is getting big press because they are so good! Our ethic is just that we will work hard to make the best music we can, put it out in the world, and everyone will respond differently. That's the amazing thing about making music. Getting press is fun and exciting, but so is playing an awesome show to a room full of 100 people and making them all dance and have a positive experience.
Here in Belgium you're on stage with Bakterielle Infektion and Echo West. Are you familiar with these bands?
We were not familiar with them before we were asked to play that show - but have since checked them out online and are very excited to play with them!
What can the fans expect from your gig in Brussels?
DECADENCE AND PLEASURE!
These two questions I always ask…. What's your favourite record of all time?
We decided to pick albums that we listened to when we were 14 and that we still love today...
Meghan: Violent Femmes first album. My best friend lived in Florida and I went to stay with her one summer. We listened to this album again and again whilst sneaking out of her house at night, drinking rum and running around golf courses. So good.
Amity: P.I.L Live in Tokyo. I got to enjoy this exotic concert via my basement bedroom in my parents' house. P.I.L came out of left field with their highly experimental, droning, wailing, screeching...almost disco...material. Lydon defining a new genre (punk) during the Sex Pistols, then going down a different path entirely with P.I.L with world percussion, soulful bass... It's an incredible choice to make. Brave. He's a pioneer of the I.D.G.F (I don't give a fuck) philosophy..which I value greatly.
Jessy: Soft Cell Non-Stop Erotic Cabaret. Marc Almond is one of my favourite male singers/lyricists. I still dj that album to this day!
With whom wouldn't you mind to be alone with in an elevator for 8 hours and what would you do then?
Meghan: Patti Smith... I love her, she's amazing, I would love to get to know her. What would we do? We could talk, write poetry and sing.
Jessy: Anais Nin, for one, because if I were stuck in an elevator, I would probably have a panic attack, and she would be a calming force. Whenever I feel alienated by humanity, her writing always brings back the essence of love and being.
Amity: Benazir Bhutto...we would plan the re- education for children and adults worldwide regardless of religion for women's rights, roles, and the care, treatment and handling of these precious allies.
Do you have a special message to the readers?
Go after whatever you're passionate about, strive for ABSOLUTE PLEASURE, and never give a second thought to people who want to bring you down. DO IT!
myspace.com/jewelsofthenilemusic
soundcloud.com/jewels-of-the-nile
facebook.com/jewelsofthenile.music
Didier BECU
18/04/2011
---
Nederlandstalig interview via de Dark Entries website.
Didier BECU
18/04/2011
---