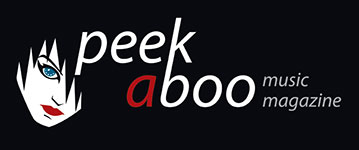 like this interview
---
MICHAEL CIRAVOLO - BEAUTY IN CHAOS
'I am forever indebted to everyone involved in Beauty In Chaos. We are friends, and now family with what we all created'.
21/02/2019, Kevin BURKE
---
Beauty In Chaos is not so much a band but a concept, an orchestra of sonic, shoe-gazed grunge created by Human Drama guitarist Michael Ciravolo. Ciravolo assembled a cast of music royalty who contribute in both performance and songwriting to 'Finding Beauty In Chaos'. They include; Ice-T, Simon Gallup of The Cure, Wayne Hussey of The Mission and Al Jourgensen of Ministry. Make no mistake, all this talent does not sculpt an unbalanced recording, instead, it gives it a depth and wider scope throughout which at times in the modern music era is lost.
Congratulations on the release of Finding Beauty In Chaos and thank you for taking time out from your schedule to speak to us here at Peek A Boo magazine.
Michael Ciravolo-"Well I appreciate you doing this…. Talking about this record is easy as it is certainly something I am proud of!"
One of the first things that strikes the listener is the unique sound of Finding Beauty In Chaos, when it came to making the album was this the most important aspect, how it would sound above the actual songwriting?
"The sound, feel and vibe were certainly important elements to me. I wanted it to have a 'feel' … in the way 'Disintegration' feels cold to me when I listen to it. But I also wanted these to be great songs … something that sounded cohesive and had a common thread and flow. I knew it would sonically sound great with Michael Rozon behind the board. I knew all of the singers on this record were also really really good lyricists, which is also important to me. I told each singer the idea ow what the phrase 'finding beauty in chaos' meant to me, along with a rough cover concept. Some took it more to heart than others, but I think each singer tied it together in their own unique way. I think we accomplished a cohesive collection of work … that, to me, is meant to be heard in order, top to bottom. That said, I know most people don't have the time or mental bandwidth to absorb 80 minutes of anything … so we sort of broke it up into Record Black and Record White J".
Finding Beauty In Chaos reminds me in ways of My Bloody Valentine's Loveless, an album who's production almost bankrupt a record company, did you feel at any moment 'Fuck this I can't do it anymore' and almost tore your hair out to get your vision recorded?
"Well it did bloom much larger than I anticipated! I did not plan on almost 80-minutes of music!! It just kept going and more people said they wanted to be part of. Having our own studio (SAINTinLA) made the budget a non-factor, but it did take a year and a conservative estimate of more than 1200 hours of mine and Michael Rozon's life. Lots of work, but we had a blast … and drank a lot of red wine!! Mr. Rozon is a perfectionist and really pressured me to do better than my best could be. I trust his instinct and ears… and only overruled him on a few things; usually a first take of something that I thought had magic and spontaneity I didn't think I could recreate. I am a big fan of 'Loveless' and have read the stories. I'm not sure if Creation Records would have been a fan of a double debut record that I wanted to complete".
Is doing an album such as this, is it something you had planned for a number of years and just waited for the time to be right?
"Actually, this record came about as sort of a 'reaction'. I was frustrated at the direction that HUMAN DRAMA's 'Broken Songs for Broken People' was taking. We had decided to do an album with the original members after over more than a decade. I wanted it to be a bit of a throwback to the band's early days but the rest of the band wanted something different. Michael Rozon, who was recording my guitar parts for the record sensed my building frustration, and said 'why don't you do your own record?' With that simple sentence, BEAUTY IN CHAOS was born".
You describe the album as Cinematic in structure, if you consider the themes and content what would a visual movie consist of?
"I do think instrumentally most of the tracks have a soundscape quality and once each singer added their lyrics and melody, the cinematic nature really took shape. Objectively, I think these songs would work extremely well in television and film. "Bloodless and Fragile" with Ashton Nyte was featured in the last season of 'The Purge', and I am looking forward to more placements".
Using guitars as ambient noise generators is something that Lou Reed attempted back in the day, 'Metal Machine Music' does not have many fans but is Lou Reed an influence of yours?
"Not really. The Velvet Underground / Nico scene was never really on my radar … I was far more into and influenced by The New York Dolls, The Ramones and Johnny Thunder's Heartbreakers. The sonic limitation 'that I placed on myself that all textures on this record were created by guitar' was really a challenge that I wanted. We purposely injected bursts of sonic 'rudeness' into beautiful textures, and visa-versa. That was our goal to create chaos within beauty".
Was it a conscious decision to give a nod to your influences with the inclusion of a T Rex track( Which is brilliant by the way ) and the inclusion of lyrics by Patti Smith? Is this your Bowie, Hunky Dory moment?
"T.Rex, along with David Bowie, Slade and The N.Y. Dolls where a big influence on why I picked up the electric guitar. I think '20th Century Boy' is one of the greatest rock n' roll guitar riffs of all time. I was a bit apprehensive about including a cover song on this record, but after learning Al Jourgensen was also a big Marc Bolan fan, it was a no brainer. I think fans of Marc Bolan will be quite surprised at a track that will be included on 'beauty re-envisioned' (late April release) too! As far as the lyrical nod to Patti Smith in 'Man Of Faith'. I am not sure if that was intentional or not by Wayne Hussey. I do know he's a fan as THE MISSION do a brilliant version of 'Dancing Barefoot'. I feel the story he weaves about the atypical lecherous preacher in that track is brilliant!"
How difficult was it to assemble the cast of legends from Michael Anthony to Ice T to perform on the album?
"I am certainly fortunate that my position at Schecter Guitars has afforded me the opportunity to work with many great artists; most of which I am blessed to call friends. Many people really put their heart, soul and talents into the songs on this record. No one 'phoned it in'. It was certainly an amazing process to watch and be part of. For a fleeting moment this record was going to be my 'solo record' … but it quickly and thankfully blossomed into so much more. It is still pretty surreal to look at and listen to the artists involved, and in several cases we put people together who have never appeared on a song together. That is certainly exciting, as was working with artists whose bands take up a big part of my record collection!"
I was personally taken back when I saw the list of players on Finding Beauty In Chaos, were any tracks wrote with a particular artist in mind before they got involved with the project? Did you think 'yeah I'd love Ice-T to rap on this'?
"Well, with the diverse artists on the record, it was definitely our goal to make it a cohesive record … not simply a collection of songs, By most accounts, I think we accomplished that! I spoke with all of the artists prior, explaining what I was doing and what 'finding beauty in chaos' meant to me. I asked if that would like to be involved and I had my dream 'list' Most of the music was written first, and then Michael Rozon (BIC Producer) and I would listen and think 'it would be great if Wayne Hussey would sing this one', etc. Only two songs, 'Look Up' and Memory Of Love', were written with a specific singer in mind".
Have any of the artists who contributed to the album asked you to return the favor? Will you pop up on releases by Evi Vine or Body Count?
"I'm forever indebted to everyone involved in Beauty In Chaos. We are friends, and now family with what we all created. I would happily be part of anything they asked for me to help with."
Although Beauty In Chaos is a concept more than a band, have you considered extending the project as a touring outfit?
"Initially it was never my intention, but the more I am asked this, the more I seem to be thinking about it. It would have to be right …. And I would have to have many of the singers involved. I would never just ask one person to sing everything … it just wouldn't be right. We will see if this can happen … even if just once.".
Thank you Michael again for your time, hopefully we have future releases to look forward to from Beauty In Chaos.
"Thank you! We will certainly be sending you 'beauty re-envisioned' (a collection of remixes and reinterpretations of FBIC) which we hope to release in April".
For all news on future releases and activity from Beauty In Chaos, and indeeed to buy the latest release the astonishing-Finding Beauty In Chaos go to;
www.beautyinchaosmusic.com.
Kevin BURKE
21/02/2019
---