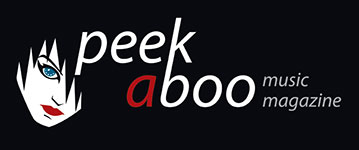 like this interview
---
PAUL LEARY (THE COCKY BITCHES,BUTTHOLE SURFERS)
'My mind has a jukebox that I cannot unplug.'
22/11/2018, Danil VOLOHOV
photos: © Artwork by Baroness Formica, Photography by Dixon Edge Coulbourn,etc
---
After the release of "Mercy", there are no doubts that The Cocky Bitches would follow their debut release, by one more. More shocking, more powerful, containing a sort of occult energy, bursting out of the record, like massive blood flow from a spurting artery.
The band started as a project, after future vocalist of The Cocky Bitches – Baroness Formica left a modeling career and started playing with the drummer of cult post-grunge band "Cold" – Sam McCandless. After some time, Paul Leary joined the new collective and the band finally formed. No doubt that trio had chemistry. Rock-n-roll history is full of such cases: when Malcolm McLaren met The Sex Pistols, when Morrissey met Johnny Marr. We can say the same about The Cocky Bitches. The trio could save the dynamics of psycho-grungecore and then, immediately move over to more soft motives. And back again, riding an endless rollercoaster.
Peek-A-Boo got a unique chance to speak with legendary guitarist and one of the members of The Cocky Bitches – Paul Leary. In the interview for the magazine Paul told us about the recording of "Mercy" and his background with Butthole Surfers, about the future plans with The Cocky Bitches and his approach to the work, about today's music and the place of feelings in his creativity.
You made your name with The Cocky Bitches last year, releasing your first single "TV's OK". But can you say how everything started? Was it in a recent jam or something more...?
About a decade ago Sam (McCandless) and Baroness (Formica) approached me to produce a song they had written as a two-piece band called "Damn Baby". I liked the song so much that I asked to play on it, which led to me worming my way into their band. We spent the next few years recording stuff in a space we had rented in Austin. It was a fun time, reminding me of how I liked to "rehearse" with Butthole Surfers back in the day. Eventually we had recorded enough stuff to put an album together.
If we summarise all the years in Butthole Surfers and The Cocky Bitches we could say that you were never afraid of experimentation. But as a composer can you say that you strain to create a kind of contrast in your music...a disbalance ?
These kinds of questions always amuse me! I like a lot of different kinds of music, so I am influenced by a lot of different music. But I never try to do something when I create music. Music is an outlet through which to express the essence of your soul. The only thing that I'm ever trying to do with music is to get something off my mind, like going to the bathroom. It is not a product at the moment of conception. It may eventually become a product but it cannot start out as a product. Not in my world, anyway. And here I am in another situation working with musicians that pour forth as I do, so that the essence that pours out is that of a group with a common core that threads us together. We are able to speak as one, and so we do.
But of course there are lots of classifications of things you've been doing. Butthole Surfers is usually classified as psychedelic rock band. As a musician and member of this band, have you ever sensed your creativity as a form of expansion of mind ? Or for you this was more an expansion of musical standards ?
I don't consider it an expansion of the mind at all. More like cutting a tumor out of my brain. And I have no musical standards. In fact, the concept of music kind of pisses me off. It is in my head always, I cannot turn it off. Sometimes I just wish it would stop. I cannot enjoy listening to music unless I am creating it myself or producing it for others. If I hear a song on the radio that I like, I usually turn it off and continue listen to it in my mind. It's all there, stored in neural analog. My mind has a jukebox that I cannot unplug. I do not make music for others to enjoy, I make it for myself to enjoy. If it generates some income for me to live off of, great. But I cannot be successful doing that unless I am not trying to do that. It is all selfish and somehow based on mathematics. The mastery of the mathematics progresses over time, it is only natural.
I can't help but ask you about your gigs. First of all because people who ever attended your shows continue saying that Butthole Surfers are the most powerful and shocking band ever!…even after many years. So fire, naked girls…all this helter skelter…was it a part of one big idea or just one big impulse you felt being on the stage ?
There was never an idea. We were just having fun creating the kind of spectacle that we would want to see and hear for ourselves. I remember back in 1996, I was at home asleep in my bed. I woke up at three in the morning with the TV on, and it was showing a concert with mayhem noise and smoke and flames and flashing lights and images and explosions. I immediately perked up and thought: "Ya, now THAT is rock show!" And then I realized that I was watching a Butthole Surfers show that was taped somewhere! So we were just doing what we liked. Music is like a fart - everybody likes their own.
You made a lot of effort to break this stereotype about the band. Probably that's the reason people call Butthole Surfers "the weirdest band ever" but as an artist and performer do you think it's important to break the stereotypes ?
No. Butthole Surfers were not trying to break stereotypes. If anything, we were trying to be all of the different kinds of things that we like as fans of music. We were probably trying to achieve too many stereotypes at the same time to successfully fit into any single one. The only thing that is important is being compelling. Every musician likes their own music. It is a blessing when someone else likes it, too. But also, there are a lot of humans on this planet. If I like something, there is likely to be many others out there that also like it. We were pretty un-likeable, and yet some people liked us. Sometimes its people that scare me. Sometimes I scare myself!
When you focus on experiments, music always seems to have an ambiguous character. First of all because the main benchmark in the creative process are things you feel. So as an artist, can you say that you try to elicit some concrete emotions in your listeners ?
Music is all about emotion. It is the product of emotion. I have an older cousin who is a computer genius and worked for many years at a major tech firm developing artificial intelligence. One day he told me about something his company had developed, which was software that writes music. He asked me how I felt about computers being able to compose music without human input. I told him the project would be pointless unless they could program their computers to feel pain and joy. They can't. But that is what it would take. That is where music comes from. When it is crafted in a good way, it allows others to experience the emotion of the creator. So it isn't that we are trying to elicit some concrete emotions, but rather we are trying to elicit those emotions in ourselves. I cannot allow myself to consider how others will react or not react.
At the beginning of your work, you were majorly influenced by psychedelic rock. While at the period of "Independent Worm Saloon" your sound became more hard. So talking about "Mercy" can you tell us, what is the uniqueness of this record for you ?
We have a new cast of characters in this band and because we are a three-piece band, each member has to have something powerful to bring to the table. There were aspects to Butthole Surfers that, over time, became practically unbearable for me. Sometimes the expectations of fans can start to creep into the process, and it can be difficult to ignore. And maybe band members start to wander into areas that other band members find uncomfortable. The Cocky Bitches are starting with a blank slate and that can feel liberating. It does feel liberating. One of my favourite things to do when co-writing music with my new bandmates is to shout out the word "Free!", and then everyone starts producing the most irrational and ridiculous sounds. That is when things get real. It isn't always easy to feel free when creating music. But it is important.
You said once, that most of your producer's work is connected with Butthole Surfers, where each of the members brought his own element to the whole picture you've been working on together. Recording "Mercy" you played most of the instruments. How it was for you to step away from your usual ways of working ?
I always played a lot of the instruments in Butthole Surfers. Bass, keyboards, guitar and sometimes vocals. Sometimes we had a bass player, but if I felt like playing bass, I played bass. Sometimes I programmed drums. I did no drum programming on Mercy but I pretty much worked the same way for both bands. If I was a better guitar player, I probably would have simply stuck with that. But I am what I am. I accept my limitations and I don't accept my limitations.
One of the things I really like in this record – the balance you have on it. For example on "Hand In The Fire" there is a kind of contrast between Lisa Gerrard-like vocal chords, at the beginning and rude grunge chorus. So talking about this song and the record in general, was it hard for you to find the balance of things ?
The balance was easy, it practically balanced itself. That was one of the songs I wrote most of, and that balance was built into it from the beginning. It was in my head and it was a pretty simple concept. In life, there is beauty and there is ugly. Sometimes they are holding hands. This is a product of nature. I appreciate these things.
Some of the bands put their main stress on playing live, gigging. And with it, the recorded material is just a kind of bonus to it. It's a thing we can say about The Birthday Party and partly about Butthole Surfers. But talking about your further pans with The Cocky Bitches – can you talk about them ? Will there be a tour ?
I doubt that there will be a tour. I only care about creating music. Music is not created on tour, it is created in recording studios. I started touring in 1981. There were days and weeks and months and years on end when all I could do was long to be somewhere. I wanted to be somewhere and have someone and have a life. I have those things now. Going on tour now is like holding my breath. And it is difficult to cope with the unending hours of doing nothing in between performances. That one hour a day is great, but the other 23 are not so great. My hope is that video and television and movie usage can take the place of getting on a stupid bus. Either way, I am at a happy place in my life and touring is not a part of that.
Brian Eno has the special "chapter" of his creativity. He's spent many years writing soundtracks for different art-performances and it was the thing I thought about looking at your press-kit! So can you say, with The Cocky Bitches, have you ever thought about taking part in art-performance ? For example working with Marina Abramović ?
The Butthole Surfers actually started out as an art performance band. Our first shows were at art galleries, and the music was a part of the performance. To be honest, there is something about all of that that bugs me. When I think of art, I think of Robert Motherwell and Alfred Sisley. Music adds nothing to that. When I think of music in an art performance, I think of Yves Klein and his Monotone Symphony. Nude women covered in paint flinging themselves at canvasses on the floor at the artist's direction while an orchestra plays one continuous note for ten minutes, alternating with ten minutes of silence. The music is not important but the concept of the music is. When it comes to art performance, I'd prefer to be a spectator.
The internet has become the main information source, changing a lot for the musical industry. Nowadays, musicians put their stress to a PR-company then to touring activity and self-development. But for lots of veterans of music "being a musician" is synonymous to Kerouac's "being on the road". So according to your opinion, is it hard to be in the band today ?
I don't know how bands make it today. I doubt the Butthole Surfers would make it today. I don't know how things work, and I probably never did. I hope The Cocky Bitches can carve out a sustainable existence, but I have no formula for success. Yes, it is hard to be in a band today. It has always been hard, and necessarily so. If it wasn't hard, everyone would do it. Someone has to get the work done in this world. I'm just glad it isn't me.
Danil VOLOHOV
22/11/2018
---