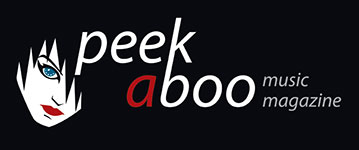 like this interview
---
THE MISTRESS OF JERSEY
We can only enjoy the songs that the Sisters wrote back then.
11/08/2015, Xavier KRUTH
---
The Sisters of Mercy are still regularly performing, and with great success. But do you know what we really would like to see? A performance by the Sisters as they did in 1985, with their songs of that period. Well, that is exactly what The Mistress of Jersey does. We did not need to know more in order to invite them to the next Dark Entries Night, on Friday, September 11th in the Kinky Star in Ghent.
What I know of The Mistress of Jersey, is that you had a relatively big succes with covers of the Sisters in the 90s. Tell me, how did you come up with the idea to create a cover-band of The Sisters of Mercy?
Well, we had a garage band called Mother of Insanity. We played our own songs but also covers. This included Alice and Vision Thing - two songs by The Sisters of Mercy. At one point - I do not remember well how it happened - we have decided to play only covers of the Sisters, because we felt that it was great music. Actually, we only play songs from the period before 1985, before Floodland and all that stuff. My voice resonated well with the Sisters covers. I have quite a deep voice. It really went well. The first performance was at Demo Rock, a local festival. We decided to play the covers then, and we called ourselves The Mistress of Jersey. Initially, we played with an acoustic drum, but later we switched to a drum machine. That went well, and there were questions coming in to do performances. We decided to continue to do so. We have done a considerable number of gigs. We have certainly played three times in the Twieoo. It was a very nice period.
When was that?
I think it was 1994 or '95. Some twenty years ago.
But you must have played afterwards too. I've read a few articles about you in ancient paper issues of Dark Entries, and I think it certainly must have been 1996 or '97?
Yes, that's possible. We have played a total of ten years with The Mistress. We had occasional performances, a couple in the Netherlands, some in Belgium. A bit scattered, everywhere.
When did you stop, and why?
The main reason was that our bass player had to leave to Hong Kong for his work. We did a lot of gigs in ten years. It's not really that we were tired of it, but hey, a distance grows between the band members and that's it. We never officially said we were going to stop, but we have decided not to make any more appearances. That will now be fifteen years ago, maybe a little shorter. But for the fiftieth anniversary of a friend of mine - in December, so still quite recently - his girlfriend asked if we would not want to give a performance of The Mistress as a surprise. We liked the idea. But our bassist of course was still in Hong Kong. I asked another guitarist to play with me. We did and it was great fun. After that performance, we said that we wanted to do that again, when we got the opportunity to do so.
It is a completely new line-up, and therefore no longer a trio...
We are still three members. I play guitar and vocals. The guitarist and bassist have changed. The former guitarist will surely come to the gig, but he had no time to start playing again.
It is important that you are limited to the early Sisters, until 1985. Until First and Last and Always. Why?
Because it is well defined. The numbers are easy for us to play. Afterwards the Sisters began playing with synthesizers and stuff. That was difficult. We decided to limit ourselves to that period. The First and Last and Always Tour. The issue is not that we do not like the other songs, but those early songs we are really very good at and we also like to play them a lot. We stuck to that idea.
What do you think of the Sisters now? They will soon come to the Trix in Antwerp. It even seems that Andrew Eldritch spends part of the time in Antwerp.
Yes, I've heard it too. I still think it's fun to go to their gigs. It's some nostalgia, too. But the sound that they play now is completely different, it no longer resembles the time of 1985. They have evolved. They play a lot of pre-recorded pieces. They lack a live bass, it is a drum machine which has the bass line on it. The guitar is also much more rock. At the time, there was much flanger and delay on it. Now it's more rock. I still find it very wise, though. It is always a good show.
You made ​​a first appearance at the birthday of a friend, so the gig in the Kinky Star will be the second. Is this the first public appearance?
Yes, because the first was at a private party. These were friends among each other. Everyone thought this was great. People were very enthusiastic. Now it will be like in the old times, before a real audience.
We look forward to it. Can you say something more about what we can expect?
Let me think... The drum machine, I always find it is something very central. We must ensure that it sounds as good as possible. We will certainly put some danceable songs in the set. The set will not last as long because we are the first band playing, but we will do the best we can to recreate the sound of the First and Last and Always Tour.
That's the real benchmark for you...
Yes. But they also had some songs with a twelve-string guitar back then. We play everything with two guitars. Songs like Heartland, Alice, First and Last and Always will certainly be among them. We are looking forward to it. We think it's great fun to play those songs, and we hope that the audience enjoys it too.
I'm sure of that. The Sisters of Mercy are still a classic in the scene.
And it's covers, so go ahead and let loose. Get mad, if you want! We can only enjoy the songs that the Sisters did back then.
Facebook event: The Mistress of Jersey & Twenty Six Tears at the Kinky Star in Ghent, 11/09/2012
Xavier KRUTH
11/08/2015
---