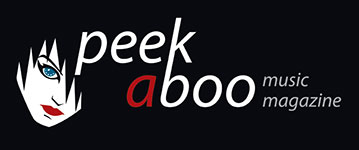 like this news item
---
---
Kiss The Anus Of A Black Cat are back with a brand new album on Zeal Records.
Catch them live:
10/11 ab, Brussels
25/11 nijdrop opwijk
17/12 handelsbeurs Gent.
According to the band, their brand new album will sound likeThe Soft Moon, Virgin Prunes and Throbbing Gristle who are making a Fad Gadget song.
---
Live:

10/11 ab

25/11 nijdrop opwijk

17/12 handelsbeurs gent


Met 'To Live Vicariously', de zesde plaat van Kiss The Anus Of A Black
Cat, zegt Stef Heeren de dronefolk van weleer voorgoed vaarwel. In zijn muziek knetteren voortaan ijle, industriële synths en mechanische drums; alsof The Soft Moon, Virgin Prunes en Throbbing Gristle samen een nummer van Fad Gadget in elkaar knutselen.

'To Live Vicariously' is een driehoeksverhouding tussen post-punk, industrial en darkwave. Het is een album, halfweg tussen hemel en hel, dat begeestert én aanstekelijk is, tegelijk warm én koud klinkt. 'Alle nummers zijn ontstaan in de krochten van mijn geest', lacht Heeren. 'Het resultaat is donker, maar Kwinten (Mordijck, synths) en Koen (Gisen, producer) waakten erover dat de muziek niet té obscuur zou klinken. Het eindresultaat moest toegankelijk blijven voor de luisteraar.'

K.T.A.O.A.B.C is niet langer een soloproject, maar een volwaardige band. 'Ik beslis nog steeds hoe de muziek zal klinken, maar de input en invloeden komen nu ook van de andere bandleden. En met deze sterke muzikanten rond mij, zie ik gewoon dat de band groeit.' Stef Heeren en Kwinten Mordijck tekenden de eerste schetsen van 'To Live Vicariously' uit, Matthias Debusschere (bas, synth) en Jonathan Callens (drums) kleurden de tracks mee in. 'Het is overigens de verdienste van de band dat de nummers hedendaags klinken, en geen slechte kopie van de jaren tachtig zijn', aldus Heeren.

Als Heeren zijn duivels ontbindt, druipt er spontaan angstzweet over je rug. 'To Live Vicariously' verandert elke tien seconden van versnelling, zit vol verraderlijke uitbarstingen, en is met voorsprong de meest punky plaat van K.T.A.O.A.B.C. 'Ik kom uit het punkmilieu. Deze cd voelt als thuiskomen', grijnst de frontman. 'Dat Crass, de legendarische anarchistische punkband, één van mijn grote invloeden is, zegt veel over de inhoud van onze nummers. Toen Koen, onze producer, de titeltrack voor de eerste keer hoorde, riep hij: 'precies een revolutie!' Dat is exact het gevoel dat we bij de luisteraar willen oproepen. 'To Live Vicariously' is een auditieve opstand, maar er schuilt evenveel maatschappijkritiek als hoop achter de muziek.'

Synths zo scherp als een glassnijder, drums die op je hoofd, hart én benen mikken: 'To Live Vicariously' is een plaat die in de kleren blijft hangen; één die úren nazindert. 'Hoe meer mensen de muziek appreciëren, hoe beter. Maar ik besef dat het nooit mainstream zal worden', besluit Stef Heeren. En dat hoeft ook niet. Kiss The Anus Of A Black Cat zit nu al tien jaar in de underground, en zit daar nog steeds goed.