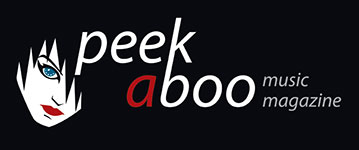 like this news item
---
---
The first single Lux is inspired by the latin meaning of the word which means Light up the darkness.
The album will be out on the 10th of November via ANYWAVE/MANIC DEPRESSION RECORDS and the mood consist in such gloomy, suspense-filled material with dark colours melodies and atmosphere of claustrophobic menace. Cascading from jangling, psychedelic and warped guitars to galloping tribal drumming, via endless layers of mesmerizing synths."
Schonwald is a duo from Italy formed by Alessandra Gismondi (voice and bass guitar) and Luca Bandini (guitar, synths and drum machines).
Schonwald is all about atmospheres: hypnotic minimalist mood and a noise inclination with echoes of Suicide, New Order, The Cure, mingling with synth melodies straight from the '80.
Don't let the Germanic name fool you, the first Italian band signed to HoZac Records (Chicago) in March 2013. Schonwald emerge on their US debut single slithering with unsettling vibes right from the start. This two-piece unit has been surreptitiously dwelling in the shadowy corners of the European underworld for a few years now, releasing their debut LP in 2009 on Pocket Heaven Records (Lux).
Schonwald are now encroaching on world submission with the unleashing of their long-anticipated "Mercurial" single. A chilling and hopelessly bleak drum-machine rhythm sets the tone, parting the waves of rippling darkness into a massive surge of inescapable, hushed-yet-crushing electronic melancholia.
European post punk at it's finest, Alessandra and Luca of Schonwald create a pulsing, black-lit atmospheric electronic vibration so cold, hypnotic, and simple, it's perfect for our endlessly frozen world.
Last album "Dream for the Fall" was out on the 25 of September 2014 via Anywave/Manic Depression Records (Paris).
Schonwald live debut was in London at "Myogenic Festival" and their records have been supported by 5 European tours through Italy, England, France, Switzerland , Portugal, Germany.
They played as special guest for UK Decay, Clan of Xymox and they've been invited to play at "WAVE GOTIK TREFFEN 2015".