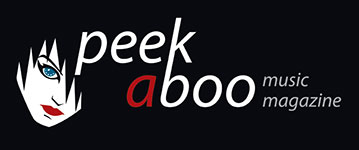 like this news item
---

---
"Sky Collapse" is the overture of a storm to come. Not only is it the first single from Kirlian Camera's new album "Hologram Moon", but also a dark song about worrying skies and disquieting scenarios. Moreover, it marks the collaboration between two of the most distinguished names in the dark electronic world, in fact Kirlian Camera are at work for the first time with Swedish electronic icon Eskil Simonsson of Covenant on the opening version of the track, which is a duet between singers Elena Alice Fossi and Eskil Simonsson. The song was written and produced by Elena Alice Fossi and Angelo Bergamini, mixed by legend producer John Fryer.
Kirlian Camera: "Sky Collapse" is memories from a recent hard period, when any possible light seemed to turn into deep darkness as if everything was definitely lost. The words of Reverend Jim Jones in the beginning of the song are a clear guidance to that disquieting world (Peoples Temple's leader Jim Jones committed suicide along with 1000 followers in Guyana, 1978: the biggest mass suicide in the recent history of America).
The sky looked as if it were collapsed, exactly, when... an unexpected ray of hope started shining in a doomy evening. So we are here, today, to describe quite an ordeal with simple words and "dance on all those ruins", whether they are the past we briefly mentioned above or a hard future we'll have to face. We always perceived a connection with Eskil Simonsson's Covenant, so... this meeting each other on these strange roads, today, is just a natural effect of such research in music and beyond."
Dependent: "Their collaboration culminates in one of the finest electronic singles we released in some time; that's why we bet so many DJs will play this EP's A-side in heavy rotation, so due to the force of the song, the wonderful remix and the B-Side titles, this item is going to be an outstanding presence in every dark electronic record collection. And this is just the overture to KCs forthcoming album "Hologram Moon" to be released this year as well!"
The 4 track EP/Single will be released on October 20th 2017.
Listen to the preview snippet on Youtube below!
Kirlian Camera will headline BIMFEST at De Casino (St-Niklaas, Belgium) on Friday 15th
www.bimfest.be / Tickets / Facebook Event