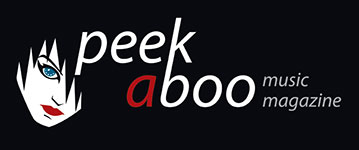 like this news item
---
---
Today we have to bring you some very sad news … Ward De Prins, co-founder and one of the main driving forces behind our Peek-a-Boo Magazine, curator of the Black-Easter Festival, and so much more … is no longer with us.
His love for music and especially the more darkish alternative and out of the ordinary music was so intense, he dedicated most, if not all, of his free time to Peek-a-Boo Magazine. He always was ready to give his full support to bands, promoters, editors and writers who shared the same musical passion!
Ward's music preferences were quite eclectic, he loved Einstürzende Neubauten, Goethes Erben, Pink Floyd and Coil, to name a few … he was also very fond of vocal artists, classical music and opera…
But his real and all-time hero … was without doubt …David Bowie!
So we hope you are now united with your hero and can finally open and listen to your sealed copy of Black Star without too much sorrow.
Ward past away last Monday evening, on 12th February at his home in Antwerp, he was only 48.
Rest In Peace our dear friend! Things will never be the same again!
---
Vandaag moeten we helaas heel triest nieuws brengen...
Ward De Prins, mede-oprichter en één van de belangrijkste stuwende krachten achter Peek-A-Boo-Magazine, curator van het Black-Easter Festival, en nog veel meer... is niet meer onder ons.
Zijn liefde voor muziek, en vooral voor de iets donkere alternative en ongewone muziek was zo intens, dat hij het grootste deel van zijn vrije tijd besteedde aan Peek-a-Boo Magazine. Hij was ook altijd bereid om zijn volledige steun te geven aan bands, promotors, redacteuren en schrijvers die dezelfde muzikale passie deelden!
Ward zijn muziekvoorkeur was behoorlijk eclectisch, zo hield hij van Einstürzende Neubauten, Goethes Erben, Pink Floyed en Coil, om er maar een paar te noemen... Daarnaast was hij was ook gek van vocale artiest, klassieke muziek en opera...
Maar zijn echte en all-time held was zonder twijfel …David Bowie.
Ward overleed afgelopen maandagavond 12 februari in zijn huis in Antwerpen, hij was pas 48.
We hopen oprecht dat hij nu verenigd is met zijn held, en dat hij nu eindelijk zijn verzegelde exemplaar van Black Star mag openen en dat hij er nu wel, zonder al te veel verdriet, naar kan luisteren.

Rust in vrede beste vriend!! De dingen zullen nooit meer hetzelfde zijn zonder jou!