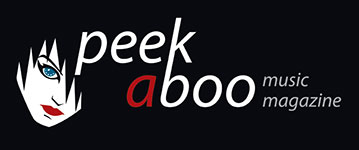 like this news item
---
One year ago Peek-a-Boo and Black Easter founder Ward De Prins passed away...
14th of February 2019, 12:15
---
On this day just one year ago we received some very sad news that blew us away … our dear friend Ward De Prins, co-founder and one of the main driving forces behind our Peek-a-Boo Magazine, curator of the Black-Easter Festival, and so much more … had unexpectly left us for good.
His love for music and especially the more darkish alternative and out of the ordinary music was so intense, he dedicated most, if not all, of his free time to Peek-a-Boo Magazine. He was always ready to give his full support to bands, promoters, editors and writers who shared the same musical passion!
Ward's music preferences were quite eclectic, he loved Einstürzende Neubauten, Goethes Erben, Pink Floyd and Coil, to name a few … but he was also very fond of many vocal artists, classical music and opera…
But his real and all-time hero … was without doubt … David Bowie who also left this planet only 2 years before!
Only a couple of weeks before Ward passed away, he shared with us he was still unable to open and listen to his still sealed copy of Bowie's last album Black Star. Now his sorrow is over and he is reunited with his hero.
Ward passed away on 14th February at his home in Antwerp, he was only 48.
Rest In Peace our dear friend! Things are not the same anymore... WE MISS YOU!

20.04 + 21.04 Black Easter 2019 - In memory of Ward De Prins
Just one week before his death, Ward also told his friends he was again full of energy and ready for another edition of Black Easter in 2019... sadly he would never live to tell... But some of Ward's closest friends decided to still make his last dream come true! Based on found a personal band wishlist and with the full support of Ward's family these friends have now succeeded in putting together a worthy Black Easter edition for 2019.
---
Exact één jaar geleden moesten wij op deze dag helaas heel triest nieuws brengen...
Ward De Prins, mede-oprichter en een van de belangrijkste stuwende krachten achter Peek-A-Boo-Magazine, curator van het Black-Easter Festival, en nog veel meer... was niet meer.....
Ward's liefde voor muziek en vooral voor de iets donkere alternative en ongewone muziek was zo intens dat hij het grootste deel van zijn vrije tijd besteedde aan Peek-a-Boo Magazine. Hij was ook altijd bereid om zijn volledige steun te geven aan bands, promotors, redacteuren en schrijvers die dezelfde muzikale passie deelden!
Ward's muziekvoorkeur was behoorlijk eclectisch; zo hield hij van Einstürzende Neubauten, Goethes Erben, Pink Floyed en Coil, om er maar een paar te noemen... Daarnaast was hij was ook gek van vele vocale artiesten, klassieke muziek en opera...
Maar zijn echte en all-time held was zonder twijfel …David Bowie.
Nog maar enkele weken voor zijn overlijden vertelde hij ons dat hij nog steeds niet naar het laatste en nog steeds ongeopende album van zijn held had kunnen luisteren. Nu is zijn verdriet gelukkig over en is hij herenigd met zijn held.
Ward overleed afgelopen maandagavond 12 februari een jaar geleden in zijn huis in Antwerpen, hij was pas 48 geworden.
Rust in vrede, beste vriend!! De dingen zijn niet meer hetzelfde zonder jou! We missen je enorm!
20.04 + 21.04 Black Easter 2019 - In memory of Ward De Prins

Nog geen week voor zijn onverwachte overlijden vertelde Ward zijn vrienden dat hij volledig klaar stond om een nieuwe editie van Black Easter neer te zetten. Helaas zou hij het niet meer kunnen waarmaken. Daarom besloten enkele van Ward's beste vrienden om zijn uitgesproken droom waar te maken. Op basis van een gevonden wenslijstje met artiesten en met de volledige steun van de familie slaagden deze vrienden er in een volwaardige Black Easter 2019 samen te stellen.