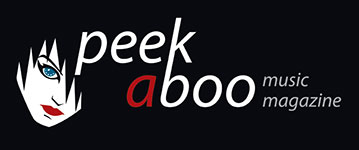 like this news item
---
This weekend we will be celebrating Black Easter in memory of Peek-a-Boo co-founder and former Black-Easter curator Ward De Prins
29th of January 2019, 13:16
---
When Black Easter inspirer (and fellow Peek-a-Boo founder) Ward De Prins unexpectedly passed away on 14 February last year, some of his best friends decided to still make his dream come true. After all, Ward had already started to plan a new edition of Black Easter for 2019! Based on a wish list and a selection of artists who performed on one of the previous editions, these friends have now succeeded in putting together a stunning and diverse line-up.
So from the early start on Saturday 20 April they kick-off strongly with Post-Goth-Rockers YOUR LIFE ON HOLD (B). Up-and-coming Belgian talent who surprised friend and foe with their debut album 'Burning for the ancient connection'.
Then THE BREATH OF LIFE (B), who already played Black Easter in 2015, will enchant you with a firm dose of Gothic-Rock drenched in the angel-sweet voice of frontwoman Isabelle Dekeyser.
Also EVI VINE (UK) and her following stand ready to take you on their Folk-Tronica trip. A journey interspersed with dreamy sounds and dark atmospheres with which she mesmerized the Black Easter 2016 audience once before.
One of the big surprises of this Black Easter edition is the passage of no-one less than ALEXANDER HACKE (EINSTÜRZENDE NEUBAUTEN) and his life companion DANIELLE DE PICCIOTTO (SPACE COWBOYS). Together they travel the world and the seven seas performing and composing beautiful music under the moniker HACKEDEPICCIOTTO. Their compositions are mostly built around cinematic drone sounds with avant-garde influences and elements from world music, Krautrock and so much more.
As a Co-headliner, none other than artistic centipede and Gothic icon MONICA RICHARDS (US) (FAITH & THE MUSE), together with her partner in crime ANTHONY JONES (US) (Monastic), will take the Zappa stage. Did you know, the Black Easter's poster background of this edition is based on a painting by Monica Richards herself?!
Anyway, to finish off this great first night with a true feast, CLAN OF XYMOX (NL / D) has also been added as a headliner! Chief Ronny Moorings and his band members will present you a mix of new work and of course a lot of their classics!
On SUNDAY 21 APRIL there seems to be no time for a warm-up as this Easter Sunday will immediately begin at a high level with SIEBEN (UK)! The solo project of violin virtuoso and eccentric Matt Howden. Matt Howden worked in the past with almost innumerable artists like Sol Invictus (UK), Tony Wakeford (UK), L'Orchestra Noir (UK), L'Ame Immortelle (AT), Emilie Autumn (USA), Faith & The Muse (USA), The Wand And The Moon (DK ), Larsen (IT), Spiritual Front (IT), Shock Headed Peters (UK), Hekate (DE), Job Karma (PL)... Whilst only armed with one microphone, one violin and a loop pedal, he still manages to create the impression that there is a whole band on stage!
WILDERMAN is the latest project from AROMA DI AMORE / DE LEGENDE frontman ELVIS PETERS. Together with some of his De Legende musicians, Peeters brings an eclectic mix of Jazz and Underground / Wave like no other can do!
JO QAIL (UK) uses approximately the same arsenal as Sieben, but instead of a violin she brings her cello along as her favourite instrument. This pleasant and entertaining appearance also succeeds in mesmerizing her audience with her musical creations. No music genre is out of her league as you will hear!
DEAMONIA NYMPHE (Δαιμόνια Νύμφη) is a Greek music band established in 1994 by Spyros Giasafakis and Evi Stergiou. The band's music is modeled on Ancient Greek music and is often categorized as neoclassical or neofolk. DEAMONIA NYMPHE uses authentic instruments, including lyre, varvitos, krotala, pandoura and double flute, which are made by the Greek master Nicholas Brass. Their shows are very theatrical, with members wearing masks and ancient dresses. Their lyrics are drawn from Orphic and Homeric hymns and Sappho's poems for Zeus and Hekate.
And of course there is no better way to end this Black Easter weekend than seeing the German über Goth band GOETHES ERBEN perform! OSWALD HENKE and his entourage were already present at the very first edition back in 2015 and always deliver a great concert! As we are used from them Henke will not only play some new stuff but will also spoil his fans with a bunch of Goethes Erben classics!
Click the names/links to hear more about the artist!
---
Dit weekend vieren wij Black Easter ter nagedachtenis aan de mede-oprichter van Peek-a-Boo en voormalig Black-easter curator Ward De Prins!
Toen Black Easter bezieler (en mede Peek-a-Boo-oprichter) Ward De Prins op 14 februari van vorig jaar onverwacht overleed, besloten enkele van zijn beste vrienden om alsnog zijn droom waar te maken. Ward was immers al volop met hen aan het plannen om in 2019 een nieuwe editie van Black Easter neer te zetten! Op basis van een wenslijstje en een selectie van artiesten die al eens op één de vorige edities optraden zijn deze vrienden er in geslaagd een mooie en diverse line-up samen te stellen.
Zo wordt er op zaterdag 20 april al meteen van bij het begin stevig ingevlogen met de Post-Goth-Rockers van YOUR LIFE ON HOLD (B). Aanstormend Belgisch talent dat vriend en vijand wist te verrassen met hun debuutalbum 'Burning for the ancient connection'.
Ook THE BREATH OF LIFE (B), die in 2015 al eens op Black Easter stonden, komen u betoveren met een dosis Gothic-Rock overgoten door de engelzoete stem van front vrouw Isabelle Dekeyser.
Daarna is het de beurt aan EVI VINE (UK) en haar gezelschap om u mee te nemen op hun Folk-Tronica trip. Een trip doorspekt met dromerige klanken en door donkere sferen en waarmee ze op Black Easter 2016 het publiek vervoerde.
Eén van de grote verrassingen van deze editie van Black Easter is toch wel de passage van niemand minder dan ALEXANDER HACKE (EINSTÜRZENDE NEUBAUTEN) en zijn levensgezel DANIELLE DE PICCIOTTO (SPACE COWBOYS). Samen trekken zij de wereld rond en maken ze prachtige muziek onder de noemer HACKEDEPICCIOTTO. Hun composities zijn meestal opgebouwd rond filmische dronegeluiden met avantgardistische invloeden en elementen uit de wereldmuziek en Krautrock.
Als co-headliner komt niemand minder dan artistieke duizendpoot en Gothic icoon MONICA RICHARDS (US) FAITH & THE MUSE) samen met haar partner in crime ANTHONY JONES (US)(Monastic) het Zappa podium innemen. Klein wist-je-dat-je: de achtergrond van de Black Easter-affiche is dit jaar is gebaseerd op een schilderij van Monica Richard!
Om de eerste avond al in een waar feest te laten eindigen werd ook nog eens CLAN OF XYMOX (NL/D) als headliner aan deze geweldige eerste avond toegevoegd! Opperhoofd Ronny Moorings en zijn bandleden zullen u een mix presenteren van nieuw werk en natuurlijk een heel deel klassiekers!
Op zondag 21 april is er geen opener voorzien maar begint het paasfeest meteen op hoog niveau met SIEBEN (UK), soloproject van vioolvirtuoos en excentriekeling Matt Howden. Matt Howden werkte in het verleden samen met haast ontelbare artiesten, zoals Sol Invictus (UK), Tony Wakeford (UK), L'Orchestra Noir (UK), L'Ame Immortelle (AT), Emilie Autumn (USA), Faith & The Muse (USA), Of The Wand And The Moon (DK), Larsen (IT), Spiritual Front (IT), Shock Headed Peters (UK), Hekate (DE), Job Karma (PL) … Zijn kunst bestaat erin om enkel gewapend met een micro, een viool en een loop-pedaal de indruk te scheppen dat er een hele band op het podium staat!

WILDERMAN is het nieuste project van AROMA DI AMORE / DE LEGENDE frontman ELVIS PETERS. Samen met enkele van zijn De Legende muzikanten brengt Peeters met deze band een elcectishe mengeling van Jazz en Underground/Wave zoals alleen hij dat kan.
Meeteen daarna volgt JO QAIL (UK) die ongeveer het zelfde arsenaal gebruikt als Sieben maar in plaats van een viool de cello als haar geliefkoosd instrument heeft meegebracht. Ook deze aangename verschijning slaagt erin haar publiek in te pakken met haar creaties. Geen muziekgenre is haar te min en er zal heel wat de revue passeren!
DEAMONIA NYMPHE (Δαιμόνια Νύμφη) is een Griekse band die in 1994 werd opgericht door Spyros Giasafakis en Evi Stergiou. De muziek van de band is gemodelleerd naar oude Griekse muziek en wordt vaak gecategoriseerd als neoklassiek of neofolk. DEAMONIA NYMPHE maakt gebruik van authentieke instrumenten, zoals lier, varvito's, krotala, pandoura en dubbele fluit, gemaakt door de Griekse meester Nicholas Brass. Hun shows zijn erg theatraal, met leden die maskers en historische klederen dragen. Hun teksten zijn afkomstig uit Orphic en Homeric hymns en Sappho's gedichten voor Zeus en Hekate.
En natuurlijk is er geen betere manier om dit Black Easter-weekend af te sluiten dan met de Duitse über Goth band GOETHES ERBEN! OSWALD HENKE en zijn gevolg waren reeds present op de allereerste editie in 2015 en staan garant voor een waar feest! Henke heeft alvast beloofd om naast splinternieuw werk, ook nu weer zijn fans te verwennen met hun grootse klassiekers!