---
CINEMA STRANGE
---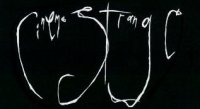 Cinema Strange is an American, California-based, deathrock group based in Los Angeles, California. Their performances also incorporate film, dance, and visual art.
The California-based Cinema Strange Project made headlines around the world this past February when they completed a 1/20th scale model of Big Ben using toothpicks, fly legs, and fingernail clippings. The unpredictable ensemble commented, "We've played music in Europe a bunch of times, we've made films about zombies and dancing military men, and we made our last album like a story book. The Big Ben model was a logical next step."
The band is infamous in the North American gothic scene for their unique and theatrical stage shows, sometimes involving up to a dozen or more actors and performance artists. Their music, while originating humbly in 1994 as a high-tempo post-punk expression, has evolved into a bizarre and exciting species of musical storytelling, breaking new ground and taking over where bands like the Virgin Prunes left off.
Related artist(s): THE DEADFLY ENSEMBLE