---
FORMALIN
---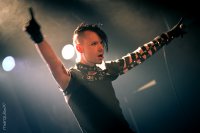 Berlin City Industrial.
Sex, dirt, deterioration, destruction, fashion and arts, humankind in all its facets and the longing for the extreme. Formalin's music is direct, forceful and hard – a sound that excellently depicts the real life in their hometown of Berlin. Formalin understand their music as a logical reflection of their present reality and life in an urban metropolis – with all the subsequent extremes and emotions.
The debut album "Bodyminding" excellently showcases how uncompromising, careful and with how much finesse mastermind and singer Tominous and drummer/producer Gabor approach the creation of their music. Club-compatible hits like "Yuppiescum" or "Breath Control" are fused with cinematic and versatile endeavours like " Körperfabrik" or "Fallout" that take the listener into a dark world full of destruction and decay. One cannot help to admire with how much passion the duo has worked on every minute detail to optimize and focus the characteristic and extreme sound of Formalin. A process that the many live concerts the band has played in the past years have helped to perfect – on stage, the project unfolds its full conceptual glory and channels the energy inherent in the songs perfectly.
Formalin are trying to shake the dust off the shop-worn Industrial-genre with charismatic, club-compatible and highly aggressive songs. Listening to "Bodyminding", it becomes quite obvious that they have succeeded in modernizing a genre.