---
HYSTERESIS
---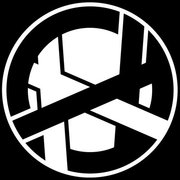 Belgian act Hysteresis are no newcomer to the scene, with two albums and two Maschinenfest performances constituting a decent pedigree. Since their mother label Spectre has gone into suspension, they have now joined HANDS to release their creative output.
Previous Hysteresis releases have earned them a reputation for extreme eclecticism, and >There IS No Self < continues that path: It opens with a disjointed rave rocker ("I Dose"), strangely familiar but queer enough in sound to make sure one won't take it too seriously. Such tempted the listener drops into the rollercoaster seat and enjoys the ride. On the way, lots of distorted beats explore the thrillseeker's physical capacities and samples are scattered everywhere. Unexpected detours are taken through raveland (stab, stab!), and a very prominent feature are tribal beats, blissfully proclaiming the praise of the rhythm. And every now and then there is that unique atmosphere, making for a coherent listening despite all that variation in tempo.
For the open-minded listener, there are lots of tunes to discover: "Assange" is a potential hit on industrial dancefloors, "Dark Gravity" I s a wonderful, Panacea-style rave monster, and beautifully strange tracks are to be found all over, like the anthemic "Hellish Gospel" (crazy ethno samples) or the closing track "Indub", which is just what it's called, Industrial Dub. THERE IS NO SELF is a thoroughly enjoyable, entertaining album, sporting a crisp production and a plethora of ideas that are very convincing.
www.facebook.com/pages/Hysteresis/197043060336637
HYSTERESIS performed @ Factory Noise (Shadowplay Festival), July 2011