---
LOVE LIKE BLOOD
---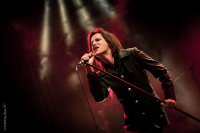 Love Like Blood is a German gothic rock/gothic metal band.
Its nucleus consists of Eysel brothers (Yorck-vocals, lyrics and Gunnar - bass). The band was active in the years 1989-2001 and is now on (indefinite) hiatus. Its early sound reminisces the style of The Fields of the Nephilim. They made their breakthrough with the 1992 album "An Irony of Fate", which marked the debut of the English guitarist Mark Wheeler. This album showcased a transition to a more hard-rock-influenced style.
In the middle of the 1990s, Love Like Blood turned to Gothic metal with the album "Exposure".
On their 2000 album, "Enslaved + Condemned", Love Like Blood made a rendition of Youssou N'Dour & Neneh Cherry's song "Seven Seconds", giving the pop song a more ragged metal-oriented cover.
In 2011 they'll do some selective performances as a final farewell tour for their fans.
LOVE LIKE BLOOD performed @ Shadowplay Festival, July 2011