---
LUC VAN ACKER
---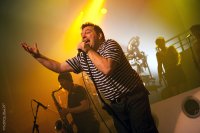 Busty devil-does-all whose never-ending anger and experimental drift has brought him to far across the boundaries, playing with groups as Ministry, Revolting Cocks, Shriekback, Mussolini Headkick and more…

Starts his career with the songs "The fear in my heart" and "Jump and shout" which were released as a 12 inch and became quite successful on a cult level. His first solo album was "Taking Snapshots", which he recorded in his home and distributed it himself by driving around Europe with several hundred copies in his car, begging record stores to buy as many as possible. This was followed by the noisy mini-album "Zas Budhist".

He joins the Belgian group Arbeid Adelt! with which he has maintained an off-and-on relationship throughout his career. He also performs studio-sessions for Red Zebra, Jo Lemaire and Polyphonic Size.

He met Dave Allen after a Shriekback concert, played him some of his music and ended playing guitar on Shriekback's album "Jam Science". Together they started what was to be a dance studio project called "Noise Abroad".

For his second solo-album "The Ship", he teams up with Blaine L. Reininger (Tuxedomoon), Anna Domino, Brian Nevill (Pig Bag), Kevin Mulligan (Talk Back) and Jean-Marie Aerts (TC Matic). The result is a very strong album with a very modern kind of soul and rock'n roll backed up by wild rhythm patterns. The biggest hit of the album is the cooperation with Anna Domino "Zanna". This song has a status of a "classic recording" now. In 1998, e.g. there was a "sampling competition" on Studio Brussels that took this number as the basis for all remixes.

After the release of "The Ship", Van Acker put a live band together and did 56 concerts in Europe.
[biography from last.fm, click here to read the full biography on last.fm]