---
MARC ALMOND
---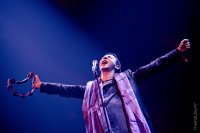 Marc Almond (born Peter Mark Sinclair Almond on 9 July 1957 in Southport, Lancashire, (now in the county of Merseyside, England) is a popular English singer, songwriter and recording artist, who originally found fame as half of the seminal synthpop/new wave duo Soft Cell.

Marc Almond has had a long and varied career spanning almost 30 years. During this time, after a career with Soft Cell and Marc and the Mambas, he has collaborated with an extremely wide range of artists including Antony and the Johnsons, Jools Holland, Siouxsie Sioux, Nick Cave, P.

J. Proby, Nico, Kelli Ali of the Sneaker Pimps, Neal X (on the albums Fantastic Star and Open All Night), Marie France, Agnes Bernelle, Lydia Lunch, Gene Pitney on the #1 UK single "Something's Gotten Hold of My Heart", Foetus (a.k.a. J. G. Thirlwell), Jimmy Somerville of The Communards and Bronski Beat, Psychic TV, Coil, Sally Timms of mekons, King Roc, John Cale and David Johansen of The New York Dolls and German band Rosenstolz.

Almond initially shot to fame in the early 1980s as one half of synth duo Soft Cell, whose combination of drama and peep show sleaze set to an electronic beat gave them hits such as "Tainted Love" (UK #1), "Bedsitter" (UK #3), "Torch" (UK #2), "Say Hello Wave Goodbye" (UK #3), "Soul Inside" (UK # 16), "What?" (UK #3) and the club hit "Memorabilia". They were first spotted by David Oddie, boss of Wakefield based Ambergris Records in a Bradford club, who passed his enthusiasm onto Dead Good Records in Lincoln, famous for their Hicks From The Sticks compilation, who in turn approached Polygram, the newly formed amalgam of Polydor and Phonogram.
[biography from last.fm, click here to read the full biography on last.fm]