---
PATTI SMITH
---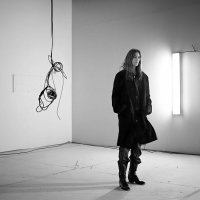 THE ULTIMATE QUEEN OF NEW WAVE. DEBBIE HARRY WAS BETTER-LOOKING. BUT SMITH IS MORE VIGOROUS. SHE PROVES JUST HOW ROCK'N'ROLL POETRY CAN BE. SHE IS RIMBAUD WITH A MARSHALL AMP.
Don't be surprised: Patti Smith turns 65 this year (2011). But this American lady is more active and more loved than ever. Last year she topped the charts with 'Just Kids', a book about the years with her old friend Robert Mapplethorpe. The famous photographer died of AIDS in 1989. Mapplethorpe's greatest merit is that he presents Smith to the world in 1975, with an iconic and pure image. Punk and new wave still have to break through but the cover of 'Horses' predicts what's coming next. Smith is wearing black trousers and a white shirt and has an intent look.
She becomes famous with a cover of 'Gloria' (Them/Van Morrison). She brings the classic in such a way that it becomes art. Something she also pulls off with Jimi Hendrix' 'Hey Joe' and with Bruce Springsteen's 'Because the Night', her biggest hit.
Patti Smith is 'the ultimate queen of new wave.' Debby Harry from Blondie was better looking, but Smith is more vigorous. She is a poet with a raw, penetrating voice and with a unique expressiveness. She proves how rock'n'roll can be poetry and the other way around. She is Rimbaud with a Marshall amplifier. The opening line of 'Gloria' is significant: 'Jesus died for somebody's sin but not mine.'
Smith is one of the few artists who know how to be popular in an artistically sound way. This is also clear from the diverse group of people she had worked with (John Cale, Michael Stipe from R.E.M., Kevin Shields from My Bloody Valentine) and the artists who value her highly (The Smiths, Sonic Youth, Garbage). For the gossip lovers: her son Jesse is married with Meg White (The White Stripes).
Patti Smith has an interesting link with our country. She almost always wears something from Ann Demeulemeester for whom she has also been of great significance. In 1976 the Antwerp designer falls in love with the cover of 'Horses' (1975). It is the defining factor for the designer's work.
In 2000 the designer and her muse become one. The summer collection of that year is called 'Wool Gathering', after a short novel by Smith from 1992. Demeulemeester embroiders sentences from the novel on the pieces of the clothing line. The latter is inspired by the androgynous look of the singer. In January 2006 Smith models for... a men's fashion show.
PATTI SMITH performed @ Sinner's Day 2011, October 2011