---
SECTION 25
---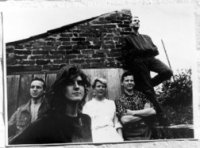 Section 25 were formed in Blackpool, Lancashire, United Kingdom in November 1977. Initially they were a duo, consisting of brothers Larry Cassidy (bass, vocals) and Vincent Cassidy (drums). In June 1978 they made their live debut, and in November were joined by guitarist Paul Wiggin.

Their debut 7", Girls Don't Count, was released in 1980 on Factory Records, produced by Rob Gretton and Ian Curtis of Joy Division. All Section 25 releases would be released through Factory Records. Their debut LP, Always Now, was released in 1981 and produced by Martin Hannett.

The three-piece group played many gigs in Britain and Northern Europe between 1979 and 1981, both as a headline act and with other Factory Records artists, such as Joy Division, A Certain Ratio, The Durutti Column, Crispy Ambulance and New Order. The group also released a self-produced second album, The Key of Dreams. However the original line-up split in 1982 when Paul Wiggin declined to fly to the United States for their first North American tour.

Joined by percussionist Lee Shallcross, Section 25 gradually evolved a more electronic-dance direction, a process which culminated in the album From The Hip and single Looking From a Hilltop, both released in 1984 and produced by Bernard Sumner of New Order. This new version of the band also featured Angela Flowers (vocals, keyboards) and Jenny Ross (vocals, keyboards). This line-up completed a second tour of North America in 1985.
[biography from last.fm, click here to read the full biography on last.fm]
SECTION 25 performed @ BIMfest 2011, December 2011