---
STAR INDUSTRY
---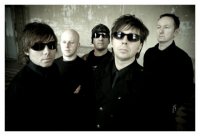 Star Industry kicked of in 1998 with the Iron Dust Crush CD, including their clubhit "Nineties". Even in the first year of playing concerts they went to the UK and played at WGT in leipzig. It was the start of an international career.
They released also in 2000 the New Millenium ep, in 2001 the full CD Velvet, in 2007 the full CD and double CD Last Crusades and in 2008 came their first live CD:Black Angel-White Devil - live in Madrid.
On stage is where Star Industry is felt at their best. Their numerous, and always highly praised, performances across Europe have established them as Belgium's best gothic rock export to date.
STAR INDUSTRY performed @ Eurorock Festival 2015, May 2015
STAR INDUSTRY performed @ Terra Gotha XVIII, May 2011
| | | | | |
| --- | --- | --- | --- | --- |
| | 05/2015 | PHOTOSHOOT | Eurorock Festival, Neerpelt, Belgium | [marquis(pi)X] |
| | 05/2014 | PHOTOSHOOT | Dubhfest, Poperinge, Belgium | [marquis(pi)X] |
| | 04/2013 | PHOTOSHOOT | Rewind-easter-Fest, De Vooruit, Ghent, Belgium | [marquis(pi)X] |
| | 07/2010 | PHOTOSHOOT | Gothic Festival, Waregem, Belgium | [marquis(pi)X] |
| | 03/2015 | INTERVIEW | Well, when I read the first reviews and comments, I think that we can be very happy. | [Wim Guillemyn] |
| | 03/2015 | CD | Renegades | [Wim Guillemyn] |
| | 11/2014 | CD SINGLE | Eilyne | [Filip VAN MUYLEM] |
| | 02/2015 | NEWS | Star Industry returns with new album | |
| | 11/2014 | NEWS | Star Industry return with 'Eilyne' EP | |
| | 03/2013 | NEWS | REWIND FEST presents Star Industry | |