---
THE EXPLOITED
---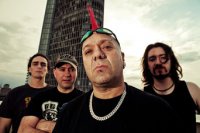 LOUD AND FAST SINCE 1980. THE PRIMAL PUNK OF THE EXPLOITED HASN'T CHANGED A BIT AND IS STILL EQUALLY EXPLOSIVE.
They play much better and the solos are better developed, but apart from that The Exploited have barely changed over the past 30 years.
The Scottish group of the so-called second wave of British punk, also known as UK82, took over from The Sex Pistols and other pioneers and added fierce drumbeats and the distorted guitar sound of metal bands like Motörhead and Saxon.
The most prominent UK82 groups were Charged GBH, Discharge and The Exploited. Without them, there would be no Metallica, Slayer or Slipknot. 'The sharp indictments of The Exploited against the system and the wild eyes and red Mohawk of front man Wattie Buchan made them an essential group', writes Ian Galsper in his book 'Burning Britain: The History of UK Punk 1980-1984'.
The Exploited is also controversial. Their lyrics are raging, their concerts are often a real bedlam and excitement is always guaranteed.
They were pelted with teargas by German policemen, banned in Holland and arrested in Spain. And during a concert in Argentina, they called out that the Falkland Islands will always remain British.
They are known as the group who experienced the most turbulent performance on TV programme 'Top Of The Pops' (BBC). They have been called idiots and rioters. And they survived it all.
The Exploited is loyal to its root, continues to be anti-authoritarian and anti-war and, after 11 guitarists, 10 bass guitar players and eight drummers, is still around. Only singer Wattie experienced the full 31 years.
The Exploited continue to live up to 'Punk's Not Dead', the title of their debut. This legendary album made it to the 20th place in the British charts in 1981 and sold 150,000 copies. It also gave its title to a documentary that premiered at the Cannes film festival in June 2006.
THE EXPLOITED performed @ Sinner's Day 2011, October 2011