---
UMBRA ET IMAGO
---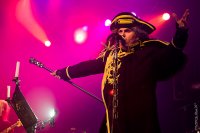 The band UMBRA ET IMAGO was founded by its leader Mozart in the fall of 1991. On purpose, a new counter-statement to the young and rising gothic culture was meant to be made. Yet, its name ( unsubstancial shadow) is issued and put on stage. Because of the brand new concept, the band was never easy to deal with. Refering to the Austrian psychiatrist Dr. Sigmund Freud as far as " Sexuality is the axis of our being", the cornerstone of the underdog-band was found. Spontaneity and experimentality were celebrated with boundless energy. The line-up consisted of Michael Gillian, Nail, Thosten B. and Mozart. In 1992 the band started live performances, which where fueled by their visual effects from the first time on. The artist Dirk Lakomy, supporting the band in its early days, illustrated the band's phantasy with his pictures and artwork.
The band performed in many European countries and also with unexpected success on the American continent.
During the years, Lutz evolved to produce Umbra et Imago, after succeeding with many other well-known albums in the gothic scene.
Mozart's motto is: " Only the sub-culture creates culture, the way it's always been and will be…"