---
VISAGE
---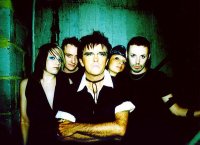 MAN OF THE PEOPLE, FRIEND OF THE STARS. STEVE STRANGE IS A MAGNET FOR PEOPLE WHO ARE IMPORTANT OR ARE ABOUT TO BE. DJ, PARTY ANIMAL, NEW ROMANTIC, SOCIETY FIGURE, HEAD OF 'FADE TO GREY'.
Steve Strange has a good eye for places to be. After a concert of the Sex Pistols in his hometown Newport he befriended guitar player Glen Matlock. He becomes a concert organiser and gets to know bass player Jean-Jacques Burnel of The Stranglers.
He needs to go to London where he starts working for the famous Malcolm McLaren. Time for his own band with female punk legends Soo Catwoman and Chrissie Hynde (The Pretenders) as well as future band members of Adam and the Ants, The Clash and Psychedelic Furs. And he was not even 20 by then.
Just to illustrate that Steve Strange is a people's person. At the end of the seventies he becomes the host of a new London club. Strange only lets weirdo's and people who are dressed conspicuously in. The Blitz becomes the new epicentre of the New Romantics (ABC, Culture Club, Duran Duran, Spandau Ballet, Ultravox). And Boy George works in the cloakroom for a while.
Strange takes singing lessons and becomes the epitome of the movement he helped create. His first step to fame is a role in David Bowie's video 'Ashes To Ashes'. A few months later he scores a major hit with 'Fade To Grey'. He shares Visage with Rusty Egan, his partner in nightlife, and Midge Ure, later member of Ultravox.
The band is pretty successful but quits in 1985. Strange tends towards the seamy side of life. The toll of the fame, the money and the drugs is too big for him. He gets addicted to cocaine and learns to control it at the beginning of this century.
During a retro tour with stars from the eighties he notices that he still has a lot of fans. Visage makes his comeback with a young line-up and with help in the studio from Dave Formula, also known as the keyboard player of Magazine.
www.myspace.com/visageofficial
VISAGE performed @ Sinner's Day 2011, October 2011