---
VOID OF SADNESS
---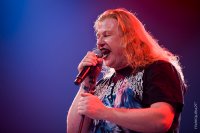 Void of Sadness was founded in the summer of 2004. The founders at the time were Andy (guitar player) and Jona (singer). They set out to play a music genre that sounded like a mix of metal and dance music... After some time this didn't appear to work. Andy wanted to do something along the lines of industrial metal with a post rock flavor. He started to work hard at different songs for the band.
Up till 2007 there were no permanent musicians, and the line-up changed frequently. During that time, the band experimented with a multitracker and a rhythm computer, and for some time, this worked out fine. But as time passed by, it became clear the band was missing something. So we started to look for a new keyboard player and a drummer.
Jonas joined on keyboards shortly thereafter. Pedro played the drums for some time, and we did some nice gigs in this line-up. After Pedro left the band due to personal circumstances, Kris joined us on bass. The new members fueled the fire and energy in the band for creating new, more powerful songs, and the foundations have been laid for a new, bright and creative era for Void of Sadness.