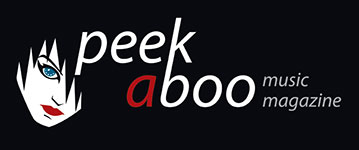 like this documentary review
---
APOCALYPSE-WORLD WAR 1
Movie
•
Documentary
Documentary
TDM
09/09/2014, Didier BECU
---
Of course you heard it before, but this year we remember the 100th anniversary of the First World War: the big battle that set the whole world on fire. It should have become an anniversary with the all saying message that history would/could never repeat itself, but the celebration was strongly overshadowed by another new threat. Everyone in West-Europe who takes life kind of seriously probably have asked himself that same question: can an event that is so far away create a world war he'll becoming part of? So far the leaders keep their heads kind of cool, but the answer is a definite yes. Hundred years ago millions of soldiers were fighting in trenches because an archduke from whom they have never heard was murdered. Those soldiers couldn't even point on a map with their finger Sarajevo, but it's an event in that city that lead most of them to death…
Not only war has a perverse side, also the commercialisation from it. Everyone knows someone who is searching week in week out war souvenirs at flea markets, not? It can be different though: watching war documentaries for instance and as bonus you learn something about history! After the immense success that Apocalypse: World War II was, TDM now releases Apocalypse: World War I. The newest masterpiece from Isabelle Clarke and Daniel Costelle is considered by many critics as the best documentary that's been made about the first world fire. A whole honour that is! And so it won't surprise anyone that the most prestigious television channels (National Geographic is one of them) have bought it.
If you shrug your shoulders because you're not keen on watching 5 hours old footage then we have to correct you by adding that all the material is fully restored and colorized, and more than the half of the material has never been shown before.
The documentary counts five parts with the titles: Fury, Fear, Hell, Rage and Deliverance. Five words that perfectly summarize the barbarian slaughter from 1914-18. The young men who were going to the front were sure that they'll be home at Christmas. Europe that since Napoleon wasn't fronted with a big war suddenly had to face bloody battles in where new techniques (especially transportation) made it possible that within an hour thousands of people were killed. The idea of just "playing war" soon got replaced by the terrible idea that a whole generation was stuck in a hell that became more and more brutal (poison gas). At 28th June 1919 The Peace Treaty of Versailles was signed. But throughout the documentary we already saw one corporal named Adolf Hitler who would lead his country (and especially the world) in short time into a second hell.
We know, you've seen it before, but never so beautiful (well, in a manner of speaking). Let's hope humankind is not so dumb to let the world burn for a third time, who knows this work might help…
Didier BECU
09/09/2014
---
Je hebt het ondertussen (natuurlijk!) al langer dan vandaag begrepen dat dit jaar een eeuw geleden de wereld voor het eerst in brand stond. Het zou een verjaardag moeten worden die als leuze zou hebben dat de geschiedenis zich nooit meer zou herhalen, maar de viering werd sterk overschaduwd door alweer een nieuwe dreiging. Iedere landgenoot die het leven min of meer serieus neemt stelde zich luidop de vraag of een conflict (de Krim) waarmee hij geen betrekking heeft (laat staan hem interesseert) hem zou kunnen meesleuren in een allesvernietigende wereldoorlog. Voorlopig is het verstand nog aan de winnende hand, maar de waarheid is dat dit wel degelijk mogelijk is. Honderd jaar geleden stonden miljoenen jonge mannen in loopgraven te vechten omdat een artshertog was vermoord waarvan ze nog nooit in hun leven hadden gehoord. De soldaten konden niet eens met een vinger Sarajevo op een kaart aanwijzen, maar het was wel een gebeurtenis in deze stad die de meeste van hun de dood hebben ingejaagd.
Niet alleen de oorlog zelf heeft verschillende perverse kantjes, ook de commercialisering die daarmee gepaard gaat: iedereen kent wel iemand die rommelmarkten afschuimt om op zoek te gaan naar oorlogsouvenirs, niet? Maar het kan ook anders: het bekijken van knappe oorlogsdocumentaires bijv. en zo leer je nog iets ook! Na het overdonderende succes dat Apocalypse: World War II was, komt TDM op de proppen met Apocalypse: World War I. Het nieuwste paradepaardje van Isabelle Clarke en Daniel Costelle wordt door heel wat critici beschouwd als de beste documentaire die ooit over de eerste wereldbrand is gedraaid. Een hele eer en het zal dan ook niemand verbazen dat de meest prestigieuze televisiestations (waaronder National Geographic) de serie hebben aangekocht.
Wie zijn schouders ophaalt omdat hij geen zin heeft om vijf uur lang naar stokoude filmpjes te zitten staren moeten we teleurstellen. Al het beeldmateriaal werd zowel volledig gerestaureerd als prachtig ingekleurd en minstens de helft van dit archiefmateriaal is nog nooit eerder vertoond.
De documentaire bestaat uit vijf delen met als titels Fury, Fear, Hell, Rage en Deliverance. Vijf woorden die deze barbaarse slachtpartij perfect omschrijven. De jonge mannen die naar het front trokken waren er namelijk rotsvast van overtuigd dat ze met kerstmis zouden thuis zijn. Europa die sinds Napoleon geen grote oorlog had gekend werd plots met de slagen bij Ieper, Passendale, de Marne en de Somme geconfronteerd. Nieuwe technieken (vooral voertuigen) maakten het mogelijk dat op een uur tijd duizenden mensen werden afgemaakt. De euforie van oorlogje spelen werd langzaam aan een uitzichtloze hel waarbij de vijand steeds brutaler te werk ging (gifgas). Op 28 juni 1919 werd het Verdrag van Versailles getekend, maar in de documentaire zagen we eerder het beeld van ene korporaal Adolf Hitler in de loopgraven die zijn land (en vooral de wereld) in korte tijd voor de tweede keer een onherstelbare deuk zou bezorgen.
Je hebt het inderdaad al eerder gezien (misschien wel nog nooit zo mooi, nou ja...je weet wat we bedoelen!), maar misschien kunnen we hopen dat de ezel zich geen derde keer aan dezelfde steen stoot. Dit naslagwerk kan op zijn minst een reden zijn om het niet te doen!
Didier BECU
09/09/2014
---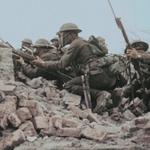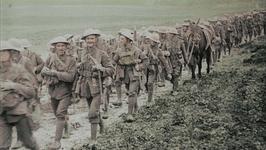 ---