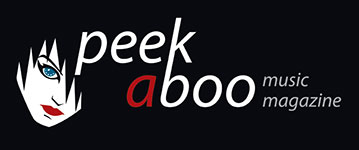 like this movie review
---
Arrow-Season 2
Movie
Action
•
TV Series
Warner Home Video
03/12/2014, Didier BECU
---
You can say what you want, but the superheroes have come to stay on the silver screen and of course they also want to conquer television. Because it is difficult for a series to surpass the cinema adventures of Batman or Spiderman, the creators opt for lesser known gods: Arrow for example. This character (officially Green Arrow ) comes from DC Comics and was two years ago completely unknown in this part of the world, but since the adventures of Oliver Queen ( Stephen Amell) areavailable in series format a lot has changed. Last year we were overwhelmed by the quality of the first season (both stories and performances)and in the second season the quality has gone ahead.
When you still haven't seen the first season, maybe you better stop reading, because it is almost impossible to talk about the second part, without giving away spoilers of the first one. Oliver Queen is y a bit the equal of Bruce Wayne, but he uses no bat suit. Just like good old Robin Hood he prefers bow and arrow. And just like Batman, Oliver Queen is the son of a wealthy businessman. Together with his father Oliver he was involved in a shipwreck. His dad did not survive, Oliver did. He has paid a high price however, because he lived on an island for 5 years before he was found. He learned all kinds of fighting sports, transforming the spoiled brat he used to be into a beefcake. And more importantly, once back home, he vowed to eliminate all the villains of Starling City. One of the few who know that Oliver leads a double life is his best friend Tommy Merlyn (Colin Donnell), but he died in the first season while trying to save Laurel Lance (Katie Cassidy), the lawyer with whom Oliver had an affair. No problem for the fans, because allegedly Tommy will show up again in the third season. John Diggle (David Ramsey) is still Olivers confidant and bodyguard. Another confidant is Felicity Smoak (Emily Bett Rickards) and she knows everything about computers and between her and Arrow things seem to get better.
In the previous season Thea Queen (Willa Holland), Olivers youngest sister, wasthe problem child because she was addicted. She is clean now, but she is in the spotlight again because her biological father seems to be Malcolm Merlyn (the Dark Archer, and father of Tommy). Arrows relationships with Detective Quentin Lance (Paul Blackthorne) have become better. He is even willing to work with the vigilante. That was quite different in the first season, because the head of the police force of Starling City never forgave him the fact that his daughter Sara was drowned (she was on the ship with Oliver during the fatal accident).
However, Arrow has the hardest time with Slade Wilson (Manu Bennett), whom he met on the island. Slade comes to Starling City with a plan to take over Oliver's empire. After he kills Arrow's mother Moira (Susanna Thompson), it is clear that Slade wants to go far.
Just like the previous season this one has 23 episodes. You can't say Arrow is innovative, but thanks to the performances (especially Summer Glau as Isabel Rochev could tempt us) and great scripts, Arrow is a lot better than the other superhero series, think of Lois & Clark.
The second season is now out on both DVD and Blu-ray from Warner.
Didier BECU
03/12/2014
---
Je kan er van vinden wat je wil, maar de superhelden hebben tegenwoordig meer en meer een vaste plek op het witte doek veroverd en natuurlijk kunnen ook de televisieseries niet achterblijven. Omdat het moeilijk is om met een serie de cinema-avonturen van pakweg Batman of Spiderman te overtreffen, opteren de makers voor minder bekende goden: Arrow, bijvoorbeeld. Deze stripfiguur (officieel Green Arrow) uit de DC-Comics-stal was bij ons pakweg twee jaar geleden nog volslagen onbekend, maar sinds de avonturen van Oliver Queen (Stephen Amell) in serieformaat zijn gegoten, is daar heel wat verandering in gekomen. Wij waren vorig jaar echt wel te spreken over de kwaliteit van het eerste seizoen (zowel wat de verhalen als de vertolkingen betreft), het niveau is er in het tweede seizoen alleen maar op vooruitgegaan.
Mocht je het eerste seizoen nog niet hebben gezien, dan stop je misschien toch beter met lezen, want het is bijna onmogelijk om iets te vertellen over het tweede luik zonder spoilers van de eerste weg te geven. Oliver Queen is eigenlijk een beetje de evenknie van Bruce Wayne, alleen trekt hij geen vleermuizenpak aan, maar behelpt zich net als Robin Hood met pijl en boog. Net zoals Batman is ook Oliver Queen de zoon van een rijke zakenman. Samen met zijn vader raakte Oliver betrokken bij een schipbreuk. Zijn pa overleefde het niet, Oliver wel. Hij heeft er wel een hoge tol voor moeten betalen, want het duurde vijf jaar vooraleer men hem op een eiland vond. Hij heeft daar niet stilgezeten en allerlei vechtsporen aangeleerd waardoor het rijkeluiszoontje een spierbundel ios geworden. Maar wat nog belangrijker is, eens thuis heeft hij gezworen om alle snoodaards van zijn thuishaven Starling City te elimineren. Een van de weinigen die weet dat Oliver een dubbelleven leidt, is zijn beste vriend Tommy Merlyn (Colin Donnell), maar die overleed in het eerste seizoen toen hij Laurel Lance (Katie Cassidy), de advocate met wie Oliver een verhouding had, probeerde te redden. Geen nood voor de fans, want naar verluidt zou Tommy in het derde luik opnieuw van de partij zijn. John Diggle (David Ramsey) is nog steeds Olivers vertrouweling en bodyguard. Een andere vertrouweling is Felicity Smoak (Emily Bett Rickards), zij weet alles van computers en tussen haar en Arrow lijkt het alsmaar beter te klikken.
In het vorige seizoen was Thea Queen (Willa Holland), Olivers jongste zus, door haar drugsverslaving het probleemkind. Ze is wel clean nu, maar ze loopt weer in de kijker omdat haar biologische vader Malcolm Merlyn (als schurk actief als de Dark Archer, en vader van Tommy) lijkt te zijn. Arrows verhouding met detective Quentin Lance (Paul Blackthorne) is wat beter geworden en hij is bereid om met de volksheld samen te werken. Dat was in het eerste seizoen wel eventjes anders, want het hoofd van het politiekorps van Starling City heeft het hem nooit vergeven dat zijn dochter Sara verdronk (zij was meegereisd tijdens het fatale ongeluk).
Het meeste werk heeft Arrow evenwel met Slade Wilson (Manu Bennett), die hij leerde kennen op het eiland. Slade trekt naar Starling City met het plan om Olivers imperium in te nemen. Nadat hij Arrows moeder Moira (Susanna Thompson) heeft gedood, is het duidelijk dat Slade zeer ver wil gaan.
Net zoals in het vorige seizoen telt ook het tweede 23 afleveringen waarin er vanalles gebeurd. Vernieuwend kun je Arrow geenszins noemen, maar dankzij degelijke vertolkingen (vooral Summer Glau die als Isabel Rochev Queen Consolidated wil overnemen, kon ons bekoren) en leuke scripts is Arrow heel wat beter dan de andere superheldenreeksen, denk maar aan Lois & Clark.
Jongensavonturen verpakt in een superheldenjasje, zo kan je Arrow omschrijven. Wie daar zin in heeft (wie niet eigenlijk?) kan zich zonder veel vragen te stellen het tweede seizoen aanschaffen dat vanaf nu zowel op dvd als op Blu-ray verkrijgbaar is bij Warner.
Didier BECU
03/12/2014
---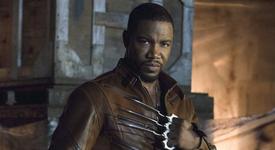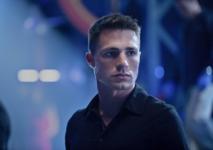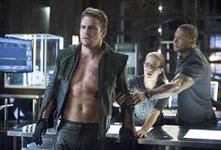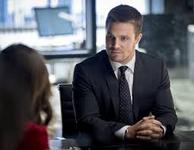 ---