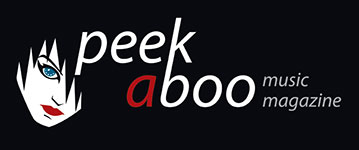 like this tv series review
---
Atlantis, The Legend Begins (The Complete First Season)
Movie
•
TV series
Adventure
•
TV Series
[60/100]

Splendid Films
20/04/2014, Didier BECU
---
Those who know something about Greek mythology better skip this new BBC-series. Not because they won't be amused, but just because the creators aren't taking history that seriously. Anyway, the makers won't lose their sleep over it. After having made five seasons of the still successful Merlin-franchise, they decided it was time for something new, and so they created Atlantis.
The story begins in our time. Jason (Jack Donnelly) dives into the deep sea, but his little submarine is caught in a storm that brings him to another time and place: Atlantis, the sunken city. In a sudden all the characters from Greek mythology seem to be real. Jason has one luck though, as he has become a very strong man. He can use the strength as he soon will face lots of dangerous creatures. It all starts with a two-headed lizard. The owner of the animal isn't pleased with the killing. Jason has to run to a nearby village in where he finds shelter in the house of Pythagoras (Robert Emms). If the name sounds familiar then you're right as this is indeed the maths-scientist. The bright guy knows everything about triangles, but you better don't count on him if you need muscles. This is delivered by his buddy Hercules (Mark Addy known from The Full Monty and Game of Thrones). The three become friends and are having in 13 episodes that all last 45 minutes some nice adventures in where we meet some known faces from Greek history like for example Oedipus. Such a series also need some female beauty. Jason falls in love with Princess Ariadne (Aiysha Hart), but evil Queen Pasiphae (Sarah Parisch from The Pillars of the Earth) will do anything to prevent this.

Atlantis is a nice, somewhere innocent series that feels like a mixture from Dick Turpin, Dr. Who and Game Of Thrones. Those who set their standards very high, for example viewers who are addicted to those HBO-series might think Atlantis is a bit of a lightweight. In a way it is, but still nice to watch and the acting is more than decent.

Atlantis, The First Season is out on Splendid Films on both DVD and Blu-ray.
Didier BECU
20/04/2014
---
Kenners van de Griekse mythologie wagen zich maar beter niet aan deze nieuwe BBC-serie die zo succesvol was dat er al meteen een tweede luik van in de maak is. Niet dat ze zich niet zullen amuseren, wel omdat de makers een loopje nemen met heel wat geschiedkundige feiten. De makers van Merlin waren de serie na vijf seizoenen wat beu en zochten daarom nieuwe oorden op, Atlantis is daarvan het resultaat.

Het verhaal begint in onze tijd. Jason (Jack Donnelly) duikt met een bootje de diepe zee in. Het miniduikbootje komt in een waterkolk terecht en Jason spoelt nadien op een strand aan. Meteen blijkt dat hij een reis in de tijd heeft gemaakt, want de plaats waar hij is terechtgekomen is Atlantis: de verzonken stad! De personages uit de Griekse mythologie blijken zowaar echt te bestaan, maar gelukkig beschikt Jason na zijn trip ook over speciale gaven die hem supersterk maken. Het is iets wat hij echt nodig heeft, het gevaar loert immers om iedere hoek. De eerste hinderpaal is een tweekoppige hagedis. De bezitter van dat dier is echter niet in de wolken met Jasons actie waardoor de stoere kerel het dorp moet invluchten. Hij krijgt een schuilplaats door een schuchtere man aangeboden die zich als Pythagoras (Robert Emms) voorstelt. Jawel, de wiskundige die talrijke scholieren de gordijnen injaagt met zijn theorieën over driehoek. De wetenschapper beschikt wel over hersenen, voor spierkracht moet je niet bij hem zijn. Die wordt geleverd door Hercules (Mark Addy die we kennen van The Full Monty en Game of Thrones). De drie worden dikke vrienden en 13 afleveringen lang die elk zo'n 45 minuten duren, beleven ze de meest spannende avonturen waarin heel wat bekende gezichten uit de Griekse geschiedenis (zoals bijv. Oedipus) de revue passeren. Natuurlijk kan zo'n reeks ook best wat vrouwelijk schoon gebruiken en die wordt geleverd door prinses Ariadne (Aiysha Hart), ook al probeert koningin Pasiphae (Sarah Parisch uit The Pillars of the Earth) daar op alle manieren een stokje voor te steken.

Atlantis is een leuke, onderhoudende serie maar voor kijkers die ondertussen het torenhoge niveau van de HBO-reeksen gewend zijn zal deze avonturenreeks wat sullig overkomen. De avonturen zijn het best te vergelijken met die uit een onschuldig stripverhaal en dus moet je van de verhaaltjes niet te veel verwachten. De acteerprestaties zijn degelijk, maar verre van memorabel. Wie uit is op onschuldig entertainment met een knipoog naar de jongensboeken van weleer zal Atlantis wel aanspreken.

Atlantis, The First Season is nu verkrijgbaar op Splendid Films en dit zowel op dvd als Blu-ray.
Didier BECU
20/04/2014
---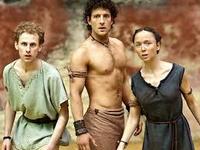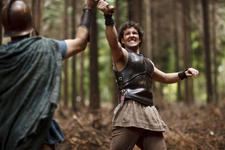 ---