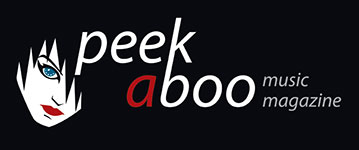 like this tv series review
---
BANSHEE SEASON 2
Movie
•
TV series
Crime
•
TV Series
Warner Home Video
04/01/2015, Didier BECU
---
If a series reminds you from the very beginning of Twin Peaks, then that's a good sign, right? Indeed, Banshee is one of the last nurslings of HBO that has a Lynchian touch, although it will also appeal to action fans.
If you have not seen the first season, we recommend you to watch that first, because even though there are some flashbacks of the first season, it all goes pretty fast. Banshee is a fictional town in Pennsylvania. A strange town, because it is populated by all sorts of groups (from the Amish to Indians) who all have their own rules. In the series we follow a man (Antony Starr) whose real name we will never know. He has 15 years spent in jail after he stole a whole bag of diamonds from his former boss (The Rabbit). The mafia boss has not forgotten this and therefore he escaped to the remote village Banshee. This choice is not accidental, since his former sweetheart Carrie Hopewell (Ivana Milicevic ) lives there. She is now married to Mayor Gordon (Rus Blackwell ) with whom she has two children. An interesting detail: Carrie is the daughter of The Rabbit. Our unknown man has now adopted the identity of the deceased Luke Hood and (yes! ) becomes sheriff. Hood is still in love with Carrie, but he is at peace with the fact that she has chosen for her family. He begins a relationship with the officer Siobhan (Trieste Kelly Dunn).
A former crook who controls the law in a corrupt town naturally creates many difficulties, and that is what Luke Hood gets. It is becoming increasingly difficult for him to hide his true self, and the situation in Banshee is getting grimmer by the day.
Banshee possesses absolutely everything. The series is exciting and mysterious, it is packed with sex, it has exciting storylines and there are a lot of bad guys around that you better not meet. Especially Proctor (Ulrich Thomsen), who abandoned his faith for crime, knows no borders. The second season consists of ten episodes, each lasting about fourty minutes. It takes a while before you are familiar with the various characters, but once that is the case, Banshee is an irresistible rollercoaster.
The second season of Banshee is out on Warner, on DVD.
Didier BECU
04/01/2015
---
Als een serie je van bij het begin doet denken aan Twin Peaks, dan is dat natuurlijk een goed teken, niet? Inderdaad, Banshee is één van de laatste troetelkinderen van HBO met Lynchiaanse trekjes, alhoewel het tegelijkertijd ook de actiefans zal aanspreken.
Mocht je het eerste seizoen niet hebben gezien, dan raden we je toch aan om dat eerst te bekijken, want ook al wordt er door middel van flashbacks teruggegrepen naar de inhoud van het eerste luik, gaat alles vliegensvlug. Banshee is een fictief stadje in Pennsylvania. Een vreemd stadje, want het wordt bevolkt door allerlei groepen (van de Amish tot Indianen) die allemaal zo hun eigen regeltjes hebben en daar voor geen geld willen van afwijken. In de serie volgen we een man (Antony Starr) wiens echte naam we nooit te weten komen. Hij heeft 15 jaar in de nor doorgebracht nadat hij een hele zak diamanten van zijn vroegere baas (The Rabbit) heeft gestolen. De maffiabaas is dat nog niet vergeten en daarom ontsnapt hij naar het afgelegen dorpje Banshee. Die keuze is niet toevallig, want zijn vroeger liefje Carrie Hopewell (Ivana Milicevic) woont daar. Ze is ondertussen getrouwd met burgemeester Gordon (Rus Blackwell) bij wie ze twee kinderen heeft. Een pikant detail: Carrie is de dochter van The Rabbit. Onze onbekende man heeft ondertussen de identiteit van de overleden Lucas Hood aangenomen en is (jawel!) sheriff geworden. Hood is wel nog altijd verliefd op Carrie, maar heeft er vrede mee genomen dat zij voor haar gezin koos. Veel reden om te treuren heeft hij niet. Regelmatig belandt de schone nog eens in zijn bed, en als toemaatje begint hij een relatie met de agente Siobhan (Trieste Kelly Dunn).
Een gewezen boef die de wet doet gelden in een corrupt stadje zorgt natuurlijk voor heel wat moeilijkheden, en dat is wat Lucas Hood krijgt. Het wordt voor hem steeds moeilijker om zijn ware ik te verbergen, en de situatie in Banshee wordt met de dag grimmiger.
Banshee bezit werkelijk alles. De reeks is spannend en mysterieus, zit boordevol seks, spannende verhaallijnen en er lopen een heleboel slechteriken rond die je maar beter niet tegenkomt. Vooral Proctor (Ulrich Thomsen) die zijn geloof liet varen voor de misdaad, kent geen grenzen. Het tweede seizoen bestaat uit tien afleveringen die elk zo'n drie kwartier duren. Het duurt wel eventjes vooraleer je vertrouwd bent met de diverse personages, maar eens dat het geval is, wordt Banshee een wervelende rit waarin weinig adempauze is voorzien.
Het tweede seizoen van Banshee is uit op Warner, op dvd.
Didier BECU
04/01/2015
---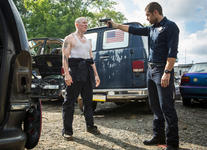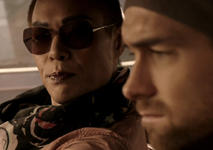 ---