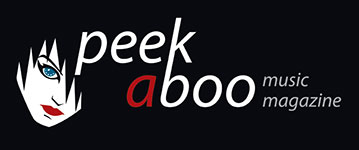 like this cd review
---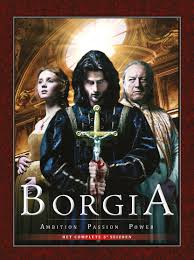 Borgia Season 3
Music
•
CD
Historical
•
TV Series
Dutch FilmWorks
18/10/2014, Didier BECU
---
Maybe it's better to say first that this is a review about Borgia, not the better known The Borgias starring Jeremy Irons, François Arnaud and Holliday Grainger. It's kind of weird to see that both these series have been made during the same time and partly features the same characters. You can be sure that both producers and disappointed customers had their problems with this confusion. And yet, even if it looks like the makers want to cheat the audience, that's not the case. Of course the names in the European versions are lesser known, but it surely is as good as the famous Showtime-production. There's even more, if you think the opinion from historians is important then Borgia is a much better thing.
It's even getting weirder if you notice that both series have stopped after three seasons, so this one from Borgia is also the final one. Everything deals about power. You surely don't have to be a specialist to know that those who were in the highest ranks of Catholicism were not living by the Bible. The Borgias definitely didn't do that and some even say that they're the precursors of the Italian mob.
During the Renaissance there were people like Da Vinci and Michelangelo around, but also someone like Rodrigo Borgia (John Doman) who would rule 11 years the Vatican as Pope Alexander VI. He who has power over the church has power over the whole world, and it was obvious that Rodrigo Borgia wanted to conquer Rome, Napoli, Florence and Milan. With his wife Vanozza dei Cattanei (Assumpta Serna) he had four children: Giovanni, Cesare, Lucrezia and Gioffre (we won't mention the many bastards as that would be impossible). The third season starts when Pope Alexander VI returns. In this time his daughter Lucrezia (Isolda Dychauk) has taken the power. The inhabitants are quite happy with the softer laws from their new mistress, but in short time Rodrigo returns on board. The pope realizes that he's in his last years and he wants to do everything to secure himself that his family will be forever on the holy throne.
There is a lot of adventure going on in here, but there is just enough space left for historical facts so Borgia can hit several audiences. Of course the costumes and decors are breathtaking. The performances are classic, but quite good in this series that last 800 minutes and shows one of the darkest pages in the history of the Catholic church (and everyone knows that they have quite many dark pages!). Everything was allowed back then: chantage, murder, incest…
The third season is now released on Dutch FilmWorks on both DVD and (excellent) Blu-ray. A real must even if you don't like history at all!
Didier BECU
18/10/2014
---
Laten we misschien eerst verduidelijken dat deze recensie over Borgia gaat, en niet The Borgias met in de hoofdrollen Jeremy Irons, François Arnaud en Holliday Grainger. Gek genoeg zijn deze series
bijna op hetzelfde tijdstip gemaakt en hebben ze op de koop toe gelijklopende personages. Dat zal wellicht reeds voor genoeg knarsetanden, bij zowel de producers als sommige niets vermoedende consumenten, hebben gezorgd. En toch: het lijkt misschien wel op boerenbedrog van het zuiverste water, maar dat is het niet. De Europese versie heeft wel minder bekende namen in zijn cast staan, maar is minstens even goed. Meer zelfs, als je de mening van historici belangrijk vindt dan opteren zelfs zij voor Borgia.
Het wordt nog vreemder als je weet dat net zoals bij de Showtime-versie ook het doek na drie seizoenen over deze reeks is gevallen. Alles draait in deze historische serie om macht. Je moet geen geleerde te zijn om te weten dat de machthebbers niet altijd het katholieke geloof volgens de letters van de Bijbel hebben nageleefd. De Borgias hebben dat zeker niet gedaan, en soms noemt men hun de voorlopers van de Italiaanse maffia.
Tijdens de renaissance had je wel mannen zoals Da Vinci en Michelangelo, maar ook een vent als Rodrigo Borgia (John Doman) die als Paus Alexander VI elf jaar lang de scepter zwaaide. Wie baas was over de kerk had het natuurlijk voor het zeggen. Vanuit de heilige stoel wilde Rodrigo Borgia Rome, Napels, Florence en Milaan veroveren. Met zijn wettige echtgenote Vanozza dei Cattanei (Assumpta Serna) had hij vier kinderen Giovanni, Cesare, Lucrezia en Gioffre (de bastaardkinderen laten we maar buiten beschouwing). Het derde seizoen begint wanneer Paus Alexander VI terugkeert. Ondertussen heeft zijn dochter Lucrezia (Isolda Dychauk) de macht overgenomen. Zowat iedereen is blij met de regels van de nieuwe meesteres, maar in geen tijd neemt de oude Rodrigo het roer weer over. De paus beseft dat hij aan zijn laatste levensjaren bezig is en wil er alles aan doen om zijn familie voor goed op de heilige troon te plaatsen.
Er zit wel heel wat avontuur in de reeks verwerkt, maar bevat net als bijv. The Tudors genoeg geschiedkundige feiten (maar toch eenvoudig te volgen) om een publiek met verschillende interesses te kunnen aanspreken. Zoals verwacht zijn de decors en de kostuums adembenemend en zijn ook de acteerprestaties klassiek, maar oerdegelijk in deze bijna 800 minuten durende serie die één van de zwartste bladzijden uit de kerkgeschiedenis belicht. Alles was mogelijk in die tijd: chantage, moord, incest…
Dit derde seizoen is nu uitgebracht op Dutch FilmWorks. Zowel op dvd als op een (uitmuntende) Blu-ray. Borgia toont je een heel ander beeld van de kerk. Een absolute must zelfs als ben je helemaal niet wild van geschiedenisboeken.
Didier BECU
18/10/2014
---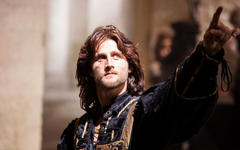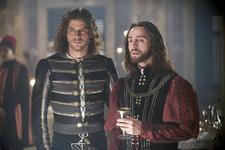 ---