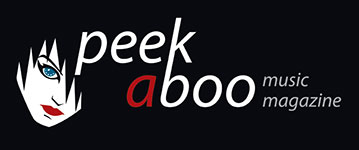 like this tv series review
---
DOMINION SEASON 1
Movie
•
TV series
Science Fiction
•
TV Series
Universal Pictures
18/03/2015, Didier BECU
---
Just when you think that Hollywood has explored all genres or stories, screenwriters come up with subjects you do not expect them to write. If you are a loyal viewer of SyFy (strange but true, they do exist!) you probably already know that Dominion is a series about angels! Yes, those winged creatures that have been created by God! This series is actually based on the movie Legion with Paul Bettany and Dennis Quaid, and the start was quite difficult, because the American public had mixed feelings about this science fiction series. But fans do not have to worry, after a first season with eight episodes, a new contract has been signed for 13 brand new episodes.
At the end of the day we really don't know if a sequel was needed. The story is set 25 years after the Extinction War. God has abandoned our planet and our fate lies in the hands of the angels. Archangel Gabriel (Carl Beukes) has set up an army: almost all eight-balls (read: ordinary angels) have chosen his side and want to destroy humanity. However, there are still some good angels around like archangel Michael (Tom Wisdom). Mankind needs their help because it was a horrible war, that has destroyed much of the cities. One of the remaining ones is Las Vegas, although after the attack the gambling city is known as Vega.
In the lengthy pilot we see how Alex Lannon (Christopher Egan) plays a very important role. His body is full of tattoos that indicate that he is the chosen one, the Messiah who will save mankind. Neither General Edward Riesen (a kind of dictator who is emblazoned by the people because they feel safe with him), nor Consul David Whele (Anthony Head) are believers. The only one who does believe in Alex, is Riesen's daughter Claire(Roxanne McKee), who is in love with him.
We honestly have seen a lot of Syfy series and most of them were not exciting. They are too American, the stories too childish and not good enough to keep you chained to the screen for hours. Claiming that Dominion is a breath of fresh air, would be too far fetched, because the series can't compete one minute with other current top series. But this science fiction series posseses nonetheless an irresistible charm, that lies somewhere between Battlestar Galactica and Pink Floyd's The Wall by Alan Parker.
Fans of sci-fi action series can try out Dominion. Out on Universal, on both DVD and Blu-ray.
Didier BECU
18/03/2015
---
Net op het moment dat je denkt dat zowat alle genres of verhalen zijn uitgeput, komen scenarioschrijvers met onderwerpen op de proppen die je niet meteen verwacht. Indien je een trouwe SyFy-kijker bent (raar maar waar, ze bestaan!) weet u wellicht dat Dominion een serie is over engelen! Jawel, de gevleugelde creaturen die door God zijn geschapen! Deze serie, die eigenlijk is gebaseerd op de film Legion met Paul Bettany en Dennis Quaid, heeft een moeilijke tijd achter de rug, want het Amerikaanse publiek had gemengde gevoelens over deze sciencefictionreeks. Maar niet getreurd, na een eerste seizoen met acht afleveringen, is er een nieuw contract getekend waardoor de popcornvreter zich mag voorbereiden op 13 gloednieuwe episodes.
Wij lusten wel popcorn, maar of we nu echt vinden of een vervolg nodig was, is een heel andere kwestie. Het verhaal speelt zich af 25 jaar na de Extinction War. God heeft de aarde de rug toegekeerd en het lot van onze planeet ligt in de handen van de engelen. Aartsengel Gabriel (Carl Beukes) heeft een leger opgericht. Het zijn vooral eight-balls (lees gewone engelen) die voor hem hebben gekozen en die de mensheid willen vernietigen. Er zijn echter ook nog goede engelen overgebleven, zoals bijv. aartsengel Michael (Tom Wisdom). De mens heeft hun hulp meer dan nodig, want het was een gruwelijke oorlog die een groot deel van de steden heeft verwoest. Eéntje daarvan is Las Vegas, alhoewel men het na de aanvallen gewoon op Vega houdt.

In de pilot, die anderhalf uur duurt, zien we Alex Lannon (Christopher Egan), die een zeer voorname rol speelt. Zijn lichaam staat vol tattoo's die er op wijzen dat hij de nieuwe uitverkorene is, de Messias die de mensheid zal redden. Noch Generaal Edward Riesen (een soort van dictator die door het volk wordt opgehemeld omdat men zich veilig bij hem voelt), noch consul David Whele (Anthony Head) hechten daaraan geloof. De enige die dat wel doet is Riesens dochter Claire (Roxanne McKee) op wie Alex verliefd is.
We hebben eerlijk gezegd al heel wat SyFy-reeksen gezien en de meeste konden ons maar weinig bekoren. Ze zijn te Amerikaans, de verhaaltjes net iets te kinderachtig en vooral niet goed genoeg om je urenlang aan het scherm te kluisteren. Beweren dat Dominion een verademing is zou net iets van het goede te veel zijn, want de serie kan geen minuut opboksen tegen het niveau van andere recente topseries. Wel bezit de sciencefictionreeks een onweerstaanbare charme die ergens tussen Battlestar Galactica en Pink Floyd's The Wall van Alan Parker ligt. De scenario's zijn wat voorspelbaar en de vertolkingen degelijk, maar geen enkel personage dat evenwel een blijvende indruk nalaat.
Liefhebbers van sciencefictionreeksen met actie die de lat niet te hoog leggen, kunnen Dominion eens uitproberen. Vanaf nu uit op Universal, zowel op dvd als Blu-ray.
Didier BECU
18/03/2015
---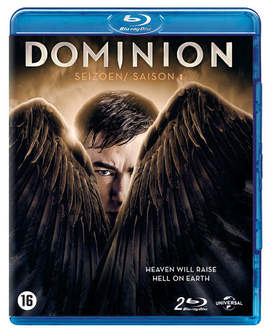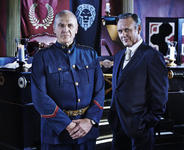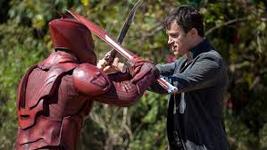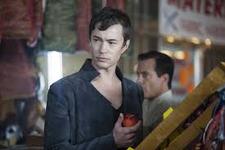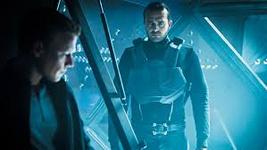 ---