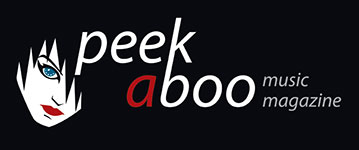 like this tv series review
---
DOWNTOWN ABBEY SEASON 4
Movie
•
TV series
Drama
•
TV Series
Universal Pictures
19/09/2014, Didier BECU
---
Stations like HBO might be the ones who have changed the borders of modern television series, it was a classic British costume-drama series though that smashed last ten years all records. The name: of course Downtown Abbey. The triumph is incredible. Almost every season has been overwhelmed with awards, but the story of the gigantic house from count and countess Grantham has been broadcasted in more than (hundred!) countries. A fifth season is already a fact, but today Universal has released the 4th one on both DVD on Blu-ray.
There's no doubt that for some youngsters the traditional (but majestic) approach is a hell to watch, but quality wise you can't say one bad thing about it. This series that has been written by Oscar-winner Julian Fellowes hosts its quality in all the aspects: from the storylines to the performances. So don't expect any CG or something flashy as you won't find one series these days that's more traditional than Downtown Abbey, and that's only a good thing!
Everyone who is fan from the series will remember the dramatic finale from the third season with heir-in-law Matthew Crawley (Dan Stevens) getting killed by a car accident. This terrible change was the cause for hundreds of articles in various magazines with every fan demanding himself if there was actually a future for their favourite series now that they took away one of the most beloved characters. And what with poor Lady Mary (Michelle Dockery) who just gave birth to her son George before the tragic moment? Her mourning lasts long and the owner of the property needs some time before she's bounded with her child, but at the end of the day life (or series) just continue.
Things are going better with that other Crawley-daughter Edith (Laura Carmichael) who seeks the pleasure of the London-nightlife, even if that also has its consequences! After the humiliating fact that Anthony Strallan (Robert Bathurst) refused to take her as his wife, Edith has no longer faith in men. And of course there's the First World War too that proved that life can be short and that you better enjoy it while you can!
The count from Grantham (Hugh Bonneville) and his mother Violet (Maggie Smith who never disappoints) have not only their daughters to care about, there's also the household staff. There is for instance the sudden depart from Miss O'Brien. Cora Crawley (Elizabeth McGovern) is now without a help, but luckily enough there's Lady Rose (Lily James) for a solution.
In fact, we should keep on going for a while with revealing the secrets from Downtown Abbey as there is a surprise in every episode. Agreed, this series becomes more and more a soap (probably due to the huge success in the US), but no one can deny the high quality from it, even if after some episodes we sometimes feel the need to flip a disc with some zombies in our player.
The fouth season from Downtown Abbey is now out on DVD and Blu-ray on Universal.
Didier BECU
19/09/2014
---
Zenders zoals HBO mogen dan wel de grenzen voor series hebben verlegd, toch was het een Britse kostuumdrama die de meest bekeken serie van de laatste 10 jaar werd. De naam: Downtown Abbey natuurlijk. Niet alleen werd ieder seizoen overdonderd met ontelbare awards, ook werden de perikelen in het gigantische huis van graaf en gravin van Grantham door meer dan honderd (jawel!) landen uitgezonden. Ondertussen is het vijfde seizoen al een feit, maar eerst is er nog het vierde luik dat vanaf nu op zowel dvd als Blu-ray door Universal is uitgebracht.
Wellicht zullen er wel mensen rondlopen die deze oubollige (maar nog altijd majestueuze) aanpak hekelen, maar de reeks die door Oscarwinnaar Julian Fellowes werd geschreven is er één die zich vastpint op klassieke degelijkheid in zijn al aspecten: van verhaallijn tot vertolkingen. Verwacht dus geen CG-effecten of ander blitse invullingen, een reeks kan immers niet traditioneler zijn dan Downtown Abbey en dat loont!
Iedereen die de serie volgde zal zich nog wel het dramatische slot van het derde seizoen voor de ogen kunnen halen toen erfgenaam Matthew Crawley (Dan Stevens) door een auto-ongeluk stierf. Deze dramatische wenteling zorgden voor honderden artikels in allerlei tijdschriften, want iedere fan vroeg zich af of er nog wel een toekomst was voor de reeks nu deze door het verlies van één van haar lievelingen bijna werd onthoofd. En hoe moet het nu verder met die arme Lady Mary (Michelle Dockery) die net een paar uur voor de frontale botsing hun zoontje George had gebaard? Haar rouwperiode duurt vrij lang en de eigenares van het landgoed slaagt er niet meteen in haar pasgeboren zoontje te aanvaarden, maar uiteindelijk gaat het leven (of de reeks) uiteindelijk door!
Met de andere Crawley-dochter Edith (Laura Carmichael) gaat het heel wat beter, want die zoekt het nachtleven van de Britse hoofdstad op, ofschoon dat natuurlijk zijn gevolgen heeft! Edith gaat steeds meer losbandig door het leven nadat dat Anthony Strallan (Robert Bathurst) haar uiteindelijk niet heeft gehuwd. Ook de tijden zijn veranderd, net zoals haar landgenoten beseft Edith dat de Eerste Wereldoorlog in een mum van tijd alles kan veranderen en profiteer je dus maar beter van het leven.
Het zijn niet alleen de dochters die de graaf van Grantham (Hugh Bonneville) en zijn moeder Violet (Maggie Smith die op het scherm nooit ontgoochelt) de nodige zorgen baren, ook het huispersoneel doet zijn duit in het zakje. Er is bijv. het plotse vertrek van Miss O'Brien waardoor Cora Crawley (Elizabeth McGovern) zonder hulpje komt te zitten, gelukkig is Lady Rose (Lily James) er als de kippen bij om soelaas te bieden.
Eigenlijk zouden we wel zo'n tijdje kunnen doorgaan, want in iedere aflevering valt er een heleboel perikelvertier in Downtown Abbey te beleven. Deze kwaliteitsserie begint wel meer en meer de vorm van een soap aan te nemen (daar zal het Amerikaanse succes wel voor iets tussen zitten), toch blijft het televisie van de bovenste plank waar je maar geen genoeg van krijgt, ook al voelen wij het na een paar afleveringen kriebelen om een schijfje met bloeddorstige zombies in de lader te stoppen.
Het vierde seizoen van Downtown Abbey is nu uit op dvd en Blu-ray op Universal. Eigenlijk zouden de fans nu al in de rij aan de kassa moeten staan!
Didier BECU
19/09/2014
---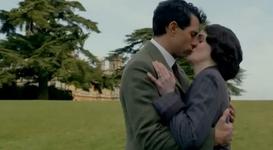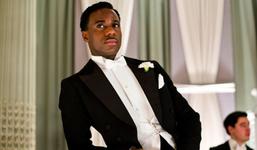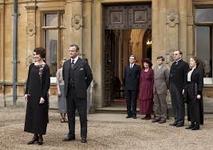 ---