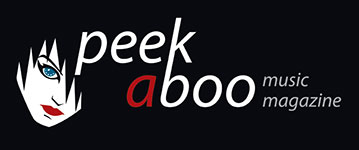 like this tv series review
---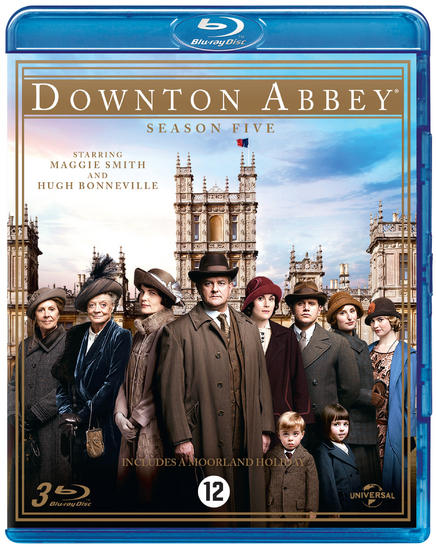 DOWNTOWN ABBEY SEASON 5
Movie
•
TV series
Historical
•
TV Series
Universal Pictures
16/03/2015, Didier BECU
---
There seems to come no end to the success story of Downtown Abbey. While we hold the fifth season in our hands, overseas a film crew is making the sixth chapter of the popular costume drama. However, there are more and more rumors that this could be the last season of the series, which offers us a glimp on the adventures of British aristocratic Crawley family.
Of course, that are just worries for later, because the fans can enjoy eight brand new episodes. More than ever politics plays an important role on the majestic estate in Yorkshire. In previous seasons historical events like the capsizing of the Titanic, the Marconi-scandal and the First World War were treated, but this season starts in 1924, the year in which the UK is governed by Labour for the first time.
The world has just licked his wounds of the First World War, and Hitler has committed his first failed coup. Everyone feels that new tensions are coming up, and the victory of Labour awakens the less fortunate, who claim more rights. Robert Crawley (Hugh Bonneville, the Earl of Grantham, understands that the world will soon be a different place. The servants, who live under one roof with their bosses, want more influence and especially Daisy (Sophie McShera) has sympathy for leftist ideology, which is not appreciated by Mrs. Patmore (Lesley Nicol). That is not really surprising, because the cook always thought that she is the mistress of the house. The dark past of Phyllis Baxter (Raquel Cassidy) drifts above, and that suits butler Thomas (Rob James-Collier) quite well.
But Count Robert has other headaches than political vicissitudes. He is not particularly fond of the fact that Tom Branson (the man who started as a chauffeur and became later the manager of the estate, played by Allen Leech) gets along very well with teacher Sarah Bunting (Daisy Lewis). The interest of historian Simon Bricker (Richard E Grant, who you might know from the English cult classic Whitnail And I) makes Robert quibble.
The eldest daughter, Lady Mary Josephine Crawley (Michelle Dockery), who lost her husband Matthew at a young age in a traffic accident, wants to marry again. At least she hopes to do so, because Mary is not sure that she will find such a good man as Matthew again. The other daughter Edith Crawley (Laura Carmichael) inherits a small company and she can't bear the fact that she has abandoned her daughter. The Countess of Grantham, Cora Crwaley for friends (Elizabeth McGovern), discovers that Marigold is Edith's daughter, and she adopts her grandchild without revealing the secret. Once Edith is reunited with her daughter, she leaves Downtown.
Indeed, lots of dramatic events the Crawley have to cope with. After five seasons, you notice the routine that has slipped in the series. There are hardly any surprises in Downtown Abbey, but if you want to see quality drama mixed with history, then there is nothing better as the Downtown-chronicles. Especially because the series has an impressive cast. For fans (and you wil be addicted much faster than you think), the fifth season is out on both DVD and Blu-ray on Universal.
Didier BECU
16/03/2015
---
Er komt maar geen einde aan het succesverhaal van Downtown Abbey. Terwijl we het vijfde seizoen in onze lader hebben zitten, is men volop bezig aan de opnames van het zesde luik van het populaire kostuumdrama. Neen, het ziet er niet naar uit dat er een einde komt aan de perikelen van de Britse aristocratische familie Crawley, alhoewel er op het internet geruchten circuleren die beweren dat het zesde seizoen wel eens het laatste zou kunnen zijn.
Natuurlijk zijn dat zorgen voor later, want fans kunnen alweer volop genieten van 8 nieuw afleveringen. Meer dan ooit speelt politiek een belangrijke rol op het landgoed in Yorkshire. In eerdere seizoenen kwam al het kapseizen van de Titanic, het Marconi-schandaal en de Eerste Wereldoorlog aan bod, maar 1924 is het jaar waarin Groot-Brittannië voor het eerst zal bestuurd worden door een Labour-regering.
De wereld heeft nog maar net zijn wonden van de eerste wereldbrand gelikt, of Hitler pleegt zijn eerste mislukte staatsgreep. Iedereen voelt dat er nieuwe spanningen in de maak zijn en door de overwinning van links krijgen de minderbedeelden meer rechten. Een gegeven dat Robert Crawley (Hugh Bonneville) beseft. De graaf van Grantham snapt maar al te goed dat de wereld, en dus ook die van de adel, er weldra eens anders zou kunnen uitzien. De bedienden die onder één dak met hun bazen leven beseffen dat zij meer en meer macht krijgen, vooral Daisy (Sophie McShera) heeft sympathie voor het linkse gedachtegoed, wat door Mrs. Patmore (Lesley Nicol) helemaal niet in dank wordt afgenomen. Echt verwonderlijk is dat niet, want de kokkin denkt sowieso dat ze de bazin van het landgoed is. Ook het duistere verleden van Phyllis Baxter (Raquel Cassidy) komt naar boven, iets wat butler Thomas (Rob-James Collier) zeer goed uitkomt.
Maar graaf Robert heeft ook andere kopzorgen dan politieke perikelen, zo is hij niet bepaald tuk op het feit dat Tom Branson (de man die opklom van chauffeur tot manager van het landgoed, vertolkt door Allen Leech) het goed kan vinden met schooljuffrouw Sarah Bunting (Daisy Lewis). Ook de interesse van historicus Simon Bricker (Richard E Grant, die je natuurlijk beter kent uit de Engelse cultklassieker Whitnail And I) in zijn persoon, zint Robert niet.
De oudste dochter Lady Mary Josephine Crawley (Michelle Dockery), die op jonge leeftijd haar echtgenoot Matthew ineen verkeersongeluk verloor nadat hij net had vernomen dat hij vader was geworden, wil opnieuw trouwen. Ten minste dat hoopt ze, want Mary is er helemaal niet zeker van dat ze nog wel zo'n goede man in haar leven als Matthew zal vinden. De andere dochter Edith Crawley (Laura Carmichael) erft een bedrijfje en kan het maar niet verkroppen dat ze haar dochtertje heeft afgestaan. De gravin van Grantham, Cora Crwaley voor de vrienden (Elizabeth McGovern), ontdekt dat Marigold Ediths dochtertje is en adopteert haar zonder evenwel het geheim te verklappen. Eens Edith haar dochtertje terug heeft, verlaat ze Downtown Abbey.
Er wachten de Crawley's inderdaad weer een hele resem dramatische gebeurtenissen en vreemde wendingen. Na vijf seizoenen zit de routine er goed in en zijn er nog nauwelijks verrassingen, toch is Downtown Abbey nog steeds dé serie als je drama met geschiedenis op een degelijke manier vermengd wil zien. Bovendien beschikt de serie over een indrukwekkende cast vol oude rotten, die erin slagen om iedere scène naar zich toe te trekken.
Voor de fans (en dat word je vlugger dan je denkt) is er het vijfde seizoen, dat zowel op dvd als Blu-ray is uitgebracht, en dit op Universal.
Didier BECU
16/03/2015
---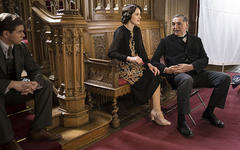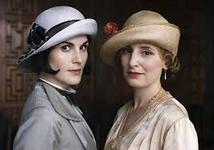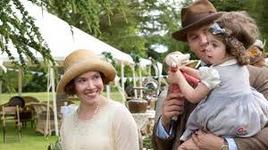 ---