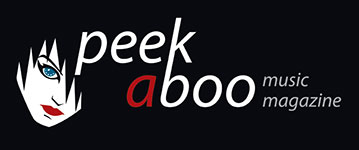 like this tv series review
---
HOUSE OF CARDS SEASON 3
Movie
•
TV series
Political
•
TV Series
SONY SPHE
16/07/2015, Didier BECU
---
I have no subscription to Netflix myself, but thanks to this film channel (well, better say series channel) , there is House Of Cards. The characters of Francis Underwood ( Kevin Spacey ) and his shrew -like companion Claire (Robin Wright) are among the best series characters ever. That makes sense if you create a series with such a top cast, but of course you still need a great scenario to score and that is what creator Beau Willimon (who also wrote the script of The Ides Of March with Ryan Gosling and George Clooney) wrote.
Frank (Kevin Spacey) is a Democrat from South Carolina, who does everything to achieve the highest position in American politics.He uses people as if they were cards. Once they are no longer useful, they are mercilessly thrown away. For him, corruption and dirty games are commonplace. Even the man who can know whether it 's true or not (Barack Obama) is reported to be a big fan of the series.
In the last series we saw how the politician made his way to the top. By manipulating people (both the press and his colleagues) Underwood rose from congressman to president. Immediately after his election, the most powerful man in the world noticed that his victory wasn't a gift. The not to be trusted Russian President (Lars Mikkelsen, who we saw in The Team with Veerle Baetens earlier this year), the Republicans and members of his own party want his skin. Frank Underwood wants to be the President of the United States for a 2nd time and so he must prepare for battle. It's not an easy way. Douglas "Doug" Stamper (Michael Kelly), the man who did the dirty business for Underwood, appears to be alive, and there's a crisis between Frank and Claire. And everyone who saw the previous episodes, knows that Claire made his kingdom.
There was a lot of criticism on this third season. Some say the emphasis was too much on the relationship tensions between Frank and Claire, and too little on politics. The makers solved this by saying that this season was just a step. We witnessed the dirty road Underwood had to take to become the most powerful man in the world, and in the fourth season he will have to travel that path again. Maybe the third season is not as brilliant as the first one, but House Of Cards remains the best series of the moment!
The third part of House Of Cards is out on Sony SPHE, both on DVD and Blu-ray.
Didier BECU
16/07/2015
---
Zelf heb ik nog geen abonnement op Netflix, maar als we één zaak aan dit filmkanaal (nou ja, zeg maar seriekanaal) te danken hebben, dan is het wel House Of Cards. Het personage Francis Underwood (Kevin Spacey) en zijn feeksachtige metgezel Claire (Robin Wright) zijn in een recordtijd uitgegroeid tot twee van de beste seriepersonages ooit. Dat is natuurlijk logisch als je een serie met zo'n topcast maakt, maar je moet nog altijd een degelijk scenario hebben om te scoren en daar is bedenker Beau Willimon, die ook het script voor The Ides Of March met Ryan Gosling en George Clooney schreef, mooi in geslaagd.
Frank (Kevin Spacey) is een Democraat uit Zuid-Carolina, die er alles aan doet om de hoogste positie in de Amerikaanse politiek te bereiken. Hoe hij daar geraakt, speelt geen enkele rol. Frank gebruikt mensen alsof het spelkaarten zijn en eens ze geen nut meer hebben, worden ze genadeloos op de hoop gegooid. Voor hem zijn corruptie en vuile spelletjes schering en inslag. Zelfs de man die kan weten of het echt zo is (Barack Obama), zou naar verluidt een grote fan van de serie zijn.
In de vorige series zagen we hoe de politicus zijn weg naar de top maakte. Door het manipuleren van mensen (zowel de pers als zijn collega's) klom Underwood op van congreslid tot president. Meteen na zijn verkiezing als de machtigste man van de wereld, merkt de sluwe polticus dat hij zijn ambt niet cadeau heeft gekregen. Hij heeft niet alleen af te rekenen met de al even gehaaide Russische president (Lars Mikkelsen die we dit jaar ook al in The Team met Veerle Baetens zagen), maar ook de Republikeinen en leden van zijn eigen partij willen zijn vel. Frank Underwood wil twee keer president van de VS zijn en dus moet hij zich daar nu al volop op voorbereiden. Gemakkelijk wordt het niet. Zo blijkt Douglas "Doug" Stamper (Michael Kelly), de man die de vuile zaakjes voor Underwood opknapt, niet dood te zijn, maar zit er ook een haar in de boter tussen Frank en Claire. En iedereen die de vorige episodes zag, weet dat hij zijn macht grotendeels aan haar te danken heeft.
Er was heel wat kritiek op dit derde seizoen. Zo vond men dat de nadruk iets te veel op de relatiespanningen tussen Frank en Claire lag, en te weinig op de politiek. De makers losten dit op door te stellen dat dit seizoen een tussenstap is. We hebben gezien welke vuile weg Underwood heeft afgelegd om de machtigste man ter wereld te worden, en binnenkort mag hij in het vierde luik dat parcours nog eens een tweede keer overdoen. Misschien is het derde seizoen niet zo briljant als het eerste, toch blijft House Of Cards nog altijd met stip de beste serie van dit moment!
Het derde deel van House Of Cards is nu uit op Sony SPHE, zowel op dvd als Blu-ray.
Didier BECU
16/07/2015
---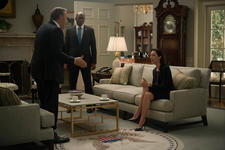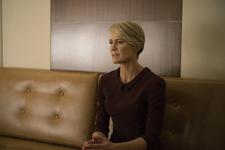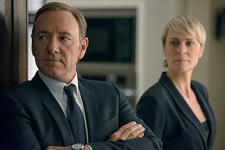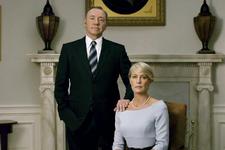 ---