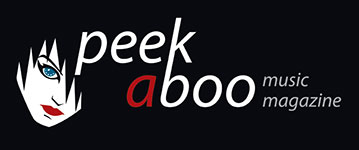 like this tv series review
---
LOOKING SEASON 1
Movie
•
TV series
Gay
•
TV Series
HBO
29/01/2015, Didier BECU
---
Television makers try to push their limits as far as possible. The comedies with a special laugh track are far behind us, and so the producers no longer hesitate to include some experimentation. It is not the first time you read this, but HBO is one of the standards of new (better) television. New in the HBO-catalogue is Looking, a series that will undoubtedly have his supporters and opponents, because this creation by Michael Lannan has all the conditions of a hip television series. An American critic even found that Looking could be best described as a Sex & The City for the gay community. Yes, the further you get into the season (eight episodes), the more you think this argument holds sense.
Another reference the producers rather prefer to hear is of course Girls. This is certainly true in terms of structure, just as in the series of Lena Dunham, we play peeping Tom in every episode that last 25 minutes. We follow Patrick Murray (Jonathan Groff), Augustin (Frankie J Alvarez), Dom (Murray Bartlett), Kevin Matheson (Russell Tovey) and Richie Ventura (Raul Castillo). They are all gay and live in the fashionable San Francisco. The five adults already have found themselves and the only thing they worry about is whether they have the right hand cream in their shopping cart, or that they have chosen the right suit for the next upcoming Gay Parade. That might be the weak point of this series. It's not that we only want to see people who have a troubled life, but these five surely have it very easily. They rarely have headaches about daily problems, and they represent all the clichés that are specific for the gay scene (a soundtrack consisting of songs like Gloria Gaynor's I Will Survive or the adoration for sailors, are just two examples).
But that of course are only details? No one wonders whether James Bond is the prototype of a real spy when he watches Goldfinger. If you can forget the clichés, Looking is a very enjoyable series. A contemporary romcom that goes with the speed of a train, with decent performances and funny moments. You won't find a real story. In each episode, someone is looking for something (usually dates) and that happens on the base of conversations in a living room, on the street or at the disco. Due to the short running time you won't get a real connection with the characters. Just like in real life, you only catch snatches of their existence that is controlled by the social media and especially the urge to always be present in the right place.
Looking might not be that new ultimate HBO-offer, nevertheless worth buying. Now out on DVD through Warner. We bet that once you start, you just keep on watching.
Didier BECU
29/01/2015
---
Televisiemakers proberen (gelukkig maar) tegenwoordig om hun grenzen zo ver mogelijk te verleggen. De komedies waarbij een lachband aangaf dat het publiek moest schuddebuiken, ligt ondertussen ver achter ons en dus halen de producenten niet langer de neus op voor wat experiment. Het is niet de eerste keer dat je dit leest, maar HBO is één van de vaandeldragers van nieuwe (betere) televisie. Nieuw in de HBO-catalogus is Looking, een serie die ongetwijfeld zijn voor- en tegenstanders zal hebben, want deze creatie van Michael Lannan beantwoordt aan alle voorwaarden van een hippe televisieserie. Een Amerikaanse criticus vond zelfs dat Looking best kon doorgaan voor een Sex & The City voor de homogemeenschap. En tja, hoe verder je in het seizoen raakt (acht afleveringen) hoe meer je denkt dat deze stelling steek houdt.
Een andere referentie die de producers liever horen is natuurlijk Girls. Dat geldt zeker qua structuur, want net als de reeks van Lena Dunham spelen we ook in Looking in iedere aflevering 25 minuten een voyeur die wil zien hoe mensen leven. We volgen Patrick Murray (Jonathan Groff), Augustin (Frankie J. Álvarez), Dom (Murray Bartlett), Kevin Matheson (Russell Tovey) en Richie Ventura (Raúl Castillo). Ze zijn alle vijf homo en leven in het mondaine San Francisco. De vijf dertigers hebben zichzelf al lang gevonden en het enige waar ze zich zorgen over maken is of ze de juiste handcrème in hun winkelmandje hebben en of dat ze het juiste pakje voor de Gay Parade hebben gekozen. Dat is misschien het zwakke punt van deze serie. Het is niet zo erg met ons gesteld dat we alleen maar mensen willen zien die met zichzelf in de knoop liggen, maar deze vijf hebben het toch wel zeer gemakkelijk. Kopzorgen hebben ze zelden, en ze vertegenwoordigen alle clichés die eigen zijn aan het homomilieu (een soundtrack die bestaat uit nummers als I Will Survive van Gloria Gaynor of de verafgoding voor matrozen, zijn daar maar twee voorbeelden van).
Maar goed, dat is niet meer dan detailkritiek, niet? Geen mens die zich afvraagt of James Bond het protype van een echte spion is als hij in zijn luie stoel Goldfinger bekijkt. Als je de clichés kan vergeten, dan is Looking zelfs een zeer aangename serie. Een eigentijdse romcom die als een trein voorbijraast met degelijke vertolkingen en grappige momenten. Een echt verhaal moet je niet zoeken. In iedere aflevering gaat men op zoek naar iets (meestal dates) en dat gebeurt aan de hand van conversaties die zich ofwel op een kamer, op straat of in de disco afspelen. Door het torenhoog tempo krijg je geen echte band met de personages. Net zoals in het echte leven, vang je slechts flarden op van hun bestaan dat wordt gecontroleerd door sociale media en vooral de drang om steeds op de juiste plek aanwezig te zijn.
Looking is misschien niet de HBO-topper, desalniettemin het aanschaffen waard. Nu uit via Warner op dvd. Wedden dat eens je eraan begint je gewoon verder blijft kijken?
Didier BECU
29/01/2015
---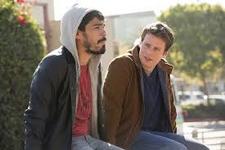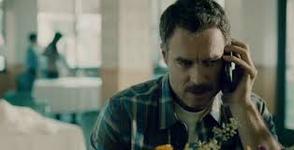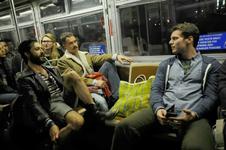 ---