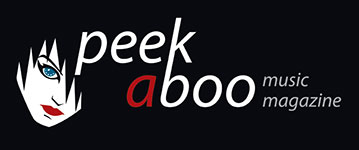 like this tv series review
---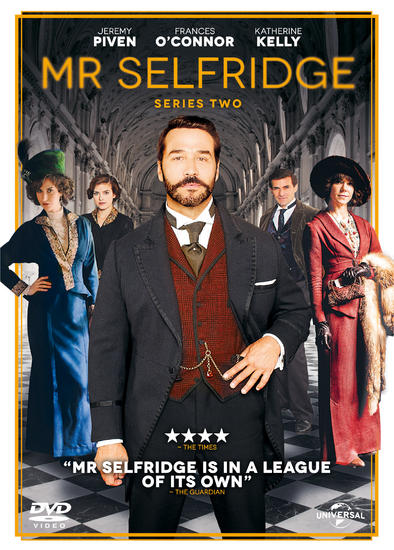 MR SELFRIDGE SEASON 2
Movie
•
TV series
Drama
•
TV Series
Universal Pictures
15/01/2015, Didier BECU
---
Anyone who ever had the courage to walk through the masses on Oxford Street in London, has seen the majestic building of Selfridges, the department store that was founded in 1909 by the American Harry Gordon Selfridge (1858 -1947). This former accountant, who left school at fourteen, saw the opportunities to bring his department store from Chicago to the European continent when he made a trip with his wife Rose Buckingham to the British capital. The success was downright phenomenal. Shortly after, the department store became one of the main attractions of London. ITV decided to make a series about the life of this legendary businessman. Again, the key word is success, because after a first season the producer soon decided to make a second.
In the first season we saw how Harry Gordon Selfridge (Jeremy Piven) did everything to give his supermarket the necessary impetus (air pioneer Louis Blériot who flew across the Channel and Sherlock Holmes-creator Sir Arthur Conan Doyle were involved). The fame of Harry Gordon Selfridge made him an entirely different man. The owner enjoyed the flamboyant nightlife and had a relationship with musical star Ellen Love (Zoe Tapper), while his wife Rose (Frances O'Connor) left him at the end of the first season.
The key question is how to proceed with the next season. History however provides the answer as the second season starts in March 1914, and that is of course the beginning of the First World War. Rose returns to England, not because she believesin the good intentions of her husband, but because her help is needed in the warehouse. All British men defend their homeland at the front, but of course the store has to continue.
Just like the first season, the new one contains 10 episodes, but fortunately there are many differences. The first season was a bit stiff, and you sometimes had the impression that you were looking at a decent classic British drama, but one of the kind that never drifts above. That feeling is gone in the second part. The fact that the makers dig deeper into the ups and downs of the store clerks, makes Mr. Selfridge seem at times like a The second season of Mr. Selfridge is now out on Universal, only on DVD.
Didier BECU
15/01/2015
---
Wie het ooit aandurfde om zich tussen de massa op Oxford Street in Londen te begeven, kent natuurlijk het majestueuze gebouw van Selfridges, het warenhuis dat in 1909 werd opgericht door de Amerikaan Harry Gordon Selfridge (1858 –1947). Deze gewezen boekhouder, die op zijn veertiende de school verliet, zag samen met zijn vrouw Rose Buckingham (over klinkende namen gesproken!) meteen de mogelijkheden om zijn warenhuis - dat reeds in Chicago bestond - ook op het Europese continent te brengen toen hij een reisje maakte naar de Britse hoofdstad. Het succes was ronduit fenomenaal. Kort na de oprichting werd het warenhuis één van de trekpleisters van Londen. De plaats werd een begrip, net als de oprichter en dus besloot ITV om een reeks te maken over het leven van deze legendarische zakenman. Ook hier is succes het sleutelwoord, want na een eerste seizoen werd al gauw beslist om een tweede te maken.
In het eerste seizoen zagen we hoe Harry Gordon Selfridge (Jeremy Piven) er alles aan deed om zijn grootwarenhuis het nodige elan te geven (luchtpionier Louis Blériot die als eerste over het Kanaal vloog wordt erbij betrokken, alsook Sherlock Holmes-bedenker Sir Arthur Conan Doyle). De faam heeft van Harry Gordon Selfridge een heel andere man gemaakt. De eigenaar geniet met volle teugen van het flamboyante nachtleven en heeft een relatie aangeknoopt met musicalster Ellen Love (Zoe Tapper) waardoor zijn vrouw Rose (Frances O'Connor) op het einde van het eerste seizoen besluit om er vandoor te gaan.
De hamvraag is natuurlijk hoe het verder moet. Moeilijk is dat niet, want de geschiedenis verschaft het antwoord. Het tweede seizoen start in maart 1914, en dat betekent natuurlijk het begin van de Eerste Wereldoorlog. Rose keert terug naar Engeland, niet omdat ze de goede voornemens van haar echtgenoot gelooft, wel omdat haar hulp welkom is in het warenhuis. Alle Britse mannen verdedigen aan het front hun vaderland, maar natuurlijk moet de winkel verder blijven draaien.
Net zoals het eerste seizoen telt ook het tweede 10 episodes, maar er zijn gelukkig ook heel wat verschillen. Het eerste seizoen liep wat stroef, en soms had je de indruk dat je naar een degelijke klassiek Brits drama keek zoals er al zo (te) veel zijn gemaakt. Dat gevoel heb je niet bij het tweede deel. Door het feit dat men ook dieper graaft in het wel en wee van de winkelbedienden, lijkt Mr. Selfridge bij momenten wel op Het tweede seizoen van Mr. Selfridge is nu uit op Universal, alleen op dvd.
Didier BECU
15/01/2015
---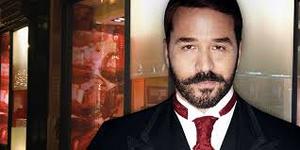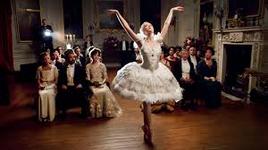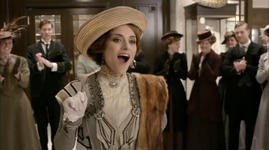 ---