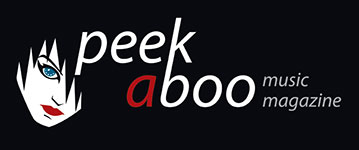 like this tv series review
---
Nikita, Season 3
Movie
•
TV series
Action
•
TV Series
[60/100]

Warner Home Video
09/05/2014, Didier BECU
---
I guess the name of Nikita sounds quite familiar, not? Nah, we're not talking about that famous tune by Elton John, but of course we're having the French classic by Luc Besson in mind that later got a second (American) life with Bridget Fonda in Point Of No Return (or if you prefer The Assassin). As it's usual the case with successful movies, producers smell money and so they decided to make a series out of the franchise. In Nikita's case it became two. Between 1997 and 2001 there was La Femme Nikita with Peta Wilson in the leading role. It seemed like they couldn't get enough from the female spy as from 2010 the Vietnamese beauty Maggie Q gave the series some new breath. Sadly enough the producers decided to put a final point after 6 episodes from the 4th season after Nikita's adventures. We did say "sadly enough" as Nikita deserved better. It's not top television, but the series has put us during 22 episodes on the edge of the chair and be honest about it: not every series can claim this!


In the meantime everybody knows the basic story about Nikita. She wasn't exactly a good girl in her younger days and so she ended up in jail. To avoid the fatal death row, she was raised by the government to become the ultimate spy and killer. She could stay alive, but lost all dignity or rights as it was even impossible for her to love someone. Back then she worked for the Section One-organisation. After a while the government discovered that the secret organisation played lots of dirty games. As the President thought it'd be shame to dismantle the organisation, he decided to give it a fresh name and a brand new boss. Section One became Division and the new leader became: former CIA-analyst Ryan Fletcher (Noah Bean). The rest of his team consists of Nikita (Maggie Q), Michael (Shane West), Alex (Lyndsy Fonseca), Sean (Dillon Casey) and hacker Birkhoff (Aaron Stanford).


Nikita's biggest enemy is Amanda (Melinda Clarke). Along with her friend Ari Tasarov (Peter Outerbridge) she's on the run, but her goal is crystal clear: to eliminate Nikita. Amanda has worldwide connections and so there's danger on every corner. And during the time that Nikita doesn't have to run for her life, she has some spare moments left for romance as Michael asks Nikita in the first episode to marry him.


I must confess by saying that I never saw La Femme Nikita. A human life is limited in time and it's simply impossible to see everything. Having said that, I never had any difficulties in following the stories. Okay, all by all they're rather simple, so you don't have to force your mind that much. Nikita is perfect popcorn fodder. Ideal stuff to fill some lost 40 minutes. There's tension, it's flashy and the acting is decent. Perhaps it's me, but I couldn't escape the feeling that Maggie Q. looks similar to French goddess Sophie Marceau. That means she gets some bonus points. But right, we were talking about the quality of the performances. Anyway, if you want to dive into the world of Nikita then you can grab the 3rd season as it's now out on Warner.
Didier BECU
09/05/2014
---
Klinkt de naam Nikita je ook bekend in de oren? Neen, natuurlijk hebben we het niet over de hit van Elton John, wel over de Franse klassieker van Luc Besson die later met Bridget Fonda als Point Of No Return (of zo je wil The Assassin) een tweede Amerikaans leven kreeg. Zoals dat zo vaak gaat met succesvolle films roken producenten geld en werd een nieuwe televisieserie geboren. In het geval van deze superagente werden er dat zelfs twee. Tussen 1997 en 2001 verscheen La Femme Nikita met Peta Wilson in de hoofdrol. Blijkbaar kon men maar niet genoeg krijgen van deze spionne, want vanaf 2010 mocht de knappe Maggie Q de rol overnemen. Helaas waren de kijkcijfers aan de magere kant waardoor onlangs de producenten ten onrechte besloten om na zes afleveringen van het vierde seizoen definitief een punt achter haar avonturen te zetten. We schrijven wel degelijk "ten onrechte", want alhoewel Nikita geen toptelevisie is, kon de serie ons 22 afleveringen aan de buis kluisteren en dat kun je nu ook weer niet van alle series zeggen.


Iedereen weet ondertussen dat Nikita in haar jeugd een allesbehalve braaf meisje was. Na enige tijd in de bajes te hebben doorgebracht werd de vrouw tot spionne en moordenares opgeleid. Op deze manier kon ze wel aan de doodstraf ontsnappen, maar verloor ze ook al haar waardigheid. Zelfs het recht op liefde raakte ze kwijt. Ze heeft jarenlang gediend voor Section One, maar deze geheime organisatie bleek heel wat vuile spelletjes te hebben gespeeld. De Amerikaanse president vindt de organisatie evenwel te belangrijk om zo maar op te doeken daarom krijgt de afdeling een nieuwe naam (Division) en een nieuwe baas: de voormalige CIA-analist Ryan Fletcher (Noah Bean) die de opdracht krijgt om de warboel van weleer recht te zetten. Hij kan rekenen op een team dat bestaat uit (natuurlijk) Nikita (Maggie Q), Michael (Shane West), Alex (Lyndsy Fonseca), Sean (Dillon Casey) en computerfanaat Birkhoff (Aaron Stanford).


Nikitas grote vijand is Amanda (Melinda Clarke) die samen met haar vriend Ari Tasarov (Peter Outerbridge) op de vlucht is geslagen. Het doel van Amanda is overduidelijk: Nikita uit de weg ruimen. Geen enkele plek is nog veilig voor Nikita, want haar rivaal heeft overal mannetjes (of zelfs vrouwtjes) zitten. Tussen de vele actiescènes door is er ook nog plaats voor wat romantiek, want partner Michael vraagt Nikita ten huwelijk. Veel tijd voor vrijages is er evenwel niet.


Eerlijkheidshalve heb ik La Femme Nikita nog nooit gezien. Een mensenleven is nu eenmaal beperkt in tijd, en dus kun je niet alles zien. Toch heb ik op geen ogenblik moeite gehad om de (eenvoudige) verhaaltjes te kunnen volgen. 22 afleveringen lang die elk zo'n 40 minuten duren krijgt Nikita de opdracht om één van haar vijanden te elimineren. Veel gebeurt er niet, toch is het ideaal popcornvoer. Er is misschien niet bijster lang nagedacht over de inhoud, gelukkig zijn de acteerprestaties van een meer dan degelijk niveau. Het zal waarschijnlijk wel aan mij liggen, maar de Vietnamese Maggie Q. lijkt verdraaid veel op Sophie Marceau en daarmee scoort ze hoog op de schoonheidsladder. Maar juist, we hadden het over de acteerprestaties.


Wie 22 episodes lang in Nikitas spionagewereld wil doorbrengen kan vanaf nu het derde seizoen op Warner in huis halen. Sexy, flashy, spannend en zelfs niet eens zo slecht. Soms moet een serie niet meer zijn dan dat!
Didier BECU
09/05/2014
---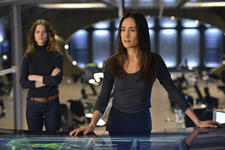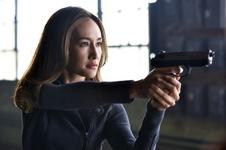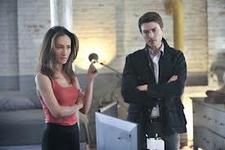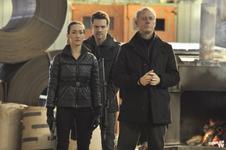 ---