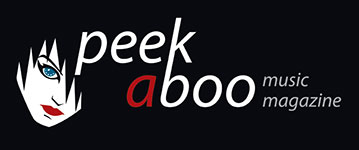 like this tv series review
---
NIKITA Season 4
Movie
•
TV series
Action
•
TV Series
Warner Home Video
22/10/2014, Didier BECU
---
We're sorry to tell you this, but despite the large interest, Hollywood-bosses decided that the time has come to draw a final curtain over the adventures of Nikita. It can break your heart, but you have to deal with the fact that the 4th season is also the last one and a fact that is absolutely hard to deal with: the pretty Maggie Q is only given 6 episodes to say farewell. But if you just can't get enough of her beauty (or perhaps her acting talent, who knows!) there's some fine news too, as Warner collected all the seasons in one box so you definitely know what can be on your wish list for Santa Claus.
Nikita is of course not any longer that girl Elton John was singing about, but a clever super female agent who is used for getting the most dangerous jobs done. You know the drill by now: the thief who is trained as a super spy.
Things aren't really going well with our lady. If you remember the third season then you'll sure aware of the fact that she's accused of killing the American president. It doesn't help if you're clever or not, as soon as you're accused of that, you better run as in no time you have become world's public enemy N°1. Surprisingly enough Nikita gets the unexpected help from her former team that includes both the former CIA-analyst Ryan Fletcher (Noah Bean) and her ex-lover Michael (Shane West). Nothing has changed with Amanda (Melinda Clarke) as she'll always be Nikita's biggest enemy and she only has one wish: kill Nikita. Or to say it rather short: Nikita has only 6 episodes, but she has a lot to do!
To be quite honest, you never can say that Nikita is innovating. Just like many others, I never could help the feeling that this series is quite familiar with Alias. But you know what Nikita stands for: ideal stuff for putting in your player when you have nothing to do during 40 minutes (that's the length of one episode) and want to be entertained. This series is full of tension, with perhaps a bit too much repeating standards, but at the end of the day you'll never regret that you spend your time on it. And plus, be honest as that's also a factor, you've been accompanied the whole time by a pretty lady. Oh yes, our chief editor gives me the hint that I'm supposed to concentrate myself on the quality of the series!
But as said, it's over now. Nikita really deserved more than this, we're talking about a real season with say 22 episodes, but who are we to stop dumb decisions from Hollywood-bosses?
The last season from Nikita is out on DVD on Warner.
Didier BECU
22/10/2014
---
Het is met spijt in ons hart dat we het moeten vertellen, maar ondanks goede kijkcijfers hebben de heren in Hollywood toch besloten om er bij Nikita een definitief punt achter te zetten. Dat betekent dus ook dat het vierde seizoen het allerlaatste wapenfeit van de knappe Maggie Q is geworden en dat dit luik amper 6 episodes telt. Maar goed, wie maar niet genoeg kan krijgen van deze mooie dame (en wie kan dat wel?) kan bijv. aan het kerstmannetje vragen of hij de dvdbox met daarin alle afleveringen dit jaar onder de kerstboom wil leggen, want die wordt simultaan met het laatste seizoen uitgebracht.
Nikita is al lang niet meer dat meisje waarover Elton John ooit zong, wel een superagente die werd ingeschakeld om de meest gevaarlijkste zaakjes op te knappen: je weet wel, de knappe dievegge die vanuit de gevangenis werd opgeleid tot spionne.
Het gaat echt niet goed met Nikita. Wie zich nog het slot van het derde seizoen herinnert zal beslist nog weten dat zij ervan werd beschuldigd om de Amerikaanse president te hebben vermoord. Wie dat doet kan maar beter zijn biezen pakken, want in geen tijd wordt zij omgetoverd tot de publieke vijand nummer een! Nikita weet evenwel dat zij niet de schuldige is en doet er alles aan om geloofd te worden. De hulp komt vanuit een eigenaardige hoek: haar vroegere team dat uit de voormalige CIA-analist Ryan Fletcher (Noah Bean) en haar ex-lief Michael (Shane West) bestaat. De allergrootste vijand blijft evenwel nog altijd Amanda (Melinda Clarke) die met zeer veel plezier Nikita een kopje kleiner wil maken. Kortom, het zijn maar zes afleveringen maar Nikita weet gedurende 240 minuten wel waarmee ze zich mag bezighouden.
Eerlijkheidshalve is Nikita verre van vernieuwend en lijkt bij momenten zelfs verdraaid veel op Alias. Desalniettemin is deze serie ideaal televisievoer als je 40 minuten tijd hebt (want dat is de lengte van iedere aflevering) en die op een entertainende wijze wil invullen. De reeks is spannend, valt misschien een beetje te veel in herhaling, maar toch heb je er geen seconde spijt van dat je er je tijd in hebt gestoken. Plus, en dat is nu ook eenmaal een factor telt, ben je in het gezelschap van één van 's werelds mooiste dames!
Maar toch, ondanks deze woorden is het doek definitief gevallen. Misschien had deze superspionne een mooier afscheid verdient (een volwaardig seizoen met 22 afleveringen dus!), maar wij zijn niet in staat om domme beslissingen van Hollywoodbonzen recht te trekken.
Het laatste seizoen van Nikita is nu uit op dvd bij Warner.
Didier BECU
22/10/2014
---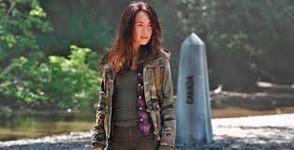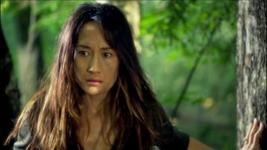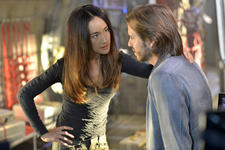 ---