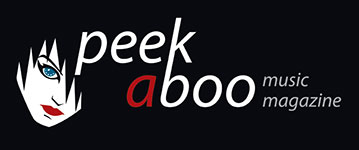 like this article review

---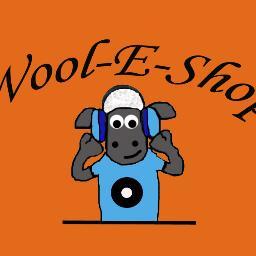 Record Store Day 2016 at Wool-E Shop
Article
09/12/2016, Didier BECU
---
I confess: as I'm almost fifty years old, a term like Record Store Day sounds a bit strange. Once you had a record store in almost every shopping street, but the digitization of music brougth about a big change. The media once suggested that music would die, but the love for music is bigger than ever: a passion which is supported by the independent record store.

For some, a record store always will remain a supermarket where CDs are stacked between vacuum cleaners and washing machines. But if a CD or an LP (or even a cassette nowadays) is a precious object, then you buy it at your local record store where you can get information about a particular release, where someone will do everything to get your favorite gadget or praise a particular record because he knows the taste of his clientele.
Today there are about sixty record stores in Belgium. Indeed a low number when you compare it with the past, and yet places all music fans love to visit. Highlight for the sector is Record Store Day: the day that fans around the world pay a visit to their favorite record store, and the exquisite moment for shop owner to offer their customers something extra.

As I live in Ghent, it was the logical choice. A nice coincidence, because Mike (Consouling Store), Dimitri (Wool -E Shop), Bob (Vynilla), Carl (Vinyl Kitchen), Thibo (Chum) and Music Mania joined forces to put the independent record store in the spotlight (click here for the website where you can find all the info).
In Ghent, fans of alternative commercial music find their stuff at Music Mania, but we focused on Wool-E Shop, Consouling Store and Vynilla (the place to be for vinyl collectors), not coincidentally three record stores that each have a label with a success story. Vinylla released the debut of Amatorski, Consouling Sounds hosts the hugely popular cult band Amenra, and Wool-E Tapes released the tape of the current Rock Rally winners, which is Belgium's biggest rock contest.

In all these shops gigs were played. Music Mania put Goose on stage, Vynilla offered performances by Krankland, Eyemèr , BRZZVLL, Amatorski and Tiny Legs Tim, at Wool-E Shop you could listen to Kiss The Anus Of A Black Cat and Whispering Sons.

Because a man can't be at all places at the same time, we went to Wool-E Shop. Everyone in the alternative Belgian music scene knows the friendly man with the sideburns, a notorious music connoisseur who knows everything about music (from André Brasseur to Ostrogoth). Dimitri's passion went further than just selling records, and so he started his own cassette label. For some people, it 's still a strange phenomenon, but the cassette is back. It started with a modest compilation and some releases of befriended bands, but the icing on the cake, of course came last year.

In December 2015, Wool-E Tapes released a tape with a cover that was reminiscent of the first records by Siglo XX. The name? Whispering Sons. Almost no one knew the band of five young people from Limburg that made music with n 80's sound. They were part of Soundboxes (the booking agency of bands like Melting Time), but that was about the only thing we knew about them. Until the day Wool-E Tapes released Endless Party at the Kinky Star in Ghent. The venue was overcrowded, we saw a somewhat awkward band on stage with a sound that blew everyone. Most people understood that they were witnessing a new favorite band. And yes, with the support of Dimitri and Bart Somers of Soundboxes the plan succeeded and the social media did the rest. Suddenly you saw Whispering Sons everywhere, the band quickly got a very loyal fan base and in short time became master of the stage. The tape was sold out in no time and appeared later on vinyl at Minimal Maximal (the label of Dirk Ivens). The 300 copies were completely sold out during the release party at the Trix in Antwerp. And yes, a few weeks later, Katia Vlerick (Humo) announced in the AB that the winners of Humo's Rock Rally 2016 was...Whispering Sons!

It was evident that Wool-E Shop would feature his beloved children on Record Store Day 2016. While the youngsters played on the other side of Belgium in Heusden-Zolder at Fonny's CD & Vinyl Shop Pick, Wool-E Shop was overwhelmed: Dimitri still had a small stack of copies of Endless Party on vinyl... and yes, all were sold in less than half an hour. For the fans who could not get a copy, Fenne Kuppens had good news: a second pressing of 500 copies on clear vinyl will be availablei in May. So, you better start making that reservation!
The party at Wool-E Shop got some extra impetus by two sidewalk performances by Kiss The Anus Of A Black Cat and Whispering Sons. Those who could not get enough were expected at the Kinky Star, where Dimitri and Mike (Consouling) Mike joined forces for a concert with Whispering Sons, the rock band The 5AM and Benefactors.
Is music dead in 2016? Well, yesterday, thousands of people around the globe decided otherwise!
Didier BECU
09/12/2016
---
Ik beken: als (bijna) vijftigjarige klinkt een term als Record Store Day wat vreemd. Ooit had je in bijna iedere winkelstraat wel een platenwinkel, maar de digitalisering van de muziek heeft daar anders over beslist. Allerlei onheilsberichten in de media lieten de mensen vermoeden dat muziek ten dode was opgeschreven. We leven weliswaar in tijden waar hitparades op iets uit de oertijd lijken, de liefde voor de muziek daarentegen zit meer dan ooit in de lift: een passie die wordt aangewakkerd door de onafhankelijke platenzaak.
Voor sommigen is een platenzaak synoniem aan een electrozaak waar je tussen de stofzuigers en de wasmachines ook nog wat cd's kan vinden, maar wie een cd of een lp (of tegenwoordig zelfs een cassette) niet als een wegwerpproduct beschouwt, die gaat naar zijn lokale platenboer voor informatie over een release, en het is vaak iemand die zich nog de moeite getroost om een hebbeding te bemachtigen of die een album aanprijst omdat hij de smaak van zijn klanten kent.
Vandaag zijn er iets meer dan zestig platenwinkels in België, een peulschil in vergelijking met vroeger. Toch zijn het stuk voor stuk plekken waar de muziekfan met puur plezier naar binnen stapt. Hun wereldwijde hoogmis is Record Store Day: een dag waarop de fan zijn favoriete platenboer een bezoekje brengt en de platenboer de klant wat extra kan bieden.

Omdat ondergetekende in Gent woont, was dat de logische keuze. Een leuk toeval, want het is net in Gent dat Mike (Consouling Store), Dimitri (Wool-E Shop), Bob (Vynilla), Carl (Vinylkitchen), Thibo (Chum) en de mannen van Music Mania de handen in elkaar hebben geslagen om de onafhankelijke platenzaak extra in de kijker te zetten (klik hier voor de website waarop je alle info vindt).
In Gent vindt de fan van alternatieve commerciële muziek zijn gading vinndt bij Music Mania, maar ons oog viel vooral op Wool-E Shop, Consouling Store en Vynilla (de plaats bij uitstek voor collectors), niet toevallig drie platenwinkels die een eigen label hebben met elk een eigen succesverhaal. Zo verscheen bij Vinylla ooit het debuut van Amatorski, is Consouling Sounds de thuishaven van de immens populaire cultband Amenra, en Wool-E Tapes het label dat de tape van de huidige Rock Rally-winnaars uitbrengt.
In alle winkels waren er optredens. In Music Mania was dat bijv. Goose, in Vynilla kon je ter(echt voor Krankland, Eyemèr, BRZZVLL, Amatorski en Tiny Legs Tim, en bij Wool-E Shop stonden Kiss The Anus Of A Black Cat en Whispering Sons op het programma.
Omdat een mens niet op alle plaatsten tegelijkertijd kan zijn, kozen we voor Wool-E Shop. Iedereen in de alternatieve muziekscène kent de vriendelijke man met zijn bakkebaarden, een notoir muziekkenner die je alles over de muziekgeschiedenis kan vertellen (van André Brasseur tot Ostrogoth). Dimitri's passie ging echter verder dan louter plaatjes verkopen en dus begon hij een paar jaar geleden met een eigen cassettelabel. Voor sommige mensen lijkt het nog steeds een vreemd fenomeen, maar de cassette is weer helemaal terug. Het begon met een bescheiden compilatie en releases van bevriende bands die op deze manier een extra platform kregen, maar de kers op de taart kwam natuurlijk vorig jaar.
Wool-E Tapes kwam in december 2015 met een tape op de proppen met een hoes die wat deed denken aan de eerste platen van Siglo XX. Naam? Whispering Sons. Er was bijna niemand die wist om wie het ging, gewoon vijf jonge mensen uit Limburg die muziek maken met een jarentachtiggeluid. Ze zaten bij Soundboxes (het boekingskantoor van o.a. Melting Time), maar dat was zowat het enige wat we ervan wisten. Tot de dag dat Wool-E Tapes de tape Endless Party in de Kinky Star voorstelde. Het zaaltje was tot aan de voordeur gevuld, we zagen een wat onwennige band aan het werk, maar met een geluid dat iedereen omverblies. De meeste aanwezigen begrepen meteen dat ze er een lievelingsband bij hadden. En jawel, met de steun van Dimitri en Bart Somers van Soundboxes hadden ze genoeg, de rest deden de sociale media wel. Plotseling kon je Whispering Sons overal aan het werk zien, kreeg de band in korte tijd een zeer trouwe fanbasis en werd het een band die op nog kortere tijd perfect het podium wist te beheersen. De tape was in een mum van tijd uitverkocht en verscheen op vinyl bij Minimal Maximal (het label van Dirk Ivens). De 300 exemplaren raakten tijdens de releaseparty in de Antwerpse Trix meteen uitverkocht. En jawel, een paar weken later kondigde Katia Vlerick (Humo) in de AB aan dat de winnaars van Humo's Rock Rally 2016 Whispering Sons was!
Het was dan ook een beetje normaal dat Record Store Day 2016 voor Wool-E dit jaar in het teken zou staan van zijn geliefde troetelkind. Terwijl de jonge Limburgers aan de andere kant van België in Heusden-Zolder bij Fonny's CD & Vinyl ShopPick speelden, was er bij Wool-E een ware stormloop. Dimitri had nog een klein stapeltje exemplaren van Endless Party op vinyl over... en jawel, die waren na een halfuurtje weg. Voor de fans die geen exemplaar op de kop konden tikken had Fenne Kuppens echter goed nieuws: eind mei komt er een tweede persing, 500 stuks op doorzichtig vinyl. Begin dus alvast te reserveren!
Het feestje kreeg wat extra elan door twee trottoiroptredens van Kiss The Anus Of A Black Cat en Whispering Sons. Wie er niet genoeg van kon krijgen, kon een paar uurtjes later in de Kinky Star terecht waar Dimitri en Mike (Consouling) de handen in elkaar sloegen voor een optreden van Whispering Sons, de rockformatie The 5AM en Benefactors.
Is muziek dood in 2016? Nou, daar hebben gisteren wereldwijd tienduizenden mensen toch wel anders over beslist hoor!
Didier BECU
09/12/2016
---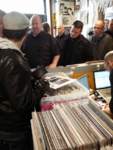 ---