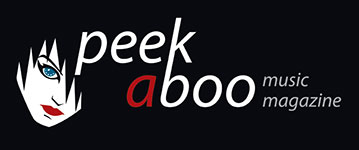 like this tv series review
---
SALAMANDER SEASON 1
Movie
•
TV series
Detective
•
TV Series
Arrow
18/03/2014, Didier BECU
---
Agreed, it feels weird to get a Flemish cop series from a British label (Arrow). But then again, I guess that's just a proof how good Salamander actually is. After all, Arrow is the label that distributes Scandinavian top series like Borgen or The Bridge. In the meantime it seems like nothing can stop them as according to some rumours, plans are already made to release an American version.


One of the main factors is definitely Ward Hulselmans: a novelist who wrote excellent scripts for acclaimed series like Niet Voor Publikatie, Witse and Stille Waters. The same counts for the directing that's been done by Frank Van Mechelen, known in Belgium from Witse, a detective that can be compared with Frost. Salamander has an impressive cast. Almost everyone who is known in Flanders got a role, and so it was no wonder that the series could reach over one million people on a Sunday evening.


Salamander stands for a secret society from businessmen and magistrates who all have done something bad. Those dark things see the light of day when crook Joachim Klaus (Koen De Bouw) is robbing some vaults in a Brussels bank. Joachim has stolen a lot of money, but the bank director Raymond Jonkhere (Mike Verdrengh) never reported this to the police. That's a big mystery for police-inspector Paul Gerardi (Filip Peeters) who discovers the robbing in an accidental way. Paul wants to investigate why no one complained, but both his boss Martin Colla (Warre Borgmans) and the head of Justice Armand Persigal (Jo De Meyere) try to stop him in every way.


During his investigation, Paul finds a lot of dirt. And no, it's not all about fiction. The story of a dumb prince who has to be stopped by the government isn't that fictional in Belgium. But even if you're not familiar with Belgium and its politics then Salamander is an absolute tip as it's a thrilling series that is characterized by its brilliant performances.


Salamander is now out on DVD on Arrow.
Didier BECU
18/03/2014
---
Toegegeven, het voelt een beetje vreemd aan om een Vlaamse politiereeks van een Brits label (Arrow) in je handen te krijgen, maar tegelijkertijd is het ook een mooi bewijs van hoe degelijk Salamander wel is. Want jawel, beste lezer, Arrow heeft, net zoals dat bij ons Lumière is, in Engeland het monopolie over Scandinavische topreeksen zoals Borgen of The Bridge. Ondertussen kent het succesverhaal van Salamander blijkbaar geen einde, naar verluidt worden er in Amerika immers plannen gesmeed om een remake in te blikken. Zoiets wil toch wat zeggen, niet?


Dat heeft uiteraard veel met Ward Hulselmans te maken: de misdaadauteur die in het verleden topscenario's van Niet Voor Publikatie, Witse en Stille Waters neerpende. Ook met de regie zit het snor, deze was in handen van Frank Van Mechelen die uiteraard bekend is van de eerste (degelijke) Witse-seizoenen.


Aan Salamander werkte heel wat schoon volk van het Vlaamse acteerwereldje mee waardoor de reeks moeiteloos één miljoen kijkers op zondagavond kon veroveren. Van Mechelen schuwt de kritiek op het Belgische politieke leven geenszins, en dit ondanks een cameo van (jawel!) Elio Di Rupo.


Salamander staat voor een geheim groepje van ambtenaren en magistraten die heel wat op hun kerfstok hebben. De waarheid komt aan het licht nadat crimineel Joachim Klaus (Koen De Bouw) de kluizen van de Jonkhere-bank kraakt. Naast het nodige geld zit er in de brandkast ook heel wat duistere informatie. Ondanks de gigantische som gestolen geld heeft bankdirecteur Raymond Jonkhere (Mike Verdrengh) nooit de politie daarvan op de hoogte gebracht. Dat verbaast politie-inspecteur Paul Gerardi (Filip Peeters) die toevallig over de inbraak wordt geïnformeerd. Ook al houden zijn baas Martin Colla (Warre Borgmans) en de corrupte procureur-generaal Armand Persigal (Jo De Meyere) hem op allerlei manieren tegen, gaat Paul toch op onderzoek uit.


In zijn onderzoek stuit de flik op heel wat stinkende zaakjes die verre van fictief lijken en een regelrechte kritiek op het huidige Belgische beleid zijn. Want geef toe, het verhaal van bijv. de domme prins die in het gareel moet worden gehouden hebben we toch al eerder gehoord, niet? Nu los daarvan, is Salamander een uiterst spannende politiereeks die wel eens een loopje met de geloofwaardigheid durft te nemen, maar die dankzij zijn schitterende acteerprestaties op geen enkel ogenblik onnozel lijkt. En tja, dat kunnen we nu ook niet meteen over alle Vlaamse series schrijven.


Salamander ligt al een tijdje in de Vlaamse winkels, maar wie eens gek wil doen, kan bijv. de Engelse uitgave in huis halen. Die is nu op dvd beschikbaar via Arrow.
Didier BECU
18/03/2014
---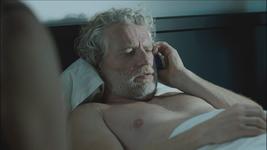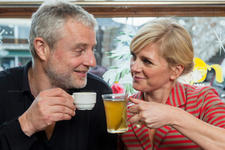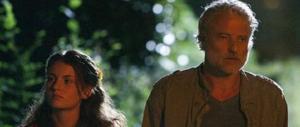 ---