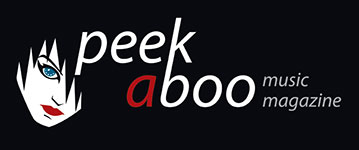 like this concert review
---
Shadowplayfestival 2011
Concert
27/07/2011, Didier BECU
---
The Shadowplay festival is close to our hearts. Not just because organiser Bernd is one of the key people behind Peek-a-Boo magazine, but because the festival has been so important for the darkwave scene here in Flanders.
Despite so called "alternative" radio station Studio Brussel playing Joy Division-clones every hour, when Hooky himself comes over, it doesn't even get a mention. We still have to deal with contemptuous media who seem to support crap in which money plays the central part and where music lovers are left stranded.
Quote of the weekend came from Chesko, singer with Der Klinke, hailed by the German press and ignored over here who said: "Would people notice when they're driving around that musical history is being played in this concrete bunker?". We don't think so...
Peek-A-Boo was there for all three days, and we couldn't see everything. So rather than feed you with bullshit about a band I only saw 10 minutes of, I'll stick to reviewing gigs I did see.
Shadowplay was held at Kortrijk Expo, which sort of doubled up as the venue for the simultaneous Factory Noise Festival rather late in the day.
Day 1
French duo Krystal System kicked off with their electro Indus-pop. Bonnie told me afterwards that it must have been the most difficult gig for the band (soundwise) it was a brilliant move for this Alfa Matrix-band to expose their skills to a larger audience.
Bonnie and Seven were a perfect start for what was sure to be a great weekend, even if The March Violets were a bit of a letdown.
They might be still playing the infamous snake dance but I expected a bit more than cabaret-like superficiality from those goth-founders.
Something that can't be said of Diary Of Dreams as Adrian delivered exactly what the public expected. No surprises but a high quality performance from a band who can be proud of having a loyal fanbase. Judging by their Friday night performance, it is totally justified.
Suicide Commando may have come in for more than their fair share of criticism, but tonight, this demi-god from Limburg silenced all detractors. Some music connoisseurs always want to be part of the so called elite that mostly stands for many words but little action and to them we can only say: Suicide Commando ruled the weekend both by its passion and professionalism.
An overwhelming show, maybe too vicious for some but even those who were not really into Johan's hellelectro-sounds, it's no wonder he's God in Germany.
If only those concert organisers outside the scene would read these words, but yes it's true...they're far too busy with listening to the newest Coldplay rip-off or Selah Sue, so it's no wonder they're asleep
Being a fan of The Fields Of The Nephilim isn't an easy thing as I keep saying that they once performed one of the best gigs I've ever seen(at Eurorock). But at Shadowplay they were just lame. Some blamed the acoustic of the venue but a better chosen setlist and a bit more passion would have worked wonders. A few months after a sterling performance in Cologne, they were a bit of a disappointment.
Good gig? Sure, but it won't mark the memory and that's not right when you have Carl McCoy in front of you.
Tired but fulfilled, it's time for bed.
Day 2:
I tried a million times to describe Brussels duo Cruise Ctrl's IDM driven-highwaybeats but close your eyes and let yourself go on an industrial merry-go-round full of rhythms, noises and beats as that's best way to describe them, I guess.
Once again the proof that the Belgian underground is alive and kicking, and this time I'll shut up about the ignorant media. Promised!
I missed Lizard Smile, but according to fellow Belgian Goths from gothrockband Erato, they were pretty damned good.
"Mein Gott! no cybergoth at Shadowplay!" Perhaps a call that's been heard from some old school goths but SAM were one of the revelations of the festival. It doesn't take many braincells to come up with a song called "Bullfuckingshit" but this duo were one of the most vivid bands of the weekend and they immediately kicked us wide awake. And with a shortage of coffee, there was need a for it!
If SAM wasn't the revelation then it must have been the Italian popnoise-act Tying Tiffany. No wonder - this model teams up with Hanin Elias and apart from some psychoguitars we just found one description for her: she breathes the Atari Teenage Riot-energy and that says a lot. Excellent it was.
Festivals are not just tiring for the organisers. Five minutes later I was facing the synthetic sounds of Solitary Experiments. This Out Of Line-band drifts between old school EBM, synthpop and futurepop. They graced us with some real synthetic gems. Anyone who loves this sort stuff was delighted to see them finally on Belgian soil.
Tired of people who keep saying that there hasn't been a decent gothrockband since Sisters Of Mercy? So are we. Buy them some ears, or just send them to a show by The Beauty Of Gemina who were for many festivalgoers one of the highlights of this year's Shadowplay festival.
Agonoize you love or hate. I hate but so many other people disagreeing and enjoyed their hellelectrofest. Something for everyone.
With Absolute Body Control it was crystal clear that this festival was to be ruled by Belgian artists who have all one thing in common: experience!
Dirk and Eric gave us back those magical days again where analogue synth sounds were the base of their immortal wave songs. Dirk is still dancing like he's 14 and seeing him on stage is like you're flashed back to the days when you were dancing to Fad Gadget-tunes. An excellent set of old and new songs. Highlight of the festival? Almost.
For some it was Hocico. The band with no surprises but one with a constant factor: you know what you get and if you dive into their world then you know what it stands for: harsh melodic noises.
Perhaps was it a bit of a strange choice to take A Split-Second as co-headliner but fortunately, the underground knows that they're more than just the band who penned "Flesh". And why did both Absolute Body Control and A Split-Second have the best sound of the day? You better ask the boss that one!
And so it was time for that final farewell from Love Like Blood. Whether it's a good or a bad choice is of no importance but due to a lack of public interest we recon there is no future left for gothic rock in Belgium. Anthems like "Johannesburg" will probably be buried in a distant memory. Gothic rock is dead in Belgium and it's not something Peek-A-Boo declared, you did on Saturday evening. I guess that must leave us with Paul Weller's words: "The public get what the public wants" but we dare to say at Peek-A-Boo: the public can be wrong...
Day 3
So perhaps it's time for the new generation. Thieves Of Silence for instance?
We hope so, but we hope these boys from Brussels won't be victimised by the big curse that is being ignored by the media. If they were British, they would have toured with White Lies and all those lovely people would say that they're the next big thing. Today they're not. Belgium cares about its newest radio darlings who got a knock on the shoulder from some radio-DJ who think he's hip because he loves Kings Of Leon. Are we so angry then? Yes we are, furious even that we are living in a country (we won't make it the world) that ignores talent and musical genres.
The death of Amy Whinehouse might be inspiring the "press" at that moment but Peek-A-Boo said then: the future was to be seen in Belgium. The best band of the festival? Absolutely not, but these youngsters more than held their own. They deserve more. We hope they'll get it.
NTRSN can't exactly be called youngsters (sorry lads!) but they do seem to get better each time. It's such relief to see their mix of industrial, EBM and insanity. Recently Pieter told me that he stopped giving a damn about everything and just doing what he likes to do and it's this attitude which made NTRSN one of those bands that will never be big, but always a pleasure.
Same can be said about Diskonnekted. Jan Dewulf is one of the most talented artists in the Belgian underground and I can only agree with colleague Pieter who told me that the more you see Diskonnekted, the better they get.
Blood, Dead And Sexy brought death rock to the Expo-bunker. With tearful eyes, we have to face the truth. The death rock scene in Belgium is dead. Don't blame us, we hoped it would be different but this is Belgium. And for all those nice people who keep on complaining that there is no space left for death rock: where were you Sunday-afternoon?
EBM, however, is alive as well and even if I couldn't attend Plastic Noise Experience myself, collegue Jürgen thought it was the highlight of Shadowplay. Not in the least because they played an old school set and it was so loud that we heard from afar that our collegue was right!
Is Terence Fixmer's technology and Douglas McCarthy's voice the golden combination? Kind of, and with a packed venue we saw a self-confident McCarthy making his way to intelligent minimal techno sounds.
One of the most frequently asked questions at Shadowplay was: "How would Cranes be in 2011?". The answer was given at eight o'clock: over and out! A totally uninspired bunch of has-beens performing a greatest hits set in which all passion seems to have disappeared. We still fall for Alison's voice but we have no respect for musicians who are sitting down and act like they just don't care.
Oh – and I am a die hard fan who has travelled far and wide to see them but in 2011 Cranes are just a shadow of their past selves. But then again, colleague Ward confessed that he's seen them even worse than that. Well...
With Vive La Fête, Shadowplay was almost over. Els and Danny gave us the show we were expecting, electropop from a well practiced band who belong both within and outside the scene. If only those outside cared, that is.
The number of times I have seen Clan Of Xymox is in three figures but quality always rises and as a fan it was heart-warming that Ronny and his band (and no Mojca as she's actually pregnant!) were playing to a packed house. The audience wasn't asking for old classics (though we got "Back Door" and "Louise") but an audience that understands this band made gems like "In love we trust", "Emily", "Hail Mary", "There's no tomorrow", "Jasmine and rose"....so yes, it was the highlight of Shadowplay and many others agreed as Clan Of Xymox put their stamp on Sunday.
And of course there was Peter Hook & The Light. Probably the most difficult act to describe.
The remaining souls of Joy Division are just a little upset at Hooky deciding to tour doing Joy Division-covers. Of course this isn't the real thing but it is more than just a glorified coverband. After all you're facing the man who changed the world of bass!
Even if it looked like we were going to have a replay of "Unknown pleasures", it was more like a greatest hits set.
Hooky can't sing but he is the bass and he invented the sound we care most about (OK - Martin Hannett was involved as well).
Lots of people might be offended by the words of Hook, he told a truth: he was part of Joy Division, and if there is ever one man around on this planet who has the right to tour these songs (even if it involves money) then it's him.
Would Ian Curtis be turning over in his grave? Probably. But rather for those who mouth off about everything and how it shouldn't be presented at the celebration of our scene.
Respect, Bernd and Sven, you made a great job and we hope that you'll find the courage to give us a new edition next year. And for those who weren't there: shut up...
Didier BECU
27/07/2011
---