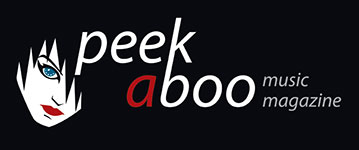 like this tv series review
---
THE FINDER
Movie
•
TV series
Crime
•
TV Series
Medium Rare Entertainment
15/04/2015, Didier BECU
---
Not all series become blockbusters. Due to the high competition, some series already disappear after one season (or worse, after a few episodes) and make producers ashamed that they ever gave green light for them. The Finder by Fox is such a series, although his time the producers do not have to blush. This spin-off of Bones was not a hit, but the reason why the series lasted only one season was just because the main actor died. Perhaps you might not know his name, but if we say that Michael Clarke Duncan is the colossal black man with magical powers from The Green Mile, then you immediately know about who we are talking, not?
Duncan plays the role of Leo Knox, a former lawyer who runs a bar, but is also the bodyguard of Walter Sherman (Geoff Stults). Knox was once a soldier during the Iraq war, but became the victim of an explosion that put him in a coma for months. He became victim of paranoia, but also developed a special gift. He is able to find things that others can not. Soon he is hired by many people who want to use his detective skills.
A total of thirteen episodes of this detective series is now available on DVD. It is no coincidence that The Finder is an outgrowth of Bones, because the approach is almost the same. That means that everything must go very quickly and that the scenarios are not that thoughtful. The performances are standard, just as you can expect in this type of series. Anyone who is a fan of this series will certainly be satisfied with the fact that the series is now available in the (British) store shelves.
Didier BECU
15/04/2015
---
Niet alle reeksen zijn kaskrakers. Door het hoge aanbod verdwijnen heel wat series reeds na één seizoen (of nog erger, na een paar afleveringen) onder het stof en schamen de producers zich dat ze er ooit groen licht voor hebben gegeven. The Finder van Fox is ook zo'n serie, alhoewel de geldschieters niet hoeven te blozen. Deze spin-off van Bones was geen hit, maar de reden waarom de reeks het maar één seizoen uithield was gewoon omdat de hoofdacteur overleed. Zijn naam ken je misschien niet, maar als we je zeggen dat Michael Clarke Duncan de kolossale neger met magische krachten uit The Green Mile is, dan weet je meteen over wie we het hebben, niet?
Duncan speelt de rol van Leo Knox, een ex-advocaat die naast caféhouder ook de bodyguard is van Walter Sherman (Geoff Stults). Knox was ooit soldaat tijdens de Irak-oorlog, maar werd het slachtoffer van een explosie waardoor hij maandenlang in coma lag. Hij heeft er paranoia aan overgehouden, maar ook een bijzondere gave. Hij is immers in staat om zaken te vinden die anderen niet kunnen. Al gauw wordt hij door allerlei personen ingehuurd die gebruik willen maken van zijn speurkunst.
In totaal werden er dertien afleveringen van deze detectiveserie gedraaid en die zijn nu uiteindelijk toch op dvd verschenen. Het is geen toeval dat The Finder een voortvloeisel is van Bones, want de aanpak is bijna net dezelfde. Dat betekent dus dat alles uiterst snel moet gaan en dat er nauwelijks sprake is van goed doordachte scenario's. De vertolkingen zijn standaard, net zoals je in dit soort series kan verwachten. Wie toch fan van deze reeks is, zal beslist tevreden zijn met het feit dat de serie voortaan in de (Britse) winkelrekken te vinden is.
Didier BECU
15/04/2015
---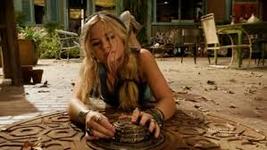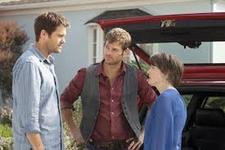 ---