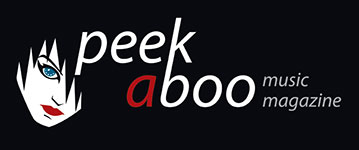 like this cd review
---
THE MENTALIST SEASON 6
Music
•
CD
24/12/2014
---
Anyone who likes to spend his time devouring television will undoubtedly know the slogan "Someone who uses mental acuity, hypnosis and/or suggestion. A master manipulator of thoughts and behavior ". These words describe Patrick Jane (Simon Baker), the independent consultant who advises the California Bureau of Investigation (CBI ) in order to solve crimes. Jane is indeed a man with psychic abilities which he used previously for television purposes, but for some special reason, decided to work with the police. During a show, he had announced that he was able to catch the serial killer Red John. A failed move, because the criminal murdered in California both the wife and daughter of Patrick. The mentalist was saddled with such a sense of guilt that he wanted to unmask the mysterious Red John. For a moment it seemed that in the very last episode of the third season that was the case, but Jane had been mistaken. In the sixth season, we get an answer to the question who is behind the serial killer who always draws a smiley face with the blood on his victims. Some idiots have now released his identity on the net, we do not, of course.
But we can tell you that the disclosure occurs in the eighth episode. A deliberate choice because the previous seasons scored poorly with the American public and the creators just wanted the remaining 14 episodes to evolve in a new direction. It was difficult to digest for some people, but in a press conference actress Robin Tunney (agent Teresa Lisbon) said that this is not more than usual. According to her, the public wants to know what happens to Patrick Jane, not to Red John. Teresa has a very special relationship with Patrick. She accepts that his methods do not always work, but she knows better than anyone that he is invaluable in exposing criminals. Even when the CBI is shut down after the unmasking of Red John, they continue working together with Patrick at the FBI (although it does take a few episodes). It is ultimately the handsome FBI agent Kim Fischer (Emily Swallow ) who ensures that Patrick goes to the FBI to collaborate again with Kimball Cho ( Tim Kang ), who worked two years earlier for the FBI. After closing the CBI,Wayne Rigsby (Owain Yeoman ) and Grace Van Pelt (Amanda Righetti ) decide to get married (romances within the CBI are strictly prohibited ) and they create their own security company.
Some fans say that they have seen it all in the meantime. Perhaps it was better to put an end to it after the unmasking of Red John, because too much is never good. We knwo in the meantime that the seventh season will be the last. And yet we have again amused ourselves with this detective series that certainly does not belong to the top of its kind, but as dog loyal television addicts, we have had a good time with these 22 episodes.
The sixth season of The Mentalist is now out on DVD through Warner.

24/12/2014
---
Iedereen die het leuk vindt om zijn vrije tijd te besteden aan het verslinden van televisieseries, zal ongetwijfeld deze slogan kennen: Someone who uses mental acuity, hypnosi and/or suggestion. A master manipulator of thoughts and behaviour. Deze woorden beschrijven Patrick Jane (Simon Baker): de onafhankelijke adviseur die het California Bureau of Investigation (CBI) adviseert bij het oplossen van misdaden. Jane is inderdaad een man met telepatische gaven die hij eerder voor televisiedoeleinden gebruikte, maar om een ​​bijzondere reden besloot hij om samen te werken met de politie. Tijdens een show had hij aangekondigd dat hij in staat was om de seriemoordenaar Red John te vangen. Een mislukte zet omdat de crimineel uit Californië zowel zijn vrouw als dochter vermoordde. De mentalist zit met zo'n schuldgevoel opgezadeld dat hij de mysterieuze Red John wil ontmaskeren. Eventjes leek het erop dat dat in de allerlaatste aflevering van het derde seizoen het geval zou zijn, maar Jane had zich vergist. In het zesde seizoen krijgen we wel een definitief antwoord op de vraag wie er achter de seriemoordenaar schuilt die altijd een smiley van bloed op zijn slachtoffers aanbrengt. Sommige idioten hebben zijn identiteit op het net vrijgegeven, wij doen dat natuurlijk niet.
Wel kunnen we je vertellen dat het mysterie in de achtste aflevering wordt opgelost. Een bewuste keuze, want de vorige seizoenen scoorden niet al te goed bij het Amerikaanse publiek en daarom wilden de makers met de resterende 14 afleveringen een nieuwe richting inslaan. Het was voor sommige fans moeilijk te verteren, maar in een persconferentie zei actrice Robin Tunney (agent Teresa Lisbon) dat dit niet meer dan normaal was. Volgens haar wil het publiek weten wat er met Patrick Jane gebeurt, van Red John liggen ze niet wakker. Teresa heeft een heel speciale relatie met Patrick. Ze accepteert zijn werkmethodes wel niet altijd, maar weet beter dan wie ook dat hij van onschatbare waarde is in het ontmaskeren van criminelen. Zelfs als de CBI wordt afgevoerd na het vatten van Red John, blijven ze bij het FBI samenwerken (hoewel dat wel een paar afleveringen duurt). Het is uiteindelijk de knappe FBI-agent Kim Fischer (Emily Swallow) die ervoor zorgt dat Patrick bij het FBI aan de slag gaat waardoor ze weer kunnen samenwerken met Kimball Cho (Tim Kang) die twee jaar eerder voor het FBI koos. Na het sluiten van het CBI, beslissen Wayne Rigsby (Owain Yeoman) en Grace Van Pelt (Amanda Righetti) om uiteindelijk toch te trouwen (romances binnen de CBI waren ten strengste verboden) en ze richten een eigen beveiligingsbedrijf op.
Over The Mentalist hoor je fans wel eens zeggen dat ze het ondertussen wel hebben gezien. Misschien was het beter na de ontmaskering van Red John om er een ​​einde aan te maken omdat te veel nu eenmaal nooit goed is. Vooral ook omdat we weten dat het zevende seizoen het laatste zal zijn. En toch, hadden we wederom veel plezier met deze detectiveserie die zeker niet tot de top van zijn soort behoort, maar onderhoudend genoeg is om je 22 afleveringen lang aan het scherm te kluisteren.
Het zesde seizoen van The Mentalist is nu uit op dvd via Warner.

24/12/2014
---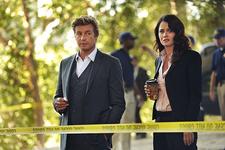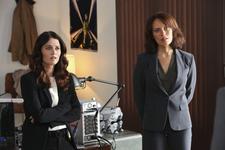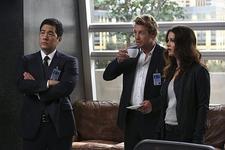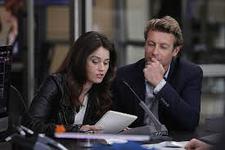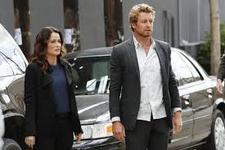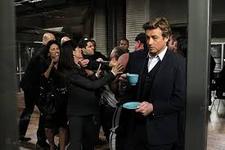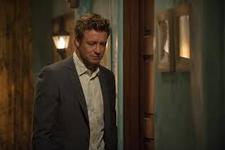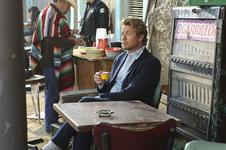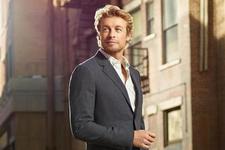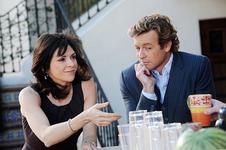 ---