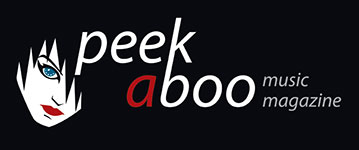 like this tv series review
---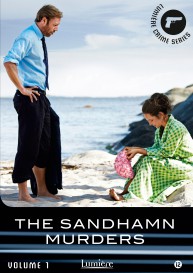 The Sandhamn Murders
Movie
•
TV series
Crime
•
TV Series
LumiŤre
16/06/2014, Didier BECU
---
We keep on wondering where Lumière find those series or better said: where do North-European countries find their inspiration? You would swear by now that in every street from every North-European country there is a novelist around who pens down a crime story that later will be transformed to the screen. Who knows that one day we will be fed up with them, but so far you won't hear us complain. The Sandhamn Murders, or Morden I Sandhamn if you speak Swedish is another one that can be added to that long list.

A top one indeed, even if this is totally different from The Killing or The Bridge. The detectives not only have to care about solving the murderers, they also have to deal with love. Mixing crime with love seems like a disaster, but the makers from The Sandhamn Murders have made something good out of it. Good? Well, we watched the nine episodes (that form three stories) in one row, so it's indeed addictive!


The cop we find here isThomas Andreasson (Jacob Cedergren who you might know from Those Who Kill or the Vinterberg-masterpiece Submarino). Thomas is a very apart inspector. He hardly says a word, isn't the easiest to work with, is addicted to sleeping pills and has a very dark past that has a connection to the island Sandhamn he's send to. It's a small place, but there seems to be a lot of crimes going on there. Thomas doesn't really care what his colleague Mia Holmgren thinks. He prefers more the help of lawyer and local beauty Nora (Alexandra Rapaport). Nah, for us it is normal these days that lawyers are in series top cops.


The three stories are all based upon the books by Viveca Sten that are sold over a million times. Even if Thomas Andreasson has to solve each time a murder, the series focuses on the bizarre relation between him and Nora. It's only a normal thing that man falls in love with such a beauty, but Nora also has somewhere a husband and some kids around. The performances are good, and apart from the beauty of Alexandra Rapaport, it is Jacob Cedergren who draws all attention.


Fans who are keen on the harder work from Millenium, The Killing or The Bridge might be disappointed as The Sandhamn Murders is a bit too mellow and because of the genius touch that is missing here. But no worries though as those who like detectives will definitely fall for the adventures of Thomas and Nora too!


The Sandhamn Murders is out on Lumière on DVD.
Didier BECU
16/06/2014
---
Waar blijven ze het bij Lumière Crime Series toch halen, of nog beter gesteld: waar vinden ze in Noord-Europa steeds maar die inspiratie? Het huidige aanbod swingt tegenwoordig zo de pan uit dat je wel eens durft te denken dat er in iedere Noord-Europese straat wel een kamertje is waar iemand misdaadthrillers zit te schrijven en die dan later nog eens worden verfilmd. Ooit zal wellicht de dag komen dat overdaad schaadt (niemand maalt tegenwoordig nog om misdaadreeksen die uit de BBC-stal komen), maar tot nu toe hoor je ons verre van klagen. De nieuwste titel die je in de ellenlange lijst mag toevoegen is The Sandhamn Murders, of Morden I Sandhamn indien je een mondje Zweeds spreekt.


Een topserie, maar toch tappen de makers uit een heel ander vaatje dan The Killing of The Bridge. Naast het oplossen van moorden worden de speurneuzen ook nog eens met heel wat romantische perikelen geconfronteerd. Romantiek mengen met misdaad lijkt op papier een verloren zaak, toch is deze Zweedse serie wederom eentje die je in één ruk uitkijkt.


In deze box vind je negen afleveringen terug die samen drie aparte misdaadverhalen vormen. De flik van dienst is Thomas Andreasson (Jacob Cedergren die je misschien wel kent van Those Who Kill of het Vinterberg-meesterwerk Submarino). Thomas is een aparte politie-inspecteur die zelden een woord zegt, niet de gemakkelijkste is om mee samen te werken, verslaafd is aan slaappillen en een loodzwaar verleden met zich mee sleurt. Door zijn overste wordt hij regelmatig naar Sandhamn, een van de eilanden die deel uitmaken van de Stockholm- archipel, gestuurd. Een piepklein eiland waar blijkbaar om de haverklap iemand om zeep wordt geholpen. Thomas trekt zich van zijn collega Mia Holmgren niet veel aan, wel laat hij zich bij zijn onderzoeken graag door de knappe juriste Nora, (Alexandra Rapaport) vergezellen. We liggen er al lang niet meer van wakker, maar in series is het de normaalste zaak van de wereld dat advocaten een pistool trekken. Neen, tot dusver zien we het Jef Vermassen nog niet doen, alhoewel je de man maar beter niet op ideeën brengt.


De drie verhalen zijn gebaseerd op de boeken van Viveca Sten wier boeken al meer dan een miljoen keer over de toonbank zijn gegaan. Ook al moet Thomas Andreasson iedere keer een misdaad oplossen, ligt de nadruk in deze serie vooral op de bizarre relatie tussen hem en Nora. Het is niet meer dan normaal dat een man verliefd op haar wordt, maar de schone heeft ook nog een echtgenoot en kinderen rondlopen. De acteerprestaties zijn goed en naast de schoonheid van Alexandra Rapaport is het vooral Jacob Cedergren die de serie naar zich toetrekt.


Fans van het hardere werk zoals Millenium, The Killing of The Bridge zouden misschien kunnen afhaken omdat The Sandhamn Murders net dat tikkeltje genialiteit mist, maar wie houdt van onderhoudende detectiveverhaaltjes zal ook deze serie zonder twijfel verslinden.


The Sandhamn Murders is nu uitgebracht door Lumière en dit op dvd.
Didier BECU
16/06/2014
---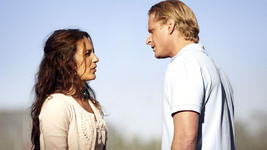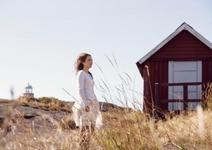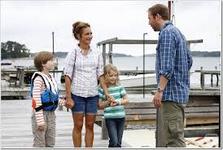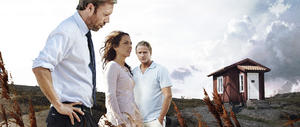 ---