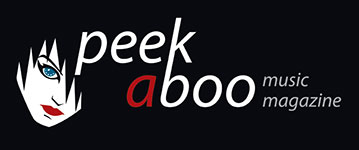 like this cd review
---
THE VAMPIRE DIARIES SEASON 5
Music
•
CD
19/12/2014, Didier BECU
---
With series like The Vampire Diaries a reviewer can be ignorant by saying that this is mere fodder for teenage girls, but that is too easy. The series, based on the popular books by LJ Smith, is running for six seasons now and it is still one of the most talked about series on many blogs. The reason for the success is the same as for Twilight. The vampires in question are no longer ugly men in red capes, but muscular fashion models who let the hearts of the girls melt (and vice versa). Granted, that for some adult viewers it is a bit too corny and not frightening enough, but can you find a page in the literature that indicates a vampire must be ugly? Speaking of good arguments !
Everything takes place in Mystic Falls, a small town in Virginia where only 7,000 people live. Since the town was founded both vampires, witches and werewolves are living there. Have you read this before on our pages? Right, a few weeks ago we reviewed the first season of The Originals, which takes place in New Orleans and is a spin-off of The Vampire Diaries. The main characters in The Originals are Elena Gilbert (Nina Dobrev) and her brother Jeremy (Steven R. McQueen).
Things are not going well with Elena. Her relationship with vampire Damon Salvatore (Ian Somerhalder) is once again in bad shape. Moreover, her lover is infected with a virus that turns him into a Augustine vampire: that's a vampire who only drink blood of other vampires. Elena herself is also infected and becomes a danger to others. In this season The Travelers play a major role: they are an ancient society of witches that has the antidote to the disease. Meanwhile, there is a war going on between The Travelers and the witches. Especially Bonnie Bennett (Katerina Graham) is hit hard. This best friend of Elena died at the beginning of the season, but is resurrected by Qetsiyah (Janina Gavinkar) (things like that can happen in The Vampire Diaries ) and gets a connection with the "other side" so she can feel the death of any other supernatural being. Bonnie is also the darling Jeremy.
We have tried to capture the essence of the story, which is quite a task because of the many personages (and their characteristics). The many (sometimes unnecessary) subplots were criticized by many fans. The storylines are sometimes too complicated and you have more than once the idea that they milk the series until the last drop. No panic though as The Vampire Diaries remains fun (at least if you belong to the public that liked Twilight, including yours truly. And no, Kirsten Stewart, you're not the one who makes me say that!).
The fifth season of The Vampire Diaries is now out on Warner, both on DVD and Blu-ray.
Bonus:
4 new featurettes
Gag Reel
Unaired scenes
Bonus Disc: The Vampire Diaries at PaleyFest 2014
Didier BECU
19/12/2014
---
Bij een serie als The Vampire Diaries kan je als recensent natuurlijk je kop in het zand steken door te stellen dat deze vampierreeks louter voer is voor pubermeisjes, maar zelf vinden we dat te gemakkelijk. De serie die gebaseerd is op de populaire boeken van L.J. Smith, is ondertussen aan zijn zesde seizoen toe en nog altijd één van de meest besproken series op allerlei blogs. De reden van het succes is net hetzelfde als voor Twilight. De vampiers in kwestie zijn niet langer lelijke mannen in rode capes, wel gespierde fotomodellen die de harten van de meisjes sneller laten slaan (en omgekeerd). Toegegeven, voor volwassen kijkers is het misschien allemaal wat afgelikt en niet schrikwekkend genoeg, maar staat er ergens in de literatuur vermeld dat een vampier per se lelijk moet zijn? Van goede argumenten gesproken!
Alles speelt zich in Mystic Falls af, een stadje in Virginia waar amper 7000 mensen wonen. Sinds het stadje is gesticht wonen er zowel vampiers, heksen als weerwolven. Heb je dit al eens eerder gelezen op onze pagina's dan klopt dat als een bus. Een tweetal weken geleden hadden we het over het eerste seizoen van The Originals, dat zich in New Orleans afspeelt en een spin-off is van The Vampire Diaries. In de moederserie zijn het de perikelen van Elena Gilbert (Nina Dobrev) en haar broer Jeremy (Steven R. McQueen) die we volgen.
Het gaat helemaal niet goed met Elena. Haar relatie met vampier Damon Salvatore (Ian Somerhalder) loopt op de klippen. Bovendien raakt haar geliefde met een virus besmet dat hem in een Augustine vampier verandert: dat is een vampier die alleen bloed drinkt van andere vampiers. Ook Elena zelf raakt besmet waardoor ze een gevaar vormt voor de anderen. In dit seizoen spelen The Travelers een grote rol: een eeuwenoud genootschap van heksen dat het tegengif voor de ziekte heeft. Ondertussen is er een oorlog aan de gang tussen The Travelers en de heksen. Vooral Bonnie Bennett (Katerina Graham) krijgt het hard te verduren. Zij is de beste vriendin van Elena, die in het begin van het seizoen dood is, maar door Qetsiyah (Janina Gavinkar) opnieuw tot leven wordt gewekt (dat kan in The Vampire Diaries) en daardoor een verbinding met de "andere kant" krijgt, waardoor ze de dood van elk bovennatuurlijk wezen kan voelen. Bonnie is ook het liefje van Jeremy.
We hebben geprobeerd om de essentie van het verhaal zo eenvoudig mogelijk te schetsen, want door de vele personages (en hun specifieke kenmerken) is het een hele opdracht om te weten welke wezens in Mystic Falls de plak zwaaien. De vele (soms onnodige) subplots waren trouwens het onderwerp van de kritiek die de makers naar het hoofd werd geslingerd. De verhaallijnen zijn soms wat ingewikkeld en je hebt wel vaker het idee dat men gewoon de serie tot de allerlaatste druppel wil uitmelken, toch blijft The Vampire Diaries best leuk (ten minste als je het tot publiek behoort dat Twilight nog zo slecht niet vond, waaronder ondergetekende. En neen, Kirsten Stewart, je zit daar voor niets tussen!)
Het vijfde seizoen van The Vampire Diaries is nu uit op Warner, zowel op dvd als Blu-ray.
Bonus:
4 nieuwe featurettes
Gag Reel
Unaired Scenes
Bonus Disk: The Vampire Diaries at PaleyFest 2014
Didier BECU
19/12/2014
---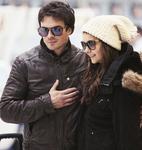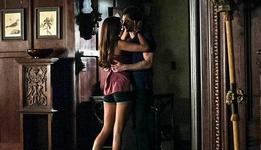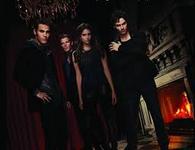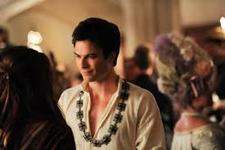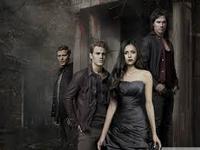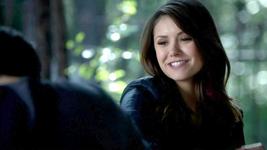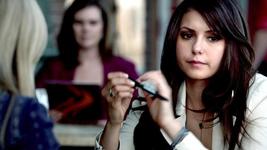 ---