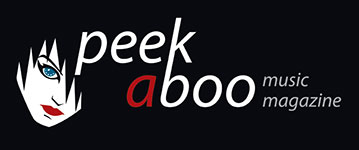 like this movie review
---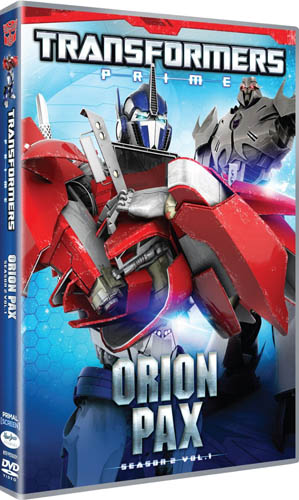 Transformers Prime - Orion Pax Season 2 Vol.1
Movie
Animation
[45/100]

Primal Screen
26/08/2014, Didier BECU
---
This summer Michael Bay bombed for the 4th time the theatres with his Transformers. It seems like both critics and fans turned it down as the director makes everything so spectacular that it's hard to notice what is going on at the screen. This resulted in the fourth part being a failure at the box office, although they probably will blame those Guardians Of The Galaxy for that!
Less spectacular, but back to the roots are the animation series that are created by Digitalscape. The second season has 26 episodes that last each 20 minutes. On this disc you find the first seven. Yes, it seemed for the company better to release this season in different parts. To ease the pain, the costumer gets a free package that contains 5 Transformers-trading cards. There are 170 from them. We know, most of the earthlings will never get it, but in this world everything is based on collecting!
For those who are caring about some more important things in life (if so, why are you reading this?) we will summarize the Transformers-world in a nutshell. Those robots come from the planet Cybertron and (hence the name!) they can transform themselves into vehicles. Just like with the humans you have good and bad souls. Those who made peace with the earthlings are the Autobots that are lead by Optimus Prime. Lesser nice are the Decepticons. Their leader Megatron wants to destroy the human planet. There is a big war going on with the two clans. The Autobus have the help from the children Jack Darby, Miko Nakadai and Raf Esquivel. We're sorry dear readers, but this animation series is in the first place made for children, not for adults with an identity crisis!
In those seven episodes Optimus Prime suffers from amnesia. He thinks that he is in fact Orion Pax (his older version) and so he takes orders from the Decepticons. The mission is to call Optimus Prime back on board.
The stories are at the same time simple and complicated. You can summarize it in some sentences, but you keep on wondering how a child can identify themselves with these soulless creatures. The animation series is made cheap and look kind of dated, especially when you compare it with today's animation techniques, but this 80's-mangalook is the charm of it all. Well, for some, as if you like it or not, it all depends on someone's taste!
Didier BECU
26/08/2014
---
Deze zomer bombardeerde (bijna letterlijk) Michael Bay de bioscopen met zijn vierde Transformers-film. Er wordt terecht heel wat kritiek geuit op deze blockbuster, want zowat alles moet wijken voor het spektakel die zo overdreven groots is dat je het als kijker nog nauwelijks merkt. Het gevolg is dan ook dat zowel de doorsnee filmliefhebber als de fervente fan de productie links liet liggen.
Minder groots, maar wel meer terug naar de basis toe zijn de tekenfilms van de animatiestudio Digitalscape. Het tweede seizoen bestaat uit 26 afleveringen van elk zo'n 20 minuten waarvan de eerste zeven nu op dit schijfje zijn te vinden. Tja, blijkbaar was het commercieel beter om deze in stukjes uit te brengen, ofschoon de pijn wat wordt verzacht doordat de koper er een gratis zakje met daarin vijf Transformers-trading cards cadeau krijgt. Er bestaan 170 van deze kaartjes. Tja, de gewone mens snapt het misschien allemaal niet, maar in de comicwereld draait alles om verzamelwoede.
Voor wie zich in zijn leven liever bezighoudt met belangrijkere dingen (waarom lees je dit dan?) schetsen we kort de geschiedenis van de Transformers. Deze robots die van de planeet Cybertron komen kunnen zich transformeren tot voertuigen. Net zoals bij de mensen heb je goede en kwade zielen. Degene die vrede hebben gesloten met de mensheid en daardoor in de Nevada-woestijn van de Amerikaanse regering een eigen uitvalbasis hebben gekregen zijn de Autobots die worden geleid door Optimus Prime. De Decepticons die Megatron als aanvoerder hebben zouden het liefst moeder aarde om zeep halen. Het is een bikkelharde strijd tussen de twee clans waarbij de Autobots vooral de hulp krijgen van de kinderen Jack Darby, Miko Nakadai en Raf Esquivel. Tja, beste lezers deze serie is in de eerste plaats voor kinderen gemaakt en niet voor volwassenen met een identiteitscrisis!
In de zeven afleveringen worstelt Optimus Prime met geheugenverlies waardoor hij denkt dat hij Orion Pax (zijn oudere ik) is en bevelen opvolgt van de vijandelijke Decepticons. De missie bestaat erin om Optimus Prime terug in de rangen van de Autobots te krijgen.
De verhaaltjes zijn eigenlijk tegelijkertijd eenvoudig en ingewikkeld. Je kan wel alles in een paar zinnetjes samenvatten, toch vraag je je af hoe kinderen deze zielloze wezens uit elkaar kunnen halen. De reeks is uiterst goedkoop gemaakt en ziet er tamelijk gedateerd uit als je het met de huidige animatietechnieken vergelijkt, ofschoon deze mangasfeer enigszins zijn eigen charme heeft.
Eigenlijk hebben we het al over de technische kwaliteit gehad. Deze reeks heeft een jaren 80-gevoel. Er zijn nauwelijks details aanwezig, de makers beschikken over een nogal eenzijdig kleurenpalet en sommige kijkers zouden dit wel eens als lelijk kunnen bestempelen. Bij het geluid kun je kiezen tussen een verschrikkelijke Nederlandse audiotrack, de betere Engelse en de Japanse versie.
Ofwel hou je van deze animatiereeks ofwel vind je het ronduit belachelijk. Een middenweg is moeilijk te bedenken. Wel een dikke foei dat men dit seizoen in verschillende schijfjes opdeelt waardoor de aankoop sowieso duurder wordt.
Didier BECU
26/08/2014
---
---