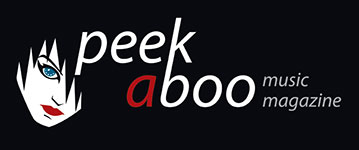 like this cd review
---
ACCOLADE
Catharsis of Rhetorik
Music
•
CD
Dark Ambient
•
Electronics
•
Fantasy
•
Folk
[75/100]

Self-released
04/02/2015, William LIÉNARD
---
Accolade is a duo from Seattle, USA. Multi-instrumentalist Aaron Goldstein and classically trained soprano Renée Stefanie made their first album Festivalia in 2012, followed in December 2013 by Legends, which received positive reviews in Europe. For their third album Catharsis of Rhetorik, the duo relies on keyboard player and composer of electronic music Sean Henry to give their music a rougher and more experimental sound. But thanks to the angelic voice of Stefanie Renée, the music always comprises a good dose of fantasy against a backdrop of gorgeous melodies.
The EP Catharsis or Rhetorik contains 5 songs. The most striking feature is, again, the voice of the singer, which gives the material a dark and archaic tone, as on a soundtrack for an episode of Games of Thrones. The musical accompaniment is basic, with striking, but rather tight and skinny drums, and a gentle electronic accompaniment. The goal is balance, with the beautiful vocals in pole position. Gaze is as esoteric lace and the vocals take you directly to higher spheres, to the realm of the cosmos and the universe. The beautiful Bleeding Cry pours out a fair amount of grief, and here the universe can not help or soothe the heartache. The music sounds dark and more emphatically. March chooses the same musical direction, but it doesn't offer much more hope, for just as Adam and Eve, the main characters are expelled from paradise. Stefanie Renée sounds plaintive, but still less upset than one would expected with such a subject.
Carthage Fog sounds darker, but perhaps this is due to the absence of Stefanie Renée 's voice on the track. Don't expect bats and vampires to appear, because this is music for lovers of incense and stories of One Thousand and One Nights, for sunbathers at Stonehenge and young girls in a fairy ring. Herven sounds like a song by Sigur Rós, in which Enya and Dead Can Dance are courting, with Accolade's Stefanie Renée as impartial spectator on a high cloud.
Playlist:
1. Gaze
2. Bleeding Cry
3. March
4. Cathage Gog
5. Herven
William LIÉNARD
04/02/2015
---
Accolade is een duo uit Seattle, USA. Multi-instrumentalist Aaron Goldstein en de klassiek geschoolde sopraan Stefanie Renée leveren in 2012 hun eerste album Festivalia af, gevolg in december 2013 door Legends, dat in Europa goede kritieken kreeg. Voor hun derde album Catharsis of Rhetorik doet het duo een beroep op Sean Henry, keyboard player en componist van elektronische muziek. Hij geeft de muziek van Accolade een ruwere en meer experimentele draai dan tot nog toe het geval was, maar vooral wegens het engelachtig geluid van Stefanie Renée, blijft het toch altijd een beetje muziek met een flinke dosis fantasy tegen een achtergrond van bloedmooie melodieën.
De ep Catharsis of Rhetorik bevat 5 songs. Meest opvallend onderdeel is opnieuw de hoge stem, waardoor het materiaal altijd een donker tintje heeft en zich situeert in hogere sferen, als op een soundtrack voor een episode van Games of Thrones. De muzikale begeleiding is eenvoudig, met opvallende, maar eerder strakke en magere drums – nee, geen alles omverblazende beats – en een voorzichtige elektronische begeleiding. Op Catharsis of Rhetorik wordt vooral gestreefd naar evenwicht, met de prachtige vocalen in poolpositie. Gaze is als esoterische kant en de melodie voert u rechtstreeks naar hogere sferen, naar het rijk van de kosmos en het universum. Het prachtige Bleeding Cry stort een grote hoeveelheid verdriet over de luisteraar uit en hier kan het universum geen hulp bieden of de hartenpijn verzachten. De muziek klinkt donker en nadrukkelijk. March gaat op hetzelfde tempo door en biedt ook al niet veel hoop, want net zoals Adam en Eva, zijn de hoofdpersonages uit het paradijs verdreven. Stefanie Renée klinkt klagend, maar anderzijds een stuk minder aangeslagen dan je bij een degelijk onderwerp zou veronderstellen.
Carthage Fog klinkt iets donkerder – met de nadruk op 'iets' – maar wellicht heeft de afwezigheid van Sefanie Renées hoge stemmetje daar veel mee te maken. Verwacht vooral geen vleermuizen of vampiers, want dit is muziek voor liefhebbers van wierook en verhalen uit Duizend-en-één-Nacht, voor zonaanbidders in Stonehenge en jonge meiden in een heksenkring. Herven klinkt als een titel van Sigur Rós, een song waarin Enya en Dead Can Dance elkaar het hof maken, met Stefanie Renée van Accolade als onpartijdige toeschouwer op een hoge wolk.
William LIÉNARD
04/02/2015
---