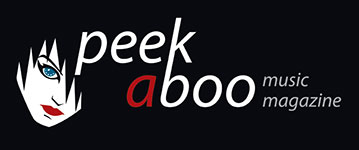 like this digital review
---
AFTER ABSENCE
Demotape 1
Music
•
Digital
Cold Wave
•
Darkwave
[73/100]

21/07/2018, Jurgen BRAECKEVELT
---
After Absence is an Italian-French coldwave duo with their home base in the city of light, Paris. They have released a first demo tape that is available via download. There we find 5 tracks.
A varied bouquet of cutting bass lines, self-challenging synths and female vocals. A mix of coldwave, darkwave, hints of shoegaze and minimal synth... and all that in 5 songs!
"Collide" is a robust opener that makes a quiet entry where the melancholy drips from it like sticky syrup. It turns out to be a danceable coldwave song. "Bakelite" connects seamlessly with this. The voice is not always tonal but that is something that we see with several bands in the genre and that does not detract from the power of the songs. "Daleth" is my favourite of this nice entrance from After Absence. Minimal with a coldwave edge, sharp, perstistant rhythm sections that go on endlessly and a pretty poppy, cutting voice in your ear. This is a song that you are content to let play on, regardless of the fact that it lasts more than 5 minutes.
With "Postmodern Prometheus" and "Fender Bender" we get two good coldwave songs.
The duo hands out a business card and sets foot on the coldwave island. Not immediately reaching the highest tops but it is clear that they have listened well to the grandmasters of the genre. This demo is a nice step up and with some maturation this will yield good wine, although tapped from older barrels.
Jurgen BRAECKEVELT
21/07/2018
---
After Absence is een Italiaans-Frans coldwave-duo met als homebase de lichtstad Parijs. Ze releasten een eerste demotape die via donwload verkrijgbaar is. Daarop vinden we 5 tracks.
Een gevarieerd boeket van snedige baslijnen, zichzelf uitdagende synths en vrouwelijke vocalen. Een mix van coldwave, darkwave, vleugjes shoegaze en minimal synth.. en dat in 5 songs!
Collide is een robuuste opener die rustig intrede doet waarbij de melancholie er als kleverige stroop vanaf druipt. Het ontpopt zich tot een dansbare coldwave song. Bakelite sluit hier naadloos op aan. Het stemgeluid is niet steeds even toonvast, maar dat merken we wel bij meerdere bands in het genre, en het doet in deze totaal géén afbreuk van de kracht van de songs. Daleth is mijn favoriet van deze aardige binnekomer van After Absence. Minimal met een coldwave-randje, snedig vasthoudende ritmesecties die eindeloos doorgaan en een al bij al vrij poppy in het gehoor snijdende stem. Dit is een song die, ook al duurt hij ruim vijf minuten, mag blijven verder gaan.
Met Postmodern Prometheus en Fender Bender krijgen we nog twee goede coldwave-songs.
Het duo geeft bij deze een visitekaartje af en zet voet aan wal op coldwave-island. Nog niet meteen de hoogste toppen scherend, maar het is duidelijk dat ze de grootmeesters in het genre wel goéd beluisterd hebben. Deze demo is een mooie opstap en middels nog wat rijping zal dit goede wijn opleveren, hoewel getapt uit oudere vaten.
Jurgen BRAECKEVELT
21/07/2018
---
---