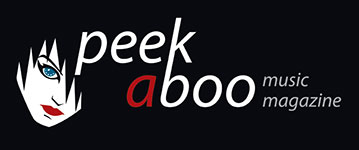 like this movie review
---
ALICIA SCHERSON
Il Futuro
Movie
Arthouse
[60/100]

Imagine Films
16/01/2014, Didier BECU
---
When hearing the name of Rutger Hauer, people start automatically thinking of the Dutch scandal movie Turks Fruit or his villain-like face that graced many (lots of them bad) B-movies. But you never expect him to play the leading role of an Italian arthouse-movie. Anyway, the choice may seem odd, but it's definitely a good one!
Il Futuro is the third movie from female Chilean director Alicia Scherson who based herself upon a novel by Roberto Bolaño. The picture got praised during the latest edition of the International Filmfestival of Rotterdam by winning the Award from Dutch Filmcritics. The movie has certainly not become an absolute masterpiece, but indeed a very intimate arthousemovie that likes to flirt with traditional world cinema that is worth seeing!

The two teenagers Bianca (Manuela Martelli) and Tomas (Luigi Cardo) loose their parents in a tragic carcrash. The social inspection decides that the two youngsters can stay at their parental home at one condition: Tomas has to attend school and Bianca has to agree if she's able to capture this huge responsibility. All goes well until Tomas invites two of his friends from the sportclub. Immediately Bianca has to erase her dream to start an own hairdressingsaloon as the two have found a quicker solution to earn money. In Rome lives Maciste (Rutger Hauer), a former Mr. Universe who raised lots of money in the 60's with his Hercules-movies. Bianca is send as an escorte girl who has to rob the old, blind hunk.

You can split this movie in two parts. The first chapter is an intriguing coming-of-age-type of movie in where director
Alicia Scherson accuses the current society because children are too fast considered as being an adult, with all the known consequences. Education makes room for dumb videogames and television that is only based on sex. The second part has a very bizarre relationship as a theme. The young Bianca feels pity for her victim and instead of robbing him, she falls into his arms as she's in search of a father figure who protects her against all the dangers of the world.

The acting is simply great. We hope to see more from Manuela Martelli in the future, and that's certainly not only because of her pretty face! Hauer is stunning as well. This man of course can act but in his career he was simply too much chosen because of his impressive body, or his Blade Runner-past. The sole minor point of this film is perhaps that Alicia Scherson wraps her messages from time to time in sometimes too corny poetry, but apart from that you can consider Il Futuro as being one of the current highlights from arthouse cinema.
Il Futuro is out on DVD by Imagine Films.
Didier BECU
16/01/2014
---
Bij het horen van de naam Rutger Hauer denk je natuurlijk meteen aan de schandaalfilm Turks Fruit of gewoon aan de karakterkop uit talrijke (vaak slechte) B-films die hij is, zeker niet als hoofdrolspeler van een Italiaanse arthousefilm. Nu goed, het lijkt misschien een vreemde keuze, toch is het een geslaagde.
Il Futuro is de derde film van de Chileense regisseuse Alicia Scherson die zich baseerde op een roman van Roberto Bolaño. De prent kreeg een ruime belangstelling tijdens het Internationale Film Festival Rotterdam, want
Alicia Scherson kreeg de felbegeerde prijs van de Nederlandse filmcritici. Een absoluut meesterwerk is Il Futuro zeker niet, wel een intimistische arthouseprent die graag met traditionele wereldcinema flirt.

De tieners Bianca (Manuela Martelli) en Tomas (Luigi Cardo) verliezen op tragische wijze hun ouders door een auto-ongeluk. De sociale inspectie gaat ermee akkoord dat de twee thuis mogen blijven wonen, op voorwaarde dat Tomas regelmatig naar school gaat en dat de jonge Bianca het voogdijschap aankan. Na een paar weken is het hek al van de dam, want Tomas inviteert een paar louche vrienden van zijn sportschool bij hem thuis. De droom van de jonge Bianca om als kapster een eigen salon te beginnen wordt daardoor meteen aan diggelen geslagen, want de makkers van Tomas hebben een veel gemakkelijkere oplossing gevonden om geld binnen te rijven. In Rome woont Maciste (Rutger Hauer), een gewezen Mr.Universe die met zijn Hercules-films in de jaren 60 tonnen geld verdiende. Bianca wordt als escortemeisje op pad gestuurd om zo met de kluis van de blinde oude spierbundel aan de haal te gaan.

Deze prent kan je duidelijk in tweeën splitsen. Het eerste deel is een aandoenlijke coming-of-agefilm waarin regisseuse Alicia Scherson haar kritiek op de huidige maatschappij niet spaart. Kinderen worden veel te vlug als volwassen beschouwd, met alle gevolgen nadien. Ook de jongeren zelf komen er niet zonder kleerscheuren van af. Educatie maakt plaats voor videospelletjes en inhoudsloze televisie waarin alleen pornografie centraal staat. Het tweede luik is dan weer een bijzondere relatiefilm. De jonge Bianca krijgt medelijden met de gewezen krachtpatser en in plaats van hem te beroven, kruipt ze in zijn armen omdat het meisje nood heeft aan een vaderfiguur die haar behoedt voor de gevaren van deze wereld.

De acteerprestaties zijn ronduit subliem. Van Manuela Martelli hopen we in de toekomst nog meer te zien en dat zeggen we niet alleen wegens haar knappe snoetje, want het meisje kan wel degelijk acteren. Ook Hauer schittert, soms lijkt het er zelfs op alsof hij zijn eigen filmcarrière op de korrel neemt. Want tja, Hauer kan spelen, alleen werd hij er door de filmmakers teveel uitgepikt wegens zijn kolossale lijf (of wellicht zijn Blade Runner-imago). Het enige minpuntje is misschien dat Alicia Scherson haar boodschap iets te veel in nietszeggende poëzie verpakt, maar los daarvan is Il Futuro toch één van de betere arthouseproducties van het moment.

Il Futuro is op dvd uitgebracht door Imagine Films.
Didier BECU
16/01/2014
---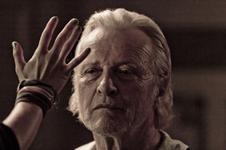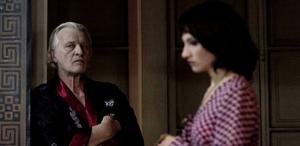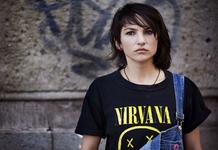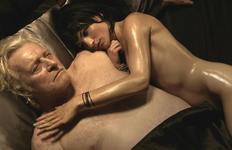 ---