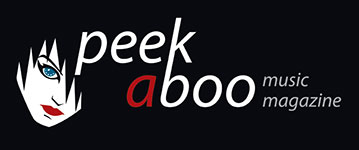 like this concert review
---
AMPHI FESTIVAL 2014, DAY 1
Thunder in Cologne: Project Pitchfork, Front 242, Blutengel, The Klinik, Clan Of Xymox...
Concert
[95/100]

31/07/2014, Xavier KRUTH
---
Immediately after my arrival in Cologne's Hauptbahnhof, I already notice the first wandering black creatures, and their number continues to rise while I walk along the Rhine to my hotel. I already know it will be a fantastic weekend. I have visited Cologne repeatedly in the past, but under this radiant sun, this city looks even more beautiful than usual.
It's a special edition of the Amphi Festival. The first festival took place in 2004 and thus now celebrates its ten-year jubileum this year. During these years, Amphi grew from a local festival in the Ruhr area into an internationally recognized high point in the scene. Accordingly, the organizers have made up a beautiful line-up of more than 40 artists.
When I arrived on the first day, The Juggernauts just began playing. Although these Belgians played first, there was already a pretty nice crowd. The beats are splashing out of the speakers. Borg sounds evil and menacing while Glenn Keteleer (Radical G) gives the drum pads a hard time.

I also enjoy the spectacle of dressed-up goths. Delicious, how everyone has made​​ himself up. Clothes are ranging from costume gala to punk and fetish, there's different hair colors and hairstyles, makeup, piercings and tattoos... At this kind of festival, the public is a part of the show.
It remains surprising how quickly She Past Away has become a fixture in our scene. After only one CD, the Turks have conquered many dark souls. Perhaps the nostalgia for the good old guitar-driven coldwave is an important factor. The Turkish texts add another exotic touch to it. They play several songs from their debut Berlirdi Gece, but also a lot of new songs. What makes us hope that a sequel is coming soon, especially since the new songs are excellent and this concert can be considered a topper.
Another wave of nostalgia, but this time from a group that has actually seen the 80's, what do we say, it has helped making it happen: Clan of Xymox. The gig they give is slightly more guitar-oriented than usual, but also features electronic songs like 'In Love We Trust' and 'Emily'. 'Louise' has now become a little older, but sounds like she has inherited eternal youth and beauty. And have you ever seen a Clan of Xymox concert that did not end with the fantastic 'A Day'? I don't. And I would not wish they would end differently.
I'm not sure whether Lord Of The Lost is something for me, but the Hamburgers are wildly popular in Germany. Everything starts with a dark intro in which two priests with huge crosses onto the stage. Then singer-guitarist Chris Harms comes on stage fully painted in white, followed by musicians painted in black. They go straight for an ultra-aggressive set. Sharp loud guitars, drums and a lot of grunts from high to low. These guys are pretty clear about their purpose: as much sex as possible. So ladies, if you have a weakness for painted and sweating obsessed howler monkeys, please contact them! You can meet them personally at Dubhfest in Poperinge on October 8.
Compared with the previous violence, even Zeromancer seems relaxing. They have the advantage of being slightly more sophisticated, even if crashing drums and loud guitars are present here as well. Zeromancer takes everyone by surprise by starting with 'Sinners International' and 'Clone Your Lover'. Should one not keep his hits until the end of the show? Well no, because this way your act immediately hit stride. And they still have some surplus hits like 'Dr. Online' and the Depeche Mode cover 'Photographic'.
Hocico brings more electro violence on the main stage, but I let them be background music as I visit the many booths that offer food, drink, clothes, CDs, books and jewelry. You don't want to know how much money I have spent, and I don't want to know either. But the things you find here are not that easily found on the home front.
We connect back to the program as Nachtmahr start playing. Mr Rainer can count on a lot of attention, perhaps because he has a few "Mädchen in Uniform" accompagnying him again. The first part of the show, the ladies remain chilly, gazing at infinity. But after a while they perform something that might be a lesbian sm session. Rainer has fun raising his middle finger at his critics, who accuse him of being a sexist and racist. I side with the critics though, as someone who responds to reproaches of being a nazi sympathiser by saying that as a good Austrian patriot he doesn't like Germans and thus cannot be a nazi, has not really convinced us.
When we get outside, Blutengel already started their acoustic-symphonic set. They bring arranged versions of their songs for strings, oboe, piano, folk guitar and percussion. After all that pounding, this soft sound is a real relief. The stage is beautifully decorated with chandeliers and red curtains and Chris Pohl is dressed in an elegant white tie. The new arrangements work well and even though I'm not the biggest Blutengelfan, I am very moved by this performance.
Due to the overlapping concerts and since Blutengel was so good, we miss the beginning of The Klinik. Our national pride! (Admit it, it should not always be the red devils.) Dirk Ivens and Borg play hard and passionately. The Klinik has just released a new box that contains the totality of their work (except the last CD), and they have put together a set that spans their entire oeuvre and allow them to treat the audience to a severe brainwashing.
The brain damage is not that bad, so we can still handle some more beats. The main stage is now occupied by another national pride: Front 242. Jean-Luc Demeyer, Richard 23 and co unfortunately experience some technical difficulties and their set was thereby considerably shortened. They sometimes play considerably modified versions of their classics. The songs sound calmer and more abstract, with a heavy bass on the one hand hand and more rarefied sounds on the other hand. That makes it sometimes surprising, but the music still gives sparks. With these new versions, they managed to keep their songs interesting and fresh.
We only pick up the last song of Midge Ure, the project of James Ure, who played a major role in Visage, Ultravox and the Misfits. It's the great 'Dancing With Tears In My Eyes'. Apparently, the organizers felt it necessary to treat us to some eighties synthpop. Camouflage also brings us some synthpop from the old box. Finally I know where Melotron got the inspiration for their music and their dance steps. The group is already at Amphi for the fourth time, and around me I see people dance and sing the lyrics. But it leaves me completely cold, and I look forward to the main event tonight.
And the headliner is none other than... Project Pitchfork! I remember the time that Project Pitchfork had a dreadful live reputation, that their shows were dreadful despite their numerous hits. But that is now history. Today they produce excellent CDs and their performances are solid as a rock. They understand the art of combining danceable rhythms, strong melodies, a hoarse voice and engaged lyrics. This combination still works for me after 25 years. The group has earned its place as top act for tonight.
Project Pitchfork was a dream valve for a great first day. It's already two o'clock in the morning and instead of partying until the early hours, we decide to go to bed in order to enjoy the next day as much as possible.
Continue to read: Day 2 of Amphi 2014
Pictures: Marquis(pi)X
Click here to read the Dutch version on Dark Entries.
Xavier KRUTH
31/07/2014
---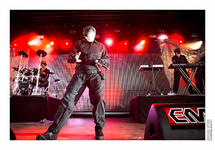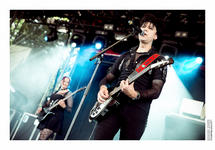 ---